---
FAST FACTS HAWAII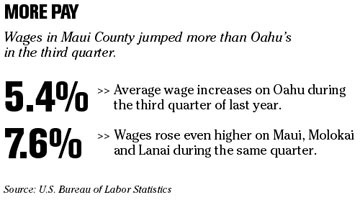 ---
HAWAII
Group aims to gauge roadblocks to native Hawaiian businesses
The Native Hawaiian Chamber of Commerce is conducting a survey to collect information about barriers to business success for native Hawaiians.
The group, founded in 1974, is seeking input from native Hawaiian entrepreneurs, both successful and unsuccessful. It plans to use the results to prepare a business conference aimed at helping native Hawaiians start and succeed at their own businesses.
Those interested in participating in the survey should call Dirk Soma at 294-8639, e-mail him at dirksoma@yahoo.com or visit www.nativehawaiian.cc.
The survey is a joint project between the chamber and Hawai'i Maoli, a nonprofit group established in 1997 by the Association of Hawaiian Civic Clubs. The project is funded by a grant from the U.S. Department of Human Services.
Gannett's earnings drop 11.5 percent
Gannett Co.
, publisher of USA Today and the Honolulu Advertiser, reported an 11.5 percent decline in first-quarter earnings yesterday as softer advertising and stock expenses weighed on results.
Also, Gannett's chairman said the company wasn't participating in the auction of 12 newspapers owned by Knight Ridder Inc. that are being sold by Knight Ridder's buyer, McClatchy Co.
"We're not involved," Douglas McCorkindale said in response to a question on a conference call.
Gannett, the largest newspaper publisher in the country, had net income of $235.3 million, or 99 cents per share, in the 13 weeks ended March 26. The results were down from $265.7 million, or $1.05 per share, in the same period a year ago, which included 2 cents per share profit from discontinued operations.
NATION
Rebates hurt industry, Nissan chief says
Carlos Ghosn, who now runs both the French automaker
Renault
and its Japanese affiliate,
Nissan Motor
, urged his fellow auto executives yesterday to wean themselves from costly incentives, which he said had become "an insidious, confusing carousel" on which the companies could not stop spinning.
Ghosn's plea, made at the New York International Auto Show, came with both General Motors and Ford Motor mired in problems that have led to billions of dollars in losses and their lowest market share in North America in decades.
Ghosn, who has been called an automotive rock star, has carried out three financial strategies since joining Nissan in 1999 and leading a turnaround that saved it from disaster. Now, he is about to embark on a fourth, he said in an interview yesterday.
Crude prices cut Tesoro earnings
Tesoro Corp.
, operator of one of the two oil refineries in Hawaii, said it had first-quarter earnings of about 60 cents a share. Profit was trimmed by a surge in crude prices at the end of March.
A rally in New York Mercantile Exchange crude futures in the last 10 days of the quarter "negatively impacted results," the San Antonio-based company said yesterday. The price jump affected Tesoro's hedge position on about 2.5 million barrels of long-haul crude and long-term blending components, the company said, without providing additional details.
Tesoro's profit will fall short of most analyst's estimates for the first quarter, based on yesterday's statement. The company was expected to earn 90 cents a share, according to a report on Monday from Credit Suisse analyst Mark Flannery. The average estimate among 17 analysts surveyed by Thomson Financial is 74 cents.
Tesoro is scheduled to report first-quarter results May 4. The company had profit of 40 cents in the first quarter of 2005.
Big Tobacco attacks $591M verdict
NEW ORLEANS » The tobacco industry yesterday attacked a landmark jury verdict ordering cigarette makers to cough up $590.9 million for nicotine patches, telephone hot lines and other programs to help Louisiana smokers kick the habit, saying the trial that lead to the decision had "enough reversible error for 10 cases."
A state district court jury found in July 2003 that cigarette-makers had deceived the public with an addictive product and schemed to market cigarettes to children. The trial lasted more than a year.
Following the trial's second phase, in the spring of 2004, the jury said the industry should provide free quit-smoking programs. Attorneys on both sides said it was the first time a jury had ordered such programs, rather than awarding monetary damages to smokers.
FCC tightens airwave auction rules
WASHINGTON » Under new rules designed to increase competitive bidding, companies that want to sell such wireless services as high-speed Internet and video will be able to buy a big chunk of airwaves at a government auction.
The Federal Communications Commission voted yesterday to require anonymous bidding at the June 29 auction to prevent companies from colluding to keep out competitors and to drive prices down. Bidding would be open, though, if the FCC determines that enough companies are seeking licenses to keep the auction competitive.