CHINA AND JAPAN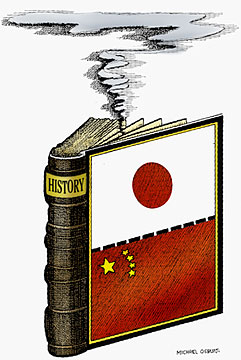 LOS ANGELES TIMES SYNDICATE
Bad politics, good economics
Their relationship isn't chummy but it does have its rewards
By Bill Sharp
wsharp@campus.hpu.edu
SINO-JAPANESE RELATIONS have fallen to their most politically acrimonious level since the Asian giants normalized diplomatic relations in 1972. Political relations have become so thorny that Chinese President Hu Jintao and Japanese Prime Minister Koizumi Junichiro do not talk, even when they are attending the same international conference (where they assiduously avoid each other). Given the tension enveloping the relationship, it is hard to believe that the late Deng Xiaoping, the father of China's post-1978 opening to the world and economic development, once said, "China's most important bilateral relationship is with Japan."
If there is a silver lining in this troubled relationship, it is the economic complementariness that the countries share and the resulting mutual benefit and regional stability that it can yield in the fastest-growing economic area of the world.
Chinese culture, filtered through Korea, provided Japan with much of its basic culture from 600 to 857. Buddhism came from China, as did the Chinese characters used in Japanese. Chinese Confucianism's emphasis on age colors contemporary Japan's social organization and structure. The Chinese emphasis on education also is shared by the Japanese. Both countries are "rice cultures," meaning that the discipline and hard work traditionally associated with rice cultivation is contemporarily reflected in the highly disciplined, hard-working characteristics of both the Chinese and Japanese.
Japan held China in high esteem until the advent of Western contact in the mid-1800s. Weak China was unable to defend itself against intruding foreigners backed by the finest militaries of the day. Japan's traditionally Confucian view of China -- as a father or elder brother figure to be respected and subordinate to -- began to change. Fearful that it might share China's fate, Japan began to replace Chinese learning with Western learning.
DURING THE last 120 years, eight events have played a major role in molding China's nationalistic feelings towards Japan:
» In 1895, Japan quickly defeated China in Korea in the Sino-Japanese War Victory that gave Japan control over Korea, where China long exercised suzerainty, plus Taiwan and Port Arthur (Dalian), a major strategic port in Manchuria (Northeast China);
» Japan's victory in the Russo-Japanese War of 1904-1905 gave the rising East Asian power control over large parts of Manchuria;
» In 1915, Japan delivered the "Twenty One Demands" to the Republic of China government. Japan wanted more political and economic control or China would face military reprisals. Moreover, China would have to buy large quantities of Japanese goods and meet Japanese territorial demands;
» The Chinese delegation to the Versailles Peace Talks, ending World War I, walked out of the negotiations when it refused to sign documents that would give Japan a sphere of influence in Shandong Province;
» When word of the Versailles negotiations got back to China, it set in motion one of history's greatest demonstrations and subsequent intellectual revolutions, the May Fourth Movement;
» In 1931, Japan launched a military conquest for full control of Manchuria, eyeing the region's natural resources and growing market prospects;
» Six years later, Japan created "Manchukoku," a so-called independent Manchuria with Henry Pu Yi as puppet emperor; and
» Japan set out to swallow all of China in 1937. The Chinese call Japan's tactics to subjugate China "san guang zheng ce" or the "burn all, kill all, loot all" tactic. An estimated 10 million Chinese were killed by the Japanese.
AFTER THE establishment of the People's Republic of China in 1949, there was no diplomatic relationship between China and Japan. Instead, Japan recognized the Republic of China on Taiwan as the legitimate government of all of China, owing to American pressure. Then again, the Japanese appreciated ROC president Chiang Kai-shek's speedily repatriation of Japanese POWs and waiving payment of any war reparation. Nevertheless, China and Japan re-established their active pre-war commercial relations, now carried out by China-based subsidiaries, with no discernible connection to the major Japanese corporations they actually represented. To operate Japanese-built factories and steel mills in China, China needed Japanese spare parts and technical advice; Japan needed the Chinese market.
Announcement of Nixon's February 1972 trip to Beijing, secretly organized by National Security Adviser Henry Kissinger, came as a complete surprise to Japan, which had been purposely kept in the dark. One possible explanation holds that China demanded Japan not know until the latest possible moment on the assumption that suspicion and mistrust would be introduced into the Japanese-American relationship, creating a wedge between the two countries. If so, no permanent damage ensued, and Japan quickly proceeded to recognize the PRC, which the United States had long persuaded it not to do.
Both countries have benefited from the relationship. China has received $30 billion in Japanese Official Development Assistance and another $31.5 billion in Japanese foreign direct investment. Not as free with transferring technology as the United States and Europe, China has still been the beneficiary of Japanese technical transfer and expertise. More than 150,000 Chinese students are studying at Japanese universities; 64,757 Chinese students are studying at U.S. universities. With an unemployment rate of nearly 30 percent, China needs the 1 million jobs that Japanese investment provides. Japan has been able to build new markets and take advantage of cheap Chinese labor.
CHINA SHOWS little appreciation of Japan's assistance. Despite 17 apologies being made by Japan for its barbarous World War II invasion of China and the resulting deaths and destruction, the PRC and individual Chinese consider the apologies insincere. The ultra-right wing of the Japanese political spectrum makes every attempt to obscure the savagery of the notorious Nanjing Massacre, claiming that the figure of 300,000 deaths is far too high. The biological experiments conducted on Chinese POWs in Manchuria didn't exist. And it was not a Japanese invasion of China, it was simply an "advance."
Particularly galling to China are the visits of Japanese prime ministers to Yasukuni Shrine. Yasukuni Shrine honors those who died militarily serving Japan and in some ways is similar to Arlington National Cemetery in the United States. However, Yasukuni honors 14 executed Class A war criminals responsible for ravaging China, including wartime Prime Minister Tojo Hideki. Within Yasukuni Shrine is the Yushukan, a museum devoted to a very self-righteous view of Japanese military history.
Suggestions across the Japanese political spectrum plus Chinese and Korean demands to create a separate memorial for the Class A war criminals have been unsuccessful. Japanese prime ministers must politically pay homage at Yasukuni to appease survivors of the war dead, veterans groups and the rightist elements of his Liberal Democratic Party. To temporize their visits, prime ministers disingenuously visit as "private citizens." Failure of the Japanese government to prohibit schools' use of history textbooks whitewashing Japan's World War II atrocities is another constant contributing to the bad politics between the two countries.
OWING TO corruption, authoritarianism, and gaps in wealth between those who have become rich early and those who haven't, as well as the gaps in prosperity between those living in a handful of coastal cities and those living inland, the Chinese Communist Party does not enjoy the support it once did. To build popular support, it periodically fuels the flames of nationalism by inciting demonstrations and then standing by doing nothing to stop them. Japan is a convenient target for such smoldering nationalism. China's development of the online computer game "Japan in China 1937-1945" seeks to mold younger public opinion against Japan. "March of the Volunteers," China's snappy national anthem, was created during World War II to stimulate soldiers' patriotism and motivation to fight Japan. As such, it serves up a subliminally anti-Japanese message as some of the lyrics suggest, "Arise, we do not want to be an enslaved people ... the Chinese people are at a particularly perilous juncture ... facing the enemy's artillery, attack, attack, attack."
As China gains more economic and military power, it sees itself in its traditional role as the "Central Kingdom" where all surrounding nations paid homage to the emperor of China in Beijing. Ever fearful of American containment by building close relations with bordering nations, China is further motivated to achieve undisputed leadership in Northeast Asia, Southeast Asia and Central Asia. However, Japan plays an important and largely economic role in those corners of the continent; thus China knows it's unrealistic to expect that Japan will play a subordinate role. It is, moreover, quite clear to China that Japan gains great economic and military strength through its relationship with the United States. And under the leadership of Prime Minister Koizumi, Japan has been steadily moving away from its post-World War II pacifism, seeking more military clout and greater influence in international affairs.
Japan's bid for a permanent seat with veto power on the U.N. Security Council threatens China's quest for regional ascendancy since China would not be able to argue that it alone represents Asian interests on the council. Faced with the possibility of Japan's presence on the council, Chinese editorial commentary has become particularly virulent. The Feb. 2 issue of the online People's Daily cries out that Japan "chin mei shu ya" -- sucks up to America while it ignores Asia. Despite Chinese propaganda, Japan has greatly benefited economic development throughout Asia.
STRONG SUPPORT of Taiwan by Koizumi cabinet members further hinders better relations with China. Chinese attempts to isolate Taiwan within Asia have helped to push Taiwan and Japan closer together. As a result, Japan has expressed concern for Taiwan's security, underlining its importance to Japan's security. In addition, the long-simmering territorial issue concerning the sovereignty of Diaoyutai (Chinese) or Senkakushoto (Japanese), situated between the southernmost tip of Okinawa Prefecture and the northeast coast of Taiwan, seems to have no solution in sight. Both countries' high demand for energy has sparked territorial claims over Chunxiao (Chinese) or Shirakaba (Japanese), a small East China Sea island rich in natural gas.
Both China and Japan need a stable relationship to undergird the stability of Asia. Just as both nations need a good relationship to continue on their own paths to economic growth, the economic complementariness that they share should not be lost amid the animosity of anti-Japanese demonstrations and certain policies of Koizumi, who will leave office in September. Suggestion that relations could be righted through a regional security organization involving Japan, China, the Koreas, Russia and the United States lack persuasiveness given the failure of those nations to control North Korean nuclear proliferation. Having all of the right ingredients, good economics can make better politics.
---
About the author: Bill Sharp is adjunct professor of East Asian International Relations at Hawaii Pacific University. He writes a monthly column for the Star-Bulletin.