IT'S LIFE IN THE FAST LANE
Birth arrives faster than morning traffic
The flustered father pulls off the H-1 to help deliver his son in the front seat
Aaron Mitchell Sr. and wife Randaiah Smith could laugh about it in the comfort of a hospital room as healthy newborn Aaron Jr. slept peacefully in his father's arms.
But just hours earlier, during yesterday's morning rush hour in the Zipper Lane of the H-1 freeway, Mitchell was flashing his lights frantically trying to get around a city bus as Smith was giving birth to their son in the front seat of a Chevy speeding to the hospital.
Call For Help
Here is an excerpt of the call to 911 from Aaron Mitchell Sr. and Randaiah Smith. Smith, who was in late-stage labor, was giving birth in the couple's car. A portion of the 911 call is also available in MP3 format.
Excerpt
Dispatcher: Can we visually check that, if there's no crowning of the head?

Mitchell: Can we do what?

...

Dispatcher: Does it look like the baby's coming out, you said?

Mitchell: I didn't look at that point, you know what I'm saying.

Dispatcher: Can you ask your wife what she feels like?

(Smith screams)

Mitchell: Does it feel like the baby's coming out?

Smith: Yes, that's why we need help, man!

Mitchell: She said "yes, that's why we need help!"

Dispatcher: Just to let you know, the ambulance is on the way.
Audio
» Listen to the 911 call

» Download the MP3 file

* To listen to MP3 audio clips, a music player must be installed on your computer.
Because they were in the Zipper Lane, they couldn't stop the car or pull off to the side of the road until they got to the airport exit, Mitchell said.
Most cars got out of the way as Mitchell, 22, drove around them on the shoulder, but one city bus on Route 91, not knowing why they were trying to speed past, blocked their way.
Next to him, Smith, 22, was screaming during contractions. "I don't remember nothing but pain," she said. "There were no drugs."
"I was scared," she continued. "We're going to have the baby in the car."
When they left their home in Kapolei about 6:50 a.m., her water was still intact, so neither Smith nor Mitchell expected the baby to come so quickly.
Mitchell had been on his cell phone with Lori Protzman, the nurse manager for labor and delivery at Kaiser Medical Center, when the contractions became more intense.
"I knew the baby was going to come out when they start acting like this, all excited," Protzman said.
Protzman called a doctor and then 911, and stayed on the phone with Mitchell and the doctor, trying to keep the couple calm, figuring out where to send the ambulance and helping to deliver the baby.
Mitchell got off the phone with Protzman, pulled off the freeway and into the Union 76 Miyasaki Honolulu Airport Service Station near Paiea Street, parking his car at pump 9, and then got on the phone with a 911 dispatcher.
All kinds of thoughts were going through his mind, Mitchell said.
"I've never delivered a baby. I didn't know what to do," he said. As the baby's head poked out, he wondered, "how do I catch it?"
Mechanic Enguang Lou said he came to work at about 7:15 as his boss ran up to him and asked him for some clean towels to help with the birth. He got some new, clean mechanics towels and gave them to the couple.
"I wanted to help," Lou said. But he didn't know what to do.
In the excitement of the moment, and because Mitchell had been driving around looking for a place to stop, there was confusion about where to send the ambulance. It took about 10 minutes for paramedics to arrive.
Paramedic supervisor Jane Greenwood, a 13-year veteran, and paramedic interns Chris Nitta and Harrison Kiefer, got on scene as the baby's head was starting to come out.
Greenwood said normally she would let Nitta and Kiefer deliver the child, but she took this case herself.
"It's fabulous fun," Greenwood said. "We're bringing a life into the world instead of watching it go away."
Greenwood has delivered nine other babies during her career, but this was her first baby in the front seat of a car.
Once the paramedics got on scene, it took just two contractions before all 21 inches of 8-pound, 4-ounce Aaron Jr. came into the world at 7:34 a.m.
Smith is originally from Patterson, N.J., and has been in Hawaii for about a year. Mitchell, a military police officer in the Navy, is originally from Dallas and has been in Hawaii for less than two years.
"As a military police officer, this has to be one of the craziest things I've had to do," Mitchell said.
The calmest person in the car was older brother Alvin Taylor, age 3. While Smith and Mitchell were frantically trying to get to the hospital before Smith gave birth, Taylor calmly tried to reassure his mother that things would be OK, Smith said.
Weeks ago, Smith said she had joked to Mitchell that this might happen. "I told him, 'Hon, you're going to deliver the baby.'
"There's always traffic in Hawaii, you can't get anywhere on time," Smith said.
During a news conference at Kaiser Medical Center, the couple thanked the paramedics and Protzman for their help in delivering their rush-hour baby. They smiled as they recalled the more hectic moments.
"You didn't pass out, that's good," Protzman told Mitchell.
Asked if they planned to have more children, Smith and Taylor shook their heads.
"No more after this," Smith said. "I'm still having flashbacks."
---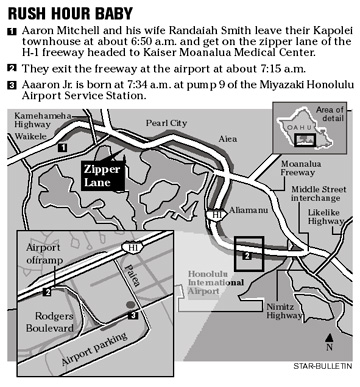 ---