The Bloomberg /
Star-Bulletin Index
---
A&B defies tough week
Alexander & Baldwin Inc.
came out on top in the Bloomberg Honolulu Star-Bulletin stock index in a week that saw only two local stocks stay out of negative territory.
A&B finished the week up 3.8 percent to close at $49.48. Year to date the stock is down nearly 9 percent, but over the last 12 months it shows a gain of more than 20 percent.
The only other company in the index not to lose ground during the week was penny stock Mera Pharmaceuticals Inc., which broke even at 1.5 cents. Year to date, Mera is down more than 6 percent, but over the last year it is up more than 30 percent.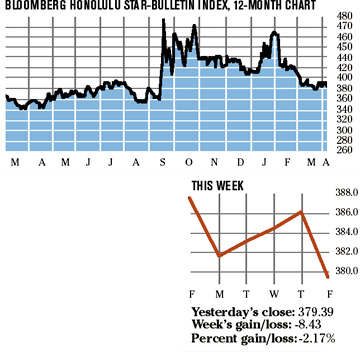 The Bloomberg / Star-Bulletin Index is a price-weighted index designed to measure the performance of Hawaii-based companies. The index was developed with a base value of 100 as of December 31, 1999. A chart of the index which shows the weekly performance of its members is published weekly in the Honolulu Star-Bulletin.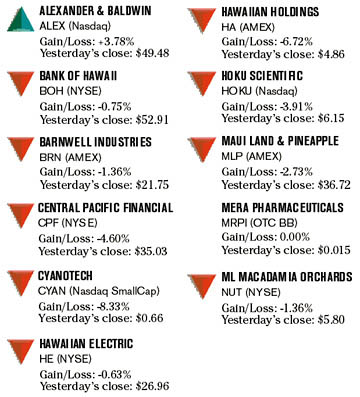 *
SOURCE: BLOOMBERG NEWS / STAR-BULLETIN GRAPHIC
CORRECTION
Wednesday, April 12, 2006
» Barnwell Industries Inc.'s stock closed at $21.75 last Friday. A graphic on Page C1 Saturday gave an incorrect price.