---
FAST FACTS HAWAII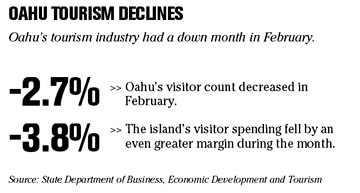 ---
HAWAII
Carriers extend $39 fare sale for 1 week
Mesa Air Group
's planned interisland carrier go! will extend its $39 one-way promotional fare sale by one week. Tickets must now be purchased by next Friday.
The company, which plans to start flights in early June, said yesterday that go! is offering the $39 one-way rate for interisland travel between June 9 and September 30, 2006. Mesa will fly between Honolulu and Hilo, Kailua-Kona, Lihue and Kahului.
Aloha and Hawaiian airlines said they would match the fares.
NATION
$2.6B Time Warner settlement OK'd
Time Warner Inc.
, the world's largest media company, won final approval of a plan to pay $2.55 billion to shareholders to settle a class-action lawsuit over its 2001 merger with America Online.
U.S. District Judge Shirley Wohl Kram in New York ratified the accord on Thursday in a 48-page order. Ernst & Young, the auditor for the merged company formerly known as AOL Time Warner Inc., will pay another $100 million.
Shareholders claimed America Online misrepresented financial results before agreeing to buy Time Warner at the height of the Internet boom, in the largest acquisition ever. The suit accused AOL of improperly accounting for dozens of advertising deals, inflating revenue for 15 quarters between 1998 and 2002.
Southwest Air sued over accident
The family of a 6-year-old boy killed when a
Southwest Airlines Co.
jet skidded off a Chicago runway in December sued the airline and
Boeing Co.
, the maker of the plane.
In a suit filed yesterday in Chicago state court, Lisa and Leroy Woods of Leroy, Ind., claimed unspecified damages in the death of their son, Joshua, who was killed when Southwest flight 1248 crashed into two cars near Chicago's Midway Airport and injured 13 other people.
It was the first accident-related fatality and the second major accident in the 34-year history of Southwest, the world's biggest low-fare airline. The suit claims damages for wrongful death and for the injuries to the other members of the family.
Northwest Airlines' union faces challenge from rival
Northwest Airlines Corp.
's flight attendants' union, which represents about 9,700 employees at the fourth-largest U.S. carrier, is being challenged by a rival that has requested a representation election.
The Association of Flight Attendants-CWA said yesterday that it filed a petition with the National Mediation Board seeking the election. The board will review the signed cards from Northwest attendants and may call an election within about a month, AFA spokeswoman Corey Caldwell said.
Northwest's current union, the Professional Flight Attendants Association, was elected in June 2003 when a group of employees ousted the Teamsters. Unions for Northwest's flight attendants, pilots and other workers are considering contracts with the bankrupt company that would reduce pay and benefits.
Norway promises to boost use of open source
OSLO, Norway » The Norwegian government said yesterday it will increase its use of freely shared, open-source software to reduce its dependency on large computer companies like
Microsoft Corp.
Several countries, including Brazil, China, France, Germany, Japan and South Korea, have been actively moving toward open-source alternatives.
Navistar to restate back to 2002
CHICAGO » Truck and bus maker
Navistar International Corp.
, which has been sorting through accounting problems for months, said yesterday it has dismissed its auditors and will restate financial results dating back to 2002.
The restatements will cover fiscal years 2002-04 and the first nine months of fiscal 2005, Navistar said.
As part of accounting overhaul, the parent of International Truck and Engine Corp. said its board of directors has fired Deloitte & Touche as its auditor and hired KPMG.
Shares in the company, which halted trading temporarily when Navistar announced the need for restatement, declined 6 cents, to close at $27.90 on the New York Stock Exchange. They already were down nearly 25 percent from a year ago, weighed down by a protracted slump in the heavy-duty truck market.
WORLD
BAE may sell stake in Airbus
LONDON » The British military company
BAE Systems
said yesterday that it was in talks to sell its stake in Airbus to the
European Aeronautic, Defense and Space Co.
, signaling the end of a nearly 30-year partnership that produced the world's largest passenger plane.
BAE plans to focus all its attention on the lucrative U.S. military market instead, and is expected to use the proceeds of the Airbus sale to make acquisitions and expand a portfolio that already includes tanks, howitzers, and submarines.