---
FAST FACTS HAWAII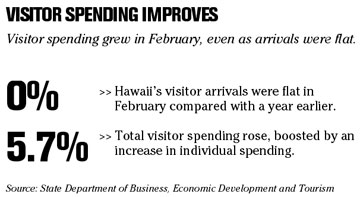 ---
HAWAII
Ko Olina may get a Trump Tower
Ko Olina Resort & Marina
said yesterday that Miami-based developer
Crescent Heights
has bought 7.8 acres on Ko Olina's third lagoon in West Oahu, where it will build an oceanfront condominium-hotel.
The resort also said that Crescent Heights was in "early discussions of partnering with Donald Trump with the intent to flag this hotel project as a Trump Tower."
Groundbreaking is scheduled for the end of this year, and sales are expected to begin this summer. The opening is anticipated for 2008.
Aloha Air bulks up California route
Aloha Airlines
plans to double the frequency of its Orange County-Sacramento route in California before it even starts.
The carrier announced last month that it would begin flying the route, which links two cities it already serves from Hawaii, beginning in May.
But "extremely enthusiastic" response to the announcement led Aloha to add a second flight in each direction starting in June, according to Thom Nulty, senior vice president of marketing and sales.
Under the new schedule, Aloha will offer an early morning and late evening departure from each of the airports each weekday. On Saturdays and Sundays there will be one flight in each direction per day.
[HAWAII INC.]
NEW JOBS
»
Bank of Hawaii Insurance Services
has hired
Amy Watabayashi
as an account executive. She will oversee the life and benefits department in addition to managing and developing new business opportunities. She previously served as a
Pyramid Insurance Centre Ltd.
account manager.
» Hawaii Superferry has appointed Terry O'Holloran director of public affairs. He will be responsible for community outreach, public and government relations and communications activities for the company. He has over 30 of managerial and executive experience in tourism.
» Four Seasons Resort Hualalai has appointed Eric Kwan marketing director. He will be responsible for overseeing the resort's sales and marketing division. He has over 30 years of hospitality experience.
» The state Hawaii Health Systems Corp. has appointed Donald C. Lewis regional chief executive officer of the West Hawaii region. He has over 25 years of health-care leadership experience. He replaces acting CEO Jerry Walker.
PROMOTIONS
»
American Savings Bank
has promoted
Cathy Criste
to branch manager of the Pearl City Wal-Mart location. She will be responsible for training and managing the staff. She's been with the company for more than 18 years.
» Bartlett, Leader-Picone & Young LLP in California has elevated Kaipolani K.B. Young to partner. A native of Hawaii, Young has more than 12 years of experience in creditors' rights, collections and bankruptcy. He joined the firm in 2001 as an associate.
» Energy Industries LLC has promoted Brian Kealoha to senior vice president. He will be responsible for the global sales division. He previously served as the company's business development vice president.
NATION
Ranks of unemployed drops to 5-year low
The number of Americans collecting unemployment benefits fell to a five-year low as first time applications unexpectedly dropped.
The ranks of people receiving state unemployment insurance declined to 2.44 million in the week ended March 25, the lowest since February 2001, the Labor Department said today in Washington. Initial jobless claims decreased by 5,000 last week to 299,000.
The Federal Reserve forecasts a third consecutive year of economic growth above 3 percent, increasing demand for workers and pushing the unemployment rate toward a four-year low.
Gossip writer accused of attempted extortion
NEW YORK » A gossip writer for the New York Post has been suspended pending the outcome of a federal investigation into whether he tried to extort money from billionaire financier Ron Burkle, the newspaper said yesterday.
Jared Paul Stern, who worked as a freelancer for the newspaper's Page Six column, is suspected of demanding $100,000 and an annual $10,000 stipend from Burkle in exchange for not writing negative stories about him, the Post said in a story on its Web site.
Apple vs. Apple ruling to come after Easter
LONDON » A High Court judge is unlikely to rule before Easter in the legal fight between
Apple Computer
and the Beatles'
Apple Corps
record label over the use of the apple logo.
Lawyers for both sides squared off in London's High Court on Wednesday in the closing stages of the trial over the companies' similar apple logos. The companies are tussling over a 15-year-old settlement ending previous litigation over the logos. Apple Corps uses a shiny green apple as its logo, while Apple Computer has a cartoon-like apple with a neat bite taken out.
Enron CEO's testimony is delayed
HOUSTON » Jeffrey Skilling, the former Enron chief executive whose reputation for nurturing innovations that woke up the once-sleepy energy industry shattered along with the company, must wait until next week to provide much-awaited testimony in his fraud and conspiracy trial.
He spent yesterday awaiting his chance to testify, but attorneys on both sides spent the day questioning Enron's former top in-house lawyer, pushing the ex-CEO's lengthy testimony to Monday.
President of Ford Motor will retire
DEARBORN, Mich. »
Ford Motor Co.
said yesterday that its president, James J. Padilla, would retire July 1. His duties will be assumed by the chief executive, William Clay Ford Jr., who is forming an executive operating committee to help him run the company.
Padilla, who is also Ford's chief operating officer, has held those positions since last year. He will give up his seat on Ford's board when he leaves. Padilla, who will turn 60 in June, has worked at Ford for 40 years.
A Ford spokesman, Oscar Suris, said that the company did not plan to appoint a successor to Padilla. "It's a logical transfer of responsibilities" to Ford, Suris said. He said members of the committee could share some of the duties.
WORLD
Yukos executive is arrested
MOSCOW » An executive recently assigned to saving Yukos, Russia's former biggest oil producer, from bankruptcy has been arrested on charges of embezzlement and money-laundering, prosecutors said yesterday.
Vasily Aleksanian was being interrogated by prosecutors, a spokeswoman for the general prosecutor's office said. Charges officially were filed against him, his lawyer, Gevorg Davgyan, said later yesterday, according to the RIA Novosti news agency.
A tamer Playboy hits Indonesia
JAKARTA, Indonesia » A toned-down edition of Playboy magazine went on sale today in Indonesia, defying threats of protests by Islamic hardliners in the world's most populous Muslim nation.
The first edition's most graphic photos -- female models in under garments -- appeared no more risque than those in other magazines already for sale in the country. More explicit photos appear daily in local tabloids.