SCIENCE FAIR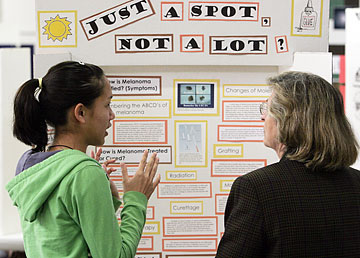 Isle science fair judges 'blown away' by entries
Modesty eludes Aaron Rozon for a moment as he explains his entry in the Hawaii State Science & Engineering Fair, but who can blame him?
Through a complicated chemical process, Rozon derived biodiesel fuel from kukui nut oil, an impressive feat for an eighth-grader, which he hopes will yield a possible local-kine alternative energy source of the future.
"It's the first time anyone's pulled it off," said Rozon, who attends Kauai's Island School.
His was just one of 358 entries from public and private schools, many displaying a similar level of sophistication and ingenuity indicating that high science and math achievement are alive and well in Hawaii classrooms.
"It's incredible. It's just wonderful to see," said astronomer Robert Jedicke, one of the judges. As a researcher at the University of Hawaii's Institute for Astronomy and an asteroid expert who advised on the films "Deep Impact" and "Armageddon," he is not easily dazzled.
"I'm just blown away by the quality (of the entrants) and their enthusiasm," he said.
A total of 469 students took part in the 49th annual event, organized by the Hawaii Academy Sciences and which concluded yesterday at the Neal Blaisdell Center.
Top winners receive expense-paid trips to represent Hawaii at the Intel International Science & Engineering Fair next month in Indianapolis, plus college scholarships and other awards.
The wide-ranging entries included everything from a proposed adjustment of Maui's traffic light timings to aid commuter flows, to a radio-controlled robotic assistant for the elderly, to a study of the varying performance of different golf ball brands on the putting green.
Many entries sought solutions for environmental and sustainable-energy problems and other issues recently in the news.
Molokai High School sophomore Ayla Bicoy decided to flood Molokai's main town of Kaunakakai, or at least a scale model she built, to gauge disaster preparedness for a tsunami or Katrina-style storm surge.
Her mock town rested on a bed of dozens of nails, painstakingly hammered in to different depths to approximate the area's sloping topography.
State officials might want to heed her conclusion: The town appears doomed, with key evacuation shelters and other facilities inundated.
"It's pretty scary. We're really not prepared," Bicoy said.
Many exhibits were so sophisticated that students struggled to dumb them down for a reporter.
In a span of two or three sentences, Island School's Rozon explained his use of "transesterification," "bubble-washing techniques" and "thin-layer chromatography" in his project, before realizing he was not getting through.
"Basically, I've created biodiesel fuel," he said, cutting to the quick.
The exhibits left judges wide-eyed.
"Some of the stuff here is graduate-school-level work," said Keith Matsumoto, technical director for the Hawaii Technology Development Venture, a project funded by the Navy.
"There are companies in Hawaii that could use some of these kids right now, maybe as interns," he said.
At the head of the class were Mililani High School 10th-grader Philip Mocz and his ninth-grade sister, Lucia, who took the top two awards.
Philip used complex mathematics to analyze the distribution of stars and galaxies for clues to the universe's structure, while Lucia devised computer algorithms to help scan microscopic photos of human tissue for cancer cells that might be missed by more conventional methods.
"I wanted to deal with a real problem affecting real people," said Lucia, who despite her talents wants to be a music major in college.
Not all projects were as ambitious, but each was impressive, said Christine Trusty, associate fair director, of the Hawaii Academy of Sciences.
"There is a wide range of quality, but while the best of them are doing college-level work, the rest are doing solid high school work," she said, crediting local teachers and each student's mentor for stimulating and driving participants.
"All we hear is how bad the schools are here, but people need to know there are great teachers and students and just good things happening," she said, noting that Hawaii winners regularly do well in the international contest.
The state Department of Education provides about half of the more than $200,000 required to stage the contest, with the rest from donations.
But under a new system to be implemented in the fall, the education funding could be in jeopardy. Fair Director Anne Parry said a grant request could save next year's 50th edition if it comes through, but the future is uncertain, she said.
"It's all still up in the air," Parry said.
That would be a blow for students like Molokai High's Bicoy, who also competed last year and, like many contestants, views the fair as the highlight of her year.
"When you see what all the other students have done, it really gives you inspiration," she said. "Molokai is small so this is such a big deal for me."
Mililani high siblings sweep top honors
Sibling rivals Philip and Lucia Mocz of Mililani High School swept the top two honors at the 49th Hawaii State Science & Engineering Fair yesterday and will lead Hawaii's delegation to the Intel International Science & Engineering Fair May 6-12 in Indianapolis.
Philip, a 10th-grader, won first prize in the top-tier Senior Research (grades 9-12) category for his entry "Group Analysis to Pattern Discovery in Stellar and Galactic Distributions." Lucia, a ninth-grader, took second with "Computer-Aided Identification of Cancer from Photomicrographs by Entropy Analysis."
Third-place went to Gitasree Devi Borthakur, a senior at Iolani School, for "Effects of Enhanced Muscle Growth on Fatty Acid Uptake in the Skeletal Muscle."
The trio will be joined at the international meet by several other students who won district-level and private-school competitions.
They are Genevieve Pang, Alayna Betsill, Veronika Biskiss and Megan Luther of Baldwin High, Caine Jette of Maui High, Kendra Ho Ching of Kahuku High, Ryan Gamurot and Shahodat Hamraeva of Kapolei High, Elaine Owen and Shannon Thorpe of St. Andrew's Priory, and Jessie Ann Paahana of Kamehameha Schools (Kapalama).
Honorees also won a range of university scholarships and cash prizes from corporate and other sponsors.
Other winners yesterday:
SENIOR RESEARCH (GRADES 9-12)
Honorable Mention: Mimi Hang, McKinley High School; Genevieve Pang and Alayna Betsill, Baldwin High School; and Jessie Ann Paahana, Kamehameha Kapalama
JUNIOR RESEARCH (GRADES 6-8):
First Place: Nolan Kamitaki, Waiakea Intermediate

Second Place: Aaron Rozon, Island School

Third Place: Naomi Perry, St. Anthony Parish School

Honorable Mention: Devin Chong, Kealakehe Intermediate; Shalila Alejandra Baena, Haaheo Elementary School; and Natasha Leonard, Kealakehe Intermediate
JUNIOR DISPLAY (GRADES 6-8):
First Place: Teagan Nakamoto, Konawaena Middle School

Second Place: Nephi Tuitele; Nicholas Sakamoto, Damien Memorial High School

Third Place: Sarah Tamashiro, St. Andrew's Priory

Honorable Mention: Eric Magliulo, St. John Vianney School; Estee Katon, Chiefess Kamakahelei Middle School; and Katherine Connors, Our Redeemer Lutheran Elementary School
SCIENCE TEACHERS OF THE YEAR
Marcia Clinton (St. Andrew's Priory)

Andrew Snow (Kapaa High School)