Archery range at crater has foe
Hawaii Kai resident Mele Welte has launched a one-woman campaign to halt what she says is a violation of Koko Head Crater.
The city has begun excavation for an archery range on the slopes of the crater, leaving what she calls a scar visible from Kalanianaole Highway, near the entrance to the Koko Head Shooting Range.
"From Hanauma Bay to Sandy Beach is one of the most beautiful stretches in all of our state," she said. "To have it (there) seems like a real violation."
Welte talked to the Hawaii Kai Neighborhood Board about "the absurdity of this gouging out of this crater of this most gorgeous view."
BEFORE ...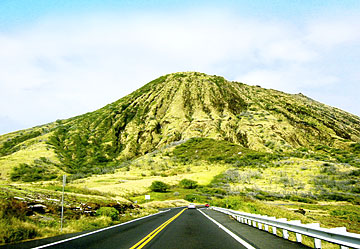 AFTER ...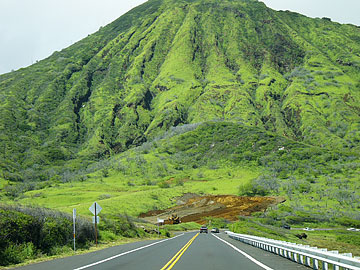 Rather than sympathy, she said she was confronted by the neighborhood board's parks and recreation committee chairwoman, Mary Houghton, a supporter of the project.
"She seems to think it is sacrosanct, but it's not," Houghton said. "It's not cutting into the mountainside."
Houghton said the city almost canceled it, but she and other supporters have been doing everything to prevent that from happening.
"I told her that it's going to be a beautiful facility; it's going to be irrigated," she said. "You got to remember that it's been subject to all that rain."
Eugene Lee, acting director of the city Department of Design and Construction, said the area will be sloped and covered with grass when completed. The archery range started out as a vision project in 2002 under Mayor Jeremy Harris and is part of the Koko Head Regional Park. The vision team provided additional funding in 2003, he said.
The range measures 450 feet in length and runs a total of 600 feet, including space for two handicapped stalls, and is 120 feet wide.
"It's been supported by everyone," he said.
Lee said he is guessing the reason the site up against the slope was chosen was to "keep the arrows in."
The reason a site inside the crater was not selected, he said was, "You want to separate people with rifles and people with arrows."
A gravel road off the existing rifle range access road will lead to the range, and a flat area off the road will serve as a parking lot.
Houghton said the site was selected by former Parks Director William Balfour. He talked to Jerry Hucks, who championed the archery range before his death.
She said Hucks got Scouting groups involved in archery.
She said archery was already being practiced at the shooting complex, but in a makeshift way.
The range is one of numerous projects part of the Koko Head District Park, Houghton said.
Bill Lennan, a retired ecologist and user of the shooting range, said, "Obviously, for right now it looks pretty ugly. I'm kind of surprised that they didn't use the old pistol range, which is inside the crater.
"Whenever you dig in, lush and green starts out being ugly and brown, but the grass is going to come back," he said.