---
FAST FACTS HAWAII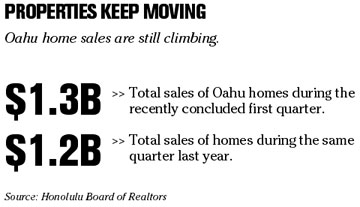 ---
HAWAII
Aloha Airlines adds earlier, later flights
Aloha Airlines
has added earlier and later flights to its interisland schedule for the summer.
Beginning June 1, the carrier's first flight will leave Honolulu at 5 a.m., headed for Maui. It will also add a 5:15 a.m. departure to Lihue, Kauai. Its first Big Island flight will leave Honolulu at 5:20 a.m.
Its last flights will depart all three neighbor islands for Honolulu at 9 p.m. The carrier will offer 120 daily interisland departures this summer.
NATION
Air traffic controller talks stall
WASHINGTON » Contract talks between the government and the air traffic controllers' union broke off yesterday after the Federal Aviation Administration declared an impasse.
The two sides, sometimes openly hostile to each other during nine months of collective bargaining, could not agree on compensation.
The dispute now goes to Congress, which has 60 days to intercede.
Vioxx trial ends in split verdict
ATLANTIC CITY, N.J. » A jury found
Merck & Co.
liable yesterday for one of two former Vioxx users' heart attacks in a split verdict that awarded $4.5 million in damages to one of the plaintiffs.
The state jury found the company failed to adequately warn both men about the risk factors linking the now-withdrawn painkiller to heart attacks and strokes, but said the drug was only a factor in one of the men's illnesses.
Jurors ruled that only John McDarby, 77, a retired insurance agent from Park Ridge, should receive compensation. McDarby was awarded $3 million for pain and suffering and his wife was awarded $1.5 million. He did not comment after the verdict.
Wal-Mart loses in California court
Wal-Mart Stores Inc.
can't block officials in Turlock, Calif., from banning discount retail outlets containing grocery stores, a state appeals court ruled yesterday.
The state appeals court in Fresno rejected Wal-Mart's claim that the city's ordinance should undergo environmental review. Wal-Mart had sued Turlock, a city of 67,009, arguing that a "Supercenter" selling groceries with other merchandise reduces congestion and pollution because shoppers drive less.
Northwest strikers denied benefits
MINNEAPOLIS » A Minnesota judge ruled yesterday that striking
Northwest Airlines
mechanics remain ineligible for unemployment benefits because their strike remains active.
Kent Todd, an unemployment law judge, cited Minnesota Supreme Court decisions to explain why striking mechanics fail to qualify for jobless benefits. In three key cases, Todd wrote, "The court held that the labor dispute ended either when the parties reached a settlement or when the striking workers unconditionally agreed to return to work."
Apple reaches out to Windows
Apple Computer Inc.
, abandoning its historic practice of running only its own operating system on its personal computers, rolled out software yesterday enabling buyers of Apple's new Intel-based computers to install the Windows platform built by rival
Microsoft Corp.
The move, which caught much of the technology world by surprise, was seen as a bid to boost Apple's share of the PC market -- estimated at less than 5 percent -- by reaching beyond its base of loyalists to the larger universe of ordinary computer users more familiar with the ubiquitous Windows.
Google site adds real estate listings
Google Inc.
, the nation's most popular Internet search engine, has added real estate listings to its local mapping service.
Visitors to google.com who search for the terms "apartment rental" or "homes for sale" are asked to type in a location. Results are then displayed with red push pins on a Google map.
While the listings are far from comprehensive, Google is making its foray into the midst of a real estate information explosion and strong competition for the attention of homebuyers and sellers.
Agents, multiple listing services, newspapers, and a proliferation of new sites, from Homepages.com to Zillow.com, are popping up on the Internet with increasingly detailed information, pictures and virtual tours about homes for sale.
WORLD
Australia's jobless rate drops to record low
Australia's jobless rate fell to a record low in March as retailers hired extra part-time workers, adding to speculation the central bank may raise interest rates this year as rising wages threaten to accelerate inflation.
Employment in the Asia-Pacific's fifth-largest economy climbed by 27,000, cutting the jobless rate to 5 percent from 5.2 percent, the Bureau of Statistics said today in Sydney.