---
MADE IN HAWAII
Island Princess fundraiser idea for halau
Island Princess has come up with a fundraising program only for hula halaus. Five-ounce bags of macadamia nut popcorn will be offered to any Oahu halau at cost -- $1.50 per bag -- to resell as a benefit. The plan involves no tickets, redemption pickup days or upfront payments. Suggested resell price is $3.
The company's logo is a hula girl, so company President Michael Purdy said he thought it would be appropriate to do a little something for the modern practitioners of traditional dance.
The fundraiser was tested in a pilot program by Kaululehuaika'iu halau to raise cash for a hoike last August. Island Princess hopes eventually to expand the offer to the neighbor islands.
To sign up, call 839-5222 or e-mail info@islandprincesshawaii.com.
---
NEW ON TELEVISION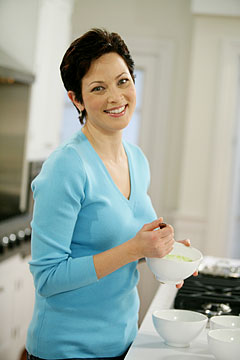 Ellie Krieger
Healthy cooking for busy lives
Nutritionist-author Ellie Krieger joined the Food Network stable with a show debuting at 10 a.m. Saturday, "Healthy Appetite with Ellie Krieger."
Krieger's premise is that it can be easy to stay on a healthy track no matter how busy life gets.
Krieger will demonstrate how to make healthier versions of foods such as steak fajitas, mashed potatoes and pasta. She will also share strategies for eating well in the most challenging situations -- the office, restaurants, even on vacation. And, she'll take a stab at explaining the confusing nutritional and diet information that's out there.
Krieger is a registered dietitian specializing in nutrition and health communications. She is author of the book "Small Changes, Big Results" (Clarkson Potter, February 2005).
---
Powerful healing
Dr. Zhi Gang Sha, a doctor of traditional Chinese medicine, will lead a series of free public meetings on power healing, a combination of Western and Chinese healing techniques:
Today: 4:30 to 6:30 p.m., informal discussion, John A. Burns School of Medicine, Medical Education Building Room 314, Kakaako Campus. Call 676-1195.
Tomorrow: "Tai Chi and Introduction to Power Healing," 9 a.m. to noon, Shingon Buddhist Temple, 915 Sheridan St. Call 941-5663.
Tuesday: Screening of the PBS documentary "Qigong: Ancient Chinese Healing for the 21st Century," 9 a.m. to noon Kahala Nui Retirement Center, 4389 Malia St., followed by a discussion with Sha. Call 339-6815 or 676-1195.
Sha will also appear at workshops from noon to 6 p.m. Saturday Sunday at the University of Hawaii-Manoa Art Auditorium. Cost is $125 per day; $175 for both days. Call 676-1195.
---
Star-Bulletin staff and wire services