KAHALA MALL TO REOPEN
Will insurance pay?
Some Kahala Mall retailers may have lost as much as 15 percent of their monthly revenues to a flood
Kahala Mall, forced to close Friday after a deluge of rain surged through the center, is expected to reopen today, except for a few of its retailers.
As late as yesterday, most of the mall's merchants were working around the clock to clean up remnants of the flood and account for wares lost during a critical kamaaina spring-break weekend.
"We were pretty busy Friday before we had to close," said Rosa Chai, manager of KB Toys, which was one of stores hardest hit by the flooding. "We had lots of customers because it was raining and it was spring break -- it was really unfortunate."
About 90 businesses on Kahala Mall's ground level, including KB Toys, were evacuated and shut down on Friday as a chocolate-brown river swept through the Ewa end of the mall to the other, stopping just short of the California Pizza Kitchen. Moviegoers at Kahala 8 Theatres were forced to evacuate quickly when storm drains overflowed on nearby Hunakai Street, forcing water into an exit door near one of the theaters. Eventually the water broke through a wall between the theaters and flowed throughout most of Kahala Mall's ground level.
A cost estimate of the damage, which resulted in many store closures and ruined much of the mall's carpet and other flooring, is still unavailable, said Ron Yoda, general manager of Kahala Mall.
"The theaters were the hardest hit, but to some extent all the stores got water intrusion," Yoda said.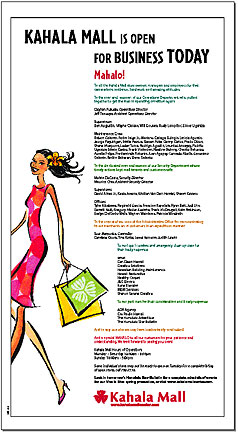 Kahala Mall ran full-page advertisements in today's Star-Bulletin welcoming shoppers back.
Most stores in the interior portion of the mall, especially those on the Ewa side like Kahala 8 Theatres and KB Toys, were affected, he said.
"Many stores have damaged inventory," Yoda said. "If they had merchandise on the floors or in boxes and it got waterlogged, they won't be able to sell it."
In addition to physical damage to their storefronts and inventory, many merchants could see a drop in revenue due to the closings, said Scott Creel, marketing director for MMI Realty Services Inc., the mall's management company.
Retailers like KB Toys, which had to close from Friday through today, are estimated to have lost as much as 10 percent to 15 percent of their monthly revenues, since the weekends account for most mall traffic, he said.
It was a bad ending to a month that began with such hope, Creel said.
"Prior to the flood, many merchants were telling us that March, being as rainy as it was, had been good for business," he said. "After awhile people got tired of being cooped up in their homes and they came out shopping."
Insurance may compensate some of the merchants for damage to their storefronts or inventory; however all retailers are responsible for their own policies, he said.
"The stores are working on compensation themselves," Yoda said.
Stores on the far side of the mall such as Macy's, Longs Drug Store, Star Market and California Pizza Kitchen were more fortunate. Barnes & Noble, an upper-floor business, and Chili's, which is located in the parking lot, never had to close.
Although commotion over the flooding forced Macy's to close its doors on Friday, the department store was able to keep its doors open on Saturday and Sunday, two of Oahu's biggest spring-break shopping days, said Lavina Wong, director of special events for Macy's West in Hawaii and Los Angeles.
"The water stopped before it got to Macy's and we were able to stay open," Wong said.
"Our hearts really go out to all the other merchants who suffered."
By Saturday, most merchants with an outdoor entrance were able to open, Yoda said. By today, nearly all retailers were expected to open, save a few who are still waiting on damage assessments, he said.
"Some stores are choosing not to open so that they can get a full assessment of the damage," Creel said. "They might have to do total remodels and they don't want to take a Band-Aid approach."