---
FAST FACTS HAWAII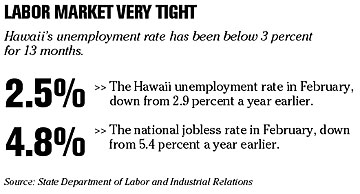 ---
HAWAII
Hawaiian Airlines tops industry service rankings
Hawaiian Airlines
came out on top in February among carriers nationwide in three service categories tracked by the U.S. Department of Transportation.
The airline was rated best among 19 airlines in on-time service, cancellations and baggage handling in a tally the agency released yesterday. Hawaiian was ranked fourth best in passenger complaints.
The mainland operations of Mesa Airlines, which plans to start Hawaii interisland service in June as go!, ranked fifth for on-time service, 16th in cancellations, 15th in baggage handling and 14th for consumer complaints.
Aloha Airlines was not part of the agency's tally, which includes carriers with at least 1 percent of total domestic scheduled-service passenger revenues.
NATION
Americans are not saving enough
NEW YORK » The majority of American workers think they'll be able to retire comfortably, but most aren't saving nearly enough to meet that goal, according to a new study.
The Employee Benefit Research Institute's annual retirement confidence survey, released Tuesday, found that about 68 percent of workers are confident about having adequate funds for a comfortable retirement, up slightly from 65 percent in 2005.
At the same time, more than half of all workers say they've saved less than $25,000 toward retirement, according to the Washington, D.C., based research group. Even among workers 55 and older, more than four in 10 have retirement savings under $25,000.
"'Overconfidence' is the word that comes to mind," said Jack VanDerhei, co-author of the study.
Best Buy slashes headquarters
MINNEAPOLIS »
Best Buy Co. Inc.
, the nation's largest consumer electronics retailer, said it gave layoff notices to about 300 workers at its Richfield headquarters on Monday.
The layoffs amount to about 7 percent of its corporate headquarters, spokeswoman Dawn Bryant said. It's about a half percent of Best Buy's total work force.
JetBlue will offer spa products
NEW YORK >>
JetBlue Airways Corp.
will offer spa products on its red-eye flights, hoping to fill seats in fiercely competitive transcontinental markets as high fuel prices continue to plague the airline industry.
JetBlue and Bliss have begun giving overnight passengers kits that contain eye masks, earplugs, moisturizer, lip balm and a promotional offer from the spa company. The kits are distributed only on flights between Western states and the East Coast.
The airline has also started offering a self-serve pantry filled with snacks and hot towels on the flights -- part of what JetBlue is calling "Shut-Eye" service.
Exxon Mobil returns to No. 1 on Fortune 500
NEW YORK » Skyrocketing energy prices propelled
Exxon Mobil Corp.
to the top of the 2006 Fortune 500 list, and consigned
Wal-Mart Stores Inc.
to the No. 2 spot on the magazine's annual ranking of the nation's largest publicly traded companies.
Fortune compiled its list based on companies' 2005 revenues. Exxon Mobil raked in $340 billion in revenue, a 25.5 percent increase over 2004, and had $36.1 billion in profits, the most by any U.S. company in history.
Exxon Mobil last appeared at No. 1 in 2001. Only Wal-Mart, Exxon Mobil and General Motors Corp. have topped the list since its inception in 1954.
Suit says Geico policy is racially biased
Berkshire Hathaway Inc.
's Geico Corp. unit, the fourth-largest U.S. car insurer, violated federal anti-bias laws by charging black customers more than whites, a lawsuit filed in federal court in Minneapolis claims.
Geico bases car-insurance premiums on education and occupation, charging less to more-educated customers, according to the suit.
The policy means that blacks pay more on average for automobile insurance, because they're less likely to have college degrees, according to a complaint filed yesterday on behalf of black consumers in 43 states and Washington.
Expedia will add listings for B&Bs
Expedia Inc.
, the world's largest online travel agency, will add listings for more than 6,000 inns and bed-and-breakfast properties as it expands the lodging options for its customers.
Expedia said it formed an exclusive partnership with BedandBreakfast.com to offer the service's rooms, rates and resources such as a worldwide database of inns.
WORLD
Verizon selling in Latin American
MEXICO CITY »
Verizon Communications
announced yesterday that it was selling its interests in phone companies in Venezuela, Puerto Rico and the Dominican Republic for $3.7 billion, saying they no longer fit in with its business focus.
All three transactions involved America Movil, a large cellular telephone service provider controlled by the Mexican billionaire Carlos Slim Helu that has grown steadily across Latin America as global telecommunications companies left.