---
FAST FACTS HAWAII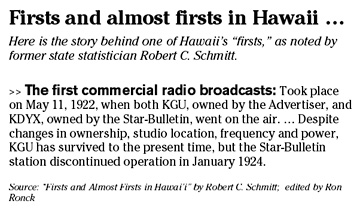 ---
NATION
Vegas visitors getting younger, spending more
LAS VEGAS » Visitors to Las Vegas got younger and spent more in 2005 than a year earlier, paying more for gambling, rooms, food and drink and shopping, officials said last week.
"Part of this is in response to the addition of significant nightclub and nightlife opportunities the hotels have provided in the last four or five years," said Kevin Bagger, research director for the Las Vegas Convention & Visitors Authority.
The bulk of visitors remain the Baby Boomers, he said, but the average age fell to 47.7 years old from 49.0. The average age in 2003 was 50.2 years old.
The average gambling budget per trip increased from $545 to $627, while spending on food and drinks rose $10 to $248. Shopping outlays rose from $124 to $137, while nightly room spending for those without package deals rose from $86 to $100.
A record 38.6 million people visited Las Vegas in 2005, and 39.1 million are expected in 2006.
You get 2 extra days for tax filing
Tax Day is less than a month off, and many people might not yet have faced the task.
If you're in that camp, there are a few last-minute tips that might aid your tax preparation, from the National Association for the Self-Employed, a Texas-based group that works on issues for micro-businesses.
First off, thank the calendar. April 15 is a Saturday this year, so Uncle Sam will wait two extra days for your income tax data, until Monday the 17th.
» Check your math. Traditionally, most mistakes on IRS forms are from simple arithmetic errors.
» Consider "hidden" deductions. If you run a small business, or work from your home, your office space may qualify for a tax deduction. The same applies for business use of your vehicle, driving to a client's work site or to a place to do some of your business, such as the post office.
» Retirement savings made the first 4 1/2 months of this year are deductible for 2005 right until April 17, assuming you did make the contribution applicable for the 2005 tax year.
» Ponder your 2006 taxes now. If you got a hefty assessment, or some other unpleasantries from this year's return, learn why and how to alter your taxation scenario for the coming year.
Job seekers laud plastic surgery
Beauty may, in fact, lie in the eye of the job holder.
The job search site Monster.com asked the question: "Do you think having plastic surgery or cosmetic dental work would help advance your career?"
More than half the nearly 22,000 people who answered the question, 53 percent, said yes. Less than a third, 31 percent, said it would not.
The results are from a Web poll at the site run by New York-based Monster Worldwide Inc. It garnered 21,552 votes.
Few appreciate condescending tone
What's the most maddening thing about daily life in your work place?
Randstad USA, the American subsidiary of Randstad Holding NV, one of the world's largest temp-staffing companies, decided to ask more than 2,300 adults that question.
Top of the pet peeve list?
» Condescending tones at work, cited by 44 percent.
» Public reprimands, 37 percent.
» Micromanaging, 34 percent.
» Loud talkers, cited by just under a third.
» Mobile phone ringing, 30 percent.
» Use of speakerphones in public areas, 22 percent.
The data were collected in February from 2,318 people.