HIGH SCHOOL ALL-STATE BASKETBALL
Ale does it all
The Kahuku senior's well-rounded game makes him the player of the year
SOMEWHERE between the flooded roads and lonely workouts in the gym, Okesene Ale Jr. finds time for some fun.
One of the hardest-working basketball players in the islands was busy getting ready for his prom Friday afternoon, wet weather and gloomy skies not withstanding.
He also had another reason to smile. The 6-foot-1 multi-position senior from Kahuku was selected as the Star-Bulletin's Basketball Player of the Year. The sharpshooter was chosen by a panel of coaches and media, ahead of Iolani senior Kawika Shoji and Punahou junior Miah Ostrowski.
"It feels good. It's great, it's something that I worked for. It feels deserving, but it means more to my family than it does to me," Ale said, crediting assistant coach Wayne Keys. "It means a lot especially those who pushed me, like coach Keys, who prepared me for senior year."
Kahuku came within a whisker of successfully defending its Oahu Interscholastic Association crown. Ale averaged 23.6 points per game, exploding often despite defenses that marked him. His court leadership, however, was even more valuable to a team that lost its starting backcourt to graduation.
Ale scored a high of 34 points in the OIA playoffs before Kahuku fell to Kaimuki, a team that went on to play for the state championship. Ale had scored 33 against Kaimuki in the regular season, but the Bulldogs devised a matchup defense that limited him to 12 points in the league title tilt.
The Red Raiders won their state tournament opener, but fell in the quarterfinals, ending Ale's quest.
---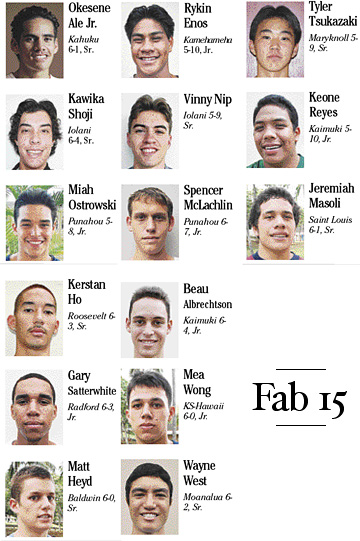 ---
"Actually, I'm not disappointed with how things ended. It doesn't really hurt me. I wanted to get there, that was my goal, but I had a great time with my teammates. That was good enough for me," the scholar-athlete said.
What separated Ale from the rest of the Fab 15 was his all-around game. Being a primary ballhandler and scorer was just part of his contribution. Defensively, he was outstanding on the perimeter and on the glass. Ale was also named to the All-Defense team by voters.
At 15 points per game, Shoji wasn't a prolific scorer, but his ability to hit the open mid-range shot -- as well as clutch 3-pointers -- was a huge factor in Iolani's fifth straight state championship run. Already a ballhawking defender, the 6-4 swingman was a shot-blocking force on the low post, but put his long reach to work in the passing lanes.
Iolani's trapping defense thrived with Shoji's ability to poke passes away and start fast breaks. His most overlooked asset, though, was his passing touch from the top. Shoji was a classic point forward in Iolani's offensive scheme.
Ostrowski, at 18 points per game, was more than a scoring machine. Yes, he has scored more than 1,600 points already in his prep career, but his ability to give his team offense with games on the line was unmatched.
His excellent court vision became more apparent this season, and his strength as a rebounder improved. The 5-8 guard didn't get to showcase his skills in the state tournament after Punahou lost a triple-overtime heartbreaker to Saint Louis in the Interscholastic League of Honolulu playoffs. Still, he garnered the third-largest total of votes.
The All-Defense team was led by Iolani senior guard Vinny Nip, who also finished fifth among the Fab 15 in votes. Nip's relentless, end-to-end man coverage had no equal. Joining him on the team are Ale, Shoji, Rykin Enos of Kamehameha and Keone Reyes of Kaimuki.
---
BACK TO TOP
|
Mugiishi makes it work for Iolani's basketball program
By 10 a.m. on most days, Dr. Mark Mugiishi has endured enough stress to fill an entire week for other folks.
The longtime surgeon brings the same skill, logic and manner to the hardwood as Iolani's coach, and nobody is prouder of Raider basketball.
In his waiting room at Kuakini Medical Center, the first framed photo near the entrance is a gift that bears three winning scores from three state title games. The "three-peat" headline is actually two years old now, and Mugiishi could update his wall with a new picture for Iolani's latest accolade, a five-peat.
The Raiders overcame early-season struggles to win their fifth championship in a row, and they did it without a standout scorer. Mugiishi was named Star-Bulletin Coach of the Year in a vote of coaches and media.
Mugiishi was a narrow selection over Kaimuki's second-year guru, Kelly Grant, who led the Bulldogs to the state final before losing to Iolani.
Iolani (23-8) lost six games in nonconference play, an eye-popping total for a program familiar with dominance. The Raiders were in Oregon at the Hillsboro Invitational when Mugiishi convinced his staff that a change in schematics was necessary.
"What was simmering in my mind before we went up was that we weren't playing on. At the tournament, we were trying halfcourt sets, a smaller rotation, and it became clear that the team we had needed a faster tempo, create more turnovers," he said of a first-round loss.
His staff -- a mix of savvy veterans and bright young minds -- wasn't sold on Mugiishi's decision.
"Actually, it kind of caught them by surprise. At the meeting after the first game (at Hillsboro), we freaked out. But we had talked about before maybe we needed ways to increase possessions," Mugiishi recalled.
That meant utilizing more bodies, going deeper into the lineup.
"They weren't real keen on the idea of platooning because some guys would sit. Kawika Shoji comes out of the game. But over time, our kids got used to it," Mugiishi said.
The Raiders did more than get used to it. They won two of their final three games at Hillsboro and returned to Honolulu with Mugiishi proclaiming that his team had made drastic improvement.
Iolani started league play shortly after that, employing the platoon system that wore down opponents in the tough ILH.
"We tried to say, when it was time to change the way the game was being played, instead of changing the offense or defense, we'd change teams," Mugiishi said of his platoons. "When we wanted to go zone, we'd send in the next five. They were a little bit bigger with Taylor (Mounts) and Liloa (Nobriga), and the guards were a little taller with Ryan Dung and Case (Miyahira)."
Mugiishi credited his staff -- Bernie Ching, Cal Hashimoto, Dean Shimabukuro, Adam Wong and Glenn Young -- for the great strides, especially in getting all of the players to accept their roles and responsibilities in the up-tempo game.
---
BACK TO TOP
|
Star-Bulletin All-State Basketball
Fab 15
Okesene Ale Jr.
Kahuku
6-1, Sr.
Kawika Shoji
Iolani
6-4, Sr.
Miah Ostrowski
Punahou
5-8, Jr.
Rykin Enos
Kamehameha
5-10, Jr.
Vinny Nip
Iolani
5-9, Sr.
Spencer McLachlin
Punahou
6-7, Jr.
Tyler Tsukazaki
Maryknoll
5-9, Sr.
Keone Reyes
Kaimuki
5-10, Jr.
Jeremiah Masoli
Saint Louis
6-1, Sr.
Kerstan Ho
Roosevelt
6-3, Sr.
Gary Satterwhite
Radford
6-3, Jr.
Matt Heyd
Baldwin
6-0, Sr.
Beau Albrechtson
Kaimuki
6-4, Jr.
Mea Wong
KS-Hawaii
6-0, Jr.
Wayne West
Moanalua
6-2, Sr.
Honorable mention
» Cameron Bayne, Saint Louis, 6-1, Sr.
» Ryan Hayes, Campbell, 5-8, Sr.
» Chris Aiwohi-Kegler, Kamehameha-Hawaii, 6-0, Sr.
» Jacob Ho, Kamehameha, 6-0, Sr.
» Scott Smith, Saint Louis, 6-6, Jr.
» Kevin Unga, Kahuku, 6-1, Sr.
» Thomas Pyo, Kaimuki, 6-2, Sr.
» Devin Unga, Kahuku, 6-1, Sr.
» A.J. Clark, Mililani, 5-10, Sr.
» Marvin Judd, Kalaheo, 5-9, Sr.
» Ken Moses, Mililani, 6-0, Sr.
» Keo Keola, Roosevelt, 6-1, Sr.
» Liloa Nobriga, Iolani, 6-3, Fr.
» Josh Bradbury, Kauai, 5-10, Sr.
» Tristan Sealy, Campbell, 6-2, Jr.
» Tyler Caswell, Kalaheo, 6-5, Jr.
» Jarret Shiu, Kaimuki, 5-10, Sr.
» Jeff Tumacder, Baldwin, 5-7, Sr.
» Mike Makinano, Campbell, 5-10, So.
» Chris Newcomb, Waimea, 6-0, Jr.
» Matt Perry, Lahainaluna, 6-0, Sr.
Note: All selections made by the Star-Bulletin after consultation with coaches and media statewide.