HAWAII INT'L FILM FESTIVAL
Let's go to the movies
The Hawaii International Film Festival is back with its Spring Showcase featuring 28 films from 13 countries. Below is a peek at five of the films. Photos provided courtesy of HIFF.
THE BARE FACTS
Friday through April 6 » Dole Cannery Stadium 18 » Tickets are $10 general; $9 military, students, seniors and children; $8 HIFF Ohana members. They are available at the box office, by phone (550-8457), fax (536-8192) or online (www.hiff.org).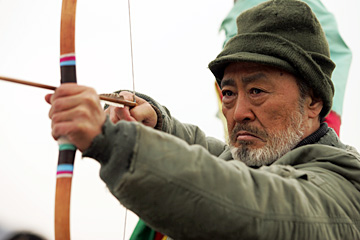 "The Bow"
Screens 9:15 p.m. Saturday and noon Sunday



1/2
Korean director Kim Ki-duk has already gained acclaim with his latest films, "Spring, Summer, Fall, Winter ... and Spring" and "3-Iron." Two techniques that have helped him garner an international audience -- his allegorical style of storytelling and minimal use of dialogue -- are again put to good use in this tale of an old fisherman's pure love for a girl who lives with him on his decrepit boat.
"The Bow" plays out with the measured beats of a silent film. All of the emotional cues can be heard on Kang Eun-il's rapturous score (featuring the evocative sounds of the bowed haegum), and seen in the expressive faces of Han Yeo-reum as the girl and of Jeon Sung-hwan and Seo Ji-seok, who play her old and young male interests, respectively.
The keys to the film's success are the music and Han's beguiling, sensuous face. Her character brings a fairytale quality to the story: Approaching womanhood, she follows a cyclical arc from young and willing innocent to combative companion, and back to a willing but spiritually enlightened bride.
Kim seems to suggest that the laudable qualities of humanity, as well as his native culture, can only flourish in isolation. And while some in the audience may have problems accepting the director's interpretation of the feminine archetype represented here, there's no denying the elemental power of "The Bow."
---
Gary Chun / Star-Bulletin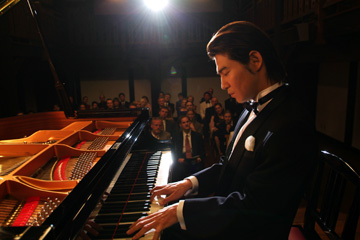 "The Gift"
Screens at 8:45 p.m. April 3 and 3 p.m. April 4



Here we have an autistic girl, a guy with a ruined hand and a gift that belongs to both of them -- an ethereal talent for the piano. They are bound by her loss and his heroism -- Keisuke was shot in the hand while saving Chiori from the gunmen who killed her parents.
Enter Girl No. 2, Mariko, who is quite simply an angel, a social worker loved by all.
The story meanders pleasantly as we meet these people and wonder how they relate. Then comes a freak lightning strike and the film cuts to the chase.
The fragile Chiori is once again protected, this time by Mariko, who is mortally wounded. But when Chiori awakes, she is no longer shut away by her autism; she is somehow channeling Mariko.
This time it is Chiori who plays hero, allowing Mariko the use of her body to review her life and say her goodbyes.
This may come across as convoluted to the point of silliness, but trust me, it works. "The Gift" is a heartfelt little film with a message of healing and forgiveness -- reminiscent of "It's a Wonderful Life," with all the cornball tear-jerkiness that implies. But with its musical backdrop and compelling characters, it is a film that tugs gently at the heartstrings, just hard enough.
---
Betty Shimabukuro / Star-Bulletin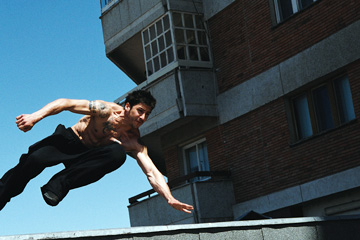 "District 13"
Screens at 9 p.m. Saturday and April 5



Who says you need a Hong Kong director and all-Asian cast to make a fast-paced, stunt-filled action flick?
With "District 13," Frenchman Luc Besson follows the mold of "Escape From New York" with a futuristic tale about a walled-off ghetto in Paris and the threat posed by a rogue nuclear device.
Government officials send police officer Damien (Cyril Raffaelli) into District 13. His escort is Leito (David Belle), a tattooed ex-con with a grudge against the gang warlord who has the bomb -- and Leito's sister, Lola -- hidden away in a fortified bunker.
A supporting cast of stereotypical gangsters and government officials strengthen the impact, while underscoring the persuasiveness of American hip-hop culture. Thugs sport athletic apparel and lots of bling to go with souped-up import cars and enough weaponry to put 50 Cent to shame. Other baddies strut around in suits like pimps, and the warlord in charge snorts up a storm while popping a cap in those who make him mad, a la Pacino in "Scarface."
Yet the film is at its best during fight scenes, filmed without wires or computer-generated animation, using a form of "freestyle walking" called parkour. Both Raffaelli and Belle are given ample opportunity to showcase their abilities, although the ending might be considered a cliché.
Regardless of the slight cheese factor, "District 13" is a joy ride that begs to be watched on a big screen -- which the HIFF gladly provides.
---
Jason Genegabus / Star-Bulletin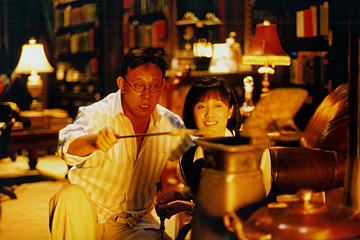 "Letter From an Unknown Woman"
Screens at 6 p.m. Sunday, 8:45 p.m. April 4 and 3 p.m. April 6



It's strange to think that most American moviegoers will find explosions and car chases easier to swallow than the premise behind the Chinese film "Letter From an Unknown Woman," about unrequited love taken to its extreme.
The film is directed and acted by Xu Jinglei as the woman who sends a deathbed confession to the man "responsible" for her lifetime of self-induced misery, in which she sacrifices all dignity and potential for happiness.
He is clueless as to his role because hers is a one-sided love story. Because we know the end of this movie at the start, the only mystery is what makes this particular man so special.
The film is an adaptation of Stefan Zweig's 1922 short story, which was also filmed by Max Ophuls in 1948.
The woman's relationship with the writer, played by Jiang Wen, is told through beautiful cinematography by Mark Lee Ping-Bin, who also filmed "In the Mood for Love," and the story proceeds at a similar pace and mood, cast with quiet longing, sadness and alienation.
The woman's tale, set in revolutionary China of the 1930s and '40s, starts with her first adolescent glimpse of her glamorous playboy neighbor and her observance that there is no love more powerful than that of a child, though most people do grow out of and over their first loves.
In unsettling times, however, she copes by holding onto her one firm belief while his mechanism is distance and forgetfulness.
---
Nadine Kam / Star-Bulletin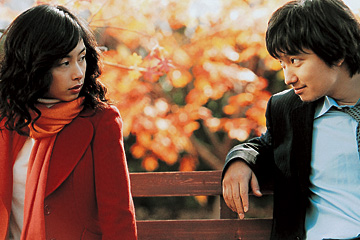 "Rules of Dating"
Screens at 6:15 p.m. April 3 and 9 p.m. April 6



1/2
In movies, romantic plots go a little like this: Boy meets girl, love or lust is felt at first sight, then a misunderstanding separates them. But all is resolved in enough time for viewers to see the new couple off onto their new relationship before the credits roll.
The Korean film "Rules of Dating" is a bit less predictable. Hong (Kang Hye-jeong) already has a boyfriend, one who is handsome, kind and gainfully employed. But against her better judgment, she makes an "arrangement" with insistent suitor Eu-Rim (Park Hae-il), a Lothario who attempts to seduce her with not-so-smooth pick-up lines.
Is Eu-Rim really in control of Hong? Only in his mind. Eu-Rim is less seducer, and more a snaggeled-tooth, slovenly mess, falling head over heels with Hong's reserved nature. And Hong, good girl that she is, doesn't go along with his games, inadvertently gaining the upper hand as she flees from each encounter.
One thing can be learned from director Han Jae-rim's take on love -- know your prospective partner well. His pair of cheaters is mostly sympathetic, the seducer a bit more complex than he first appears, and the doe-eyed innocent not so much quiet as repressed. A fun, light treatment is expected and delivered. It is a smarter, hipper take on the well-worn subject of romance, but still manages to provide that feel-good ending every romantic loves -- sort of.
---
Jacqueline Carberry
Complete Schedule
Friday:
6:30 p.m. "Always: Sunset on 3rd Street" » 6:45 p.m. "Tsotsi" » 9 p.m. "Linda Linda Linda" » 9:30 p.m. "Lady Vengeance"
Saturday: Noon "Iron Island" » 12:15 p.m. "Zozo" » 3 p.m. "Minsan Pa" » 3:15 p.m. "The Soong Sisters" » 6 p.m. "Look Both Ways" » 6:15 p.m. "Spring Snow" 9 p.m. "District 13" » 9:15 p.m. "The Bow"
Sunday: Noon "The Bow" » 12:15 p.m. "Always: Sunset on 3rd Street" » 3 p.m. "Linda Linda Linda" » 3:15 p.m. "The Shopaholics" » 6 p.m. "Letter From an Unknown Woman" » 6:15 p.m. "Little Fish" » 9 p.m. "Hard Candy" » 9:15 p.m. "Love Is a Crazy Thing"
April 3: 3 p.m. "Minsan Pa" » 3:15 p.m. "Little Fish" » 6:15 p.m. "Rules of Dating" » 6:30 p.m. "Spy Sorge" » 8:45 p.m. "The Gift" » 9 p.m. "The Proposition"
April 4: 3 p.m. "The Gift" » 3:15 p.m. "Zozo" » 6:15 p.m. "Moonlight In Tokyo" » 6:30 p.m. "Citizen Dog" » 8:45 p.m. "Letter From an Unknown Woman" 9 p.m. "20 Centimeters"
April 5: 3:15 p.m. "20 Centimeters" » 6:15 p.m. "The Shopaholics" » 6:30 p.m. "Spring Snow" » 8:45 p.m. "The Proposition" » 9 p.m. "District 13"
April 6: 3 p.m. "Letter From an Unknown Woman" » 3:15 p.m. "Moonlight In Tokyo" » 6:15 p.m. "Love Is a Crazy Thing" » 6:30 p.m. "Parineeta" » 8:45 p.m. "Friends with Money" » 9 p.m. "Rules of Dating"