---
Viva la Diva!
Kahala Mall will host a spring fashion show from 12:30 to 1:30 p.m. tomorrow as part of its two-week Nouveau 2006 fashion event.
"The Runway: Focus on Fabulous" starts with a 12:30 p.m. Cirque Hawaii performance, followed by a show of the latest trends from mall tenants Macy's, Banana Republic, Ann Taylor, Calista, Ohelo Road, Reyn's, Shasa Emporium, Gymboree and T&C Surf Designs, with hair and makeup by Marsha Nadalin Salon & Spa.
Shoppers tomorrow and Sunday who show Kahala Mall same-day receipts totaling $100 or more will receive a free Fashion Girl shopping tote bag.
Workshops and events will continue through April 13. Highlights include a hairstyle workshop with Marsha Nadalin from 6 to 7 p.m. April 7 in the Hibiscus Lounge; an Anthousa Scent Bar with aromatherapy for the home, from 2 to 4 p.m. April 8 at Blush; Indah fashions presented at Shasa Emporium from 5 to 7 p.m. April 8; and presentation of Anne Namba designs at Calista by Cotton Cargo from 2 to 4 p.m. April 9.
Neighborhood exhibit
The new book "Mo'ili'ili -- The Life of a Community" comes to life through an exhibition at Japanese Cultural Center of Hawaii through May 5.
Like the book, the display tells the colorful story of the community and area through photographs and memorabilia.
The show is open 10 a.m. to 4 p.m. Tuesdays to Saturdays. Admission is free. For more information, call 945-7633.
More on the book: starbulletin.com/2006/02/19/features/story01.html
ALL HAIL!
2006 Lei Queen to be crowned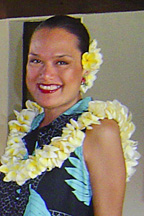 Sharla Ku'ualohapumehana Ka'eo will reign over first-of-May festivities as the 2006 Lei Queen. Ka'eo, 29, of Waimanalo, will be crowned by Mayor Mufi Hannemann on May 1 at Kapiolani Park Bandstand, to kick off a day-long celebration of Hawaiian culture.
The queen was selected March 18 based on a hula performance, poise and personality, and Hawaiian language pronunciation. Named as princesses were Lauren Kanoelani Chang, Délys Hulalimaikalanimai Kanemura Recca and Jorena Lehuanani Young.
Ka'eo works at Safeway in Hawaii Kai. She is married to Sheldon Kaleiokalani Ka'eo and has a 2-year-old daughter. She has been dancing hula since age 4.