---
FAST FACTS HAWAII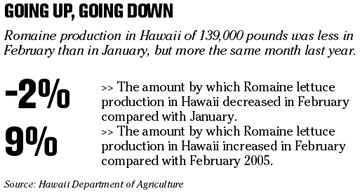 ---
HAWAII
Hawaii Naniloa Resort workers reject union
HILO » An attempt to restore union representation at the Hawaii Naniloa Resort has failed, with the International Longshore and Warehouse Union receiving just 5 votes out of 58 cast, Naniloa management said.
Five votes were counted for the International Longshore & Warehouse Union, 18 votes against union representation, and 35 votes were challenged and never opened.
When Hilo businessman Ken Fujiyama bought the hotel last month and failed to rehire most of the 138 unionized workers, the ILWU said Fujiyama was trying to eliminate the union.
Federal law says union representation is lost if fewer than half of the employees are rehired.
Only about 20 of the former workers were rehired, but for those who kept their job and for new hires, the pay went up about $1.50 per hour. Housekeepers went from $7.61 to as high as $9.50 per hour, Fujiyama said.
The union representation election was held March 22. Meanwhile a union attempt to block the sale of the hotel failed in Third Circuit Court on Mar. 10. Another hearing on the union objection is scheduled for May 12.
CLARIFICATION
Wednesday, April 5, 2006
» The results of a March 22 union representation vote at the Hawaii Naniloa Resort in Hilo were five votes for the International Longshore & Warehouse Union, 18 votes against union representation, and 35 votes that were challenged and never opened. A March 30 story on Page C1 failed to distinguish between the votes against the union and challenged votes.
NATION
Google to sell more shares
SAN FRANCISCO »
Google Inc.
plans to sell 5.3 million additional shares of its prized stock, hoping to raise more than $2 billion to finance its ambitious plan to expand beyond its Internet-leading search engine.
The move comes just two days before Google's closely watched stock will be added to the Standard & Poor's 500 index -- a breakthrough that snapped the company's shares out of a recent funk and presented management with an opportunity to capitalize on the surging demand.
Google's market value has climbed by more than 15 percent since Standard & Poor's said it would include the company's stock in the blue-chip bellwether.
But news of the offering raised a red flag for some investors worried that extra shares will make it harder for Google to reach the lofty earnings-per-share target set by analysts. Google's shares dropped $12.09, or 3.1 percent, in extended trading.
UAW rejects Delphi labor proposal
DETROIT »
Delphi Corp.
's latest offer on wages and benefits was rejected by the United Auto Workers union, which said it expects the bankrupt auto-parts supplier to seek court permission tomorrow to scrap its existing contract.
Delphi's March 24 proposal "wasn't even close" to something union leaders could submit to rank-and-file workers for a ratification vote, said Paul Krell, a UAW spokesman.
Krell said his comments reflect the sentiment of UAW Vice President Richard Shoemaker, who met with union leaders in Detroit yesterday.
The union has threatened to strike should Delphi ask a court for permission to void its existing labor contract and impose new terms.
Apple faces off with Apple
LONDON » As a disco beat filled a staid British courtroom yesterday, the Beatles' record company asked a judge to force
Apple Computer Inc.
to remove the logo from the popular iTunes Music Store.
A lawyer who represents record label Apple Corps Ltd., founded by the Fab Four in 1968, took the courtroom on a virtual tour of the iTunes Music Store to demonstrate how it works -- and to show Judge Edward Mann how often the Apple Computer logo pops up.
Apple Corps wan1ts Apple Computer to drop the trademark apple from the iTunes Music Store, and is also asking for damages, , though a monetary figure has not yet been named.
Whirlpool gets OK to merge with Maytag
WASHINGTON » Antitrust regulators yesterday approved
Whirlpool Corp.
's proposed $1.79 billion purchase of
Maytag Corp.
, saying the merger would not reduce competition substantially.
Some analysts and antitrust lawyers had expected the Justice Department to object to the deal because it would create a company producing half of the dishwashers in the United States and more than 70 percent of the clothes washers and dryers.
An investigation by the U.S> Justice Department's Antitrust Division found that an effort by the new company to raise prices on its washers and dryers "likely would be unsuccessful" because at least five other companies are well-established in U.S. markets, including the Sears brand Kenmore, General Electric, Frigidaire, LG and Samsung.
Bombardier profit rises with private jets
Montreal >>
Bombardier Inc.,
which makes Learjets, said its fiscal fourth-quarter profit rose 54 percent as surging demand for private jets outweighed a drop in sales from commuter planes and falling profit from rail cars.
Net income increased to $86 million, or 5 cents a share, from $56 million, or 3 cents, a year earlier, Bombardier said yesterday. Revenue in the quarter ended Jan. 31 dropped 15 percent to $4.04 billion.
Chief Executive Officer Laurent Beaudoin has reduced spending by closing train factories and curtailing production of regional aircraft. Sales of private jets have benefited from demand from companies and wealthy individuals. Business-jet deliveries jumped 19 percent, even as shipments of regional planes fell 27 percent.