| | |
| --- | --- |
| | Newswatch |
---
Boat breaks up after hitting reef off Big Isle
MAHUKONA, Hawaii » The 44-foot sampan fishing boat Aukaka broke up yesterday after becoming stuck on a reef 30 feet offshore near Mahukona harbor near the north end of the Big Island, authorities said.
Before the breakup, all four people on board were transported safely by dingy to the harbor, the Hawaii County Fire Department said.
The accident took place at 3:26 a.m. Boat captain David Nottage told Fire Department rescue personnel that he struck a reef heading north from Mahukona, turned around and attempted to return to the harbor.
He followed lights from a campground but then ran aground, the Fire Department said.
At 11:30 a.m. the boat broke apart, but fuel was in containers that did not rupture and no contamination took place, the Coast Guard said. A salvage company was at work on the wreck later in the day, the Coast Guard said.
Besides Nottage, also on board were Charlotte Nottage, Russ Goforth and Pat Quinn, the Fire Department said.
A Coast Guard spokeswoman said she did not know if weather was a factor in the accident.
Wahiawa, Whitmore asked to save water
Residents in Wahiawa and Whitmore Village are being asked to use drinking water for essential uses only for at least a couple of days.
Board of Water Supply spokeswoman Wanda Yamane said a pump in the area broke down.
A work crew might need until today to fix the pump, she said. Residents are being asked to use water only for drinking, cooking and sanitation.
Annual Kaimuki High fundraiser on April 8
The Kaimuki High School Foundation is sponsoring its annual fundraiser April 8 from 4:30 to 8:30 p.m. on the school grounds.
A suggested donation is $25 or more per person.
Dinner will be served from 4:30 to 6:30 p.m. in the cafeteria, followed by entertainment provided by the students from 7 to 8:30 p.m. in the auditorium.
Make checks payable to KHS Foundation; mail them to Kaimuki High School Foundation, 2705 Kaimuki Ave., Honolulu 96816.
For information, call Takamoto at 306-3328 or visit www.kaimukihsfoundation.org.
---
TAKING NOTICE
» Twelve teens who represented Hawaii at the 84th National 4-H Congress in Atlanta in late November attained the highest state honor in the 4-H Youth Development program.
They are Amanda Van Scoy, Megan Tokeshi, Marni Tabata, Deanne Sameshima, Courtney Miyamoto, Kaitlen Miyajima, Jennifer Matsumoto, Michelle Maki, Tiffany Lorenzo and Jasmine Davis of Maui; Lauren McConaughy from West Hawaii; and Kelsie Tone from Kauai.
Accompanying them were leader Corinne Yabuta of Hilo and Rose Saito, Oahu program director.
» The Aloha Chapter of the Association of Fundraising Professionals has given its community leadership awards to the following: Carolyn Schaefer Gray, Outstanding Philanthropist, nominated by Hui No'eau Visual Arts Center; Lawrence D. Rodriguez, Outstanding Volunteer Fundraiser, nominated by Maryknoll School; Pfizer Inc., Outstanding Corporation, nominated by Hawaii Primary Care Association; HMAA, Outstanding Small Business, nominated by Hawaii Foodbank; and Donna M. Howard, Outstanding Fundraising Professional, nominated by Hawaii Pacific Health.
A memorial award was given to Dr. Roderick F. McPhee.
» Linda K. Johnsrud, interim vice president for Academic Planning & Policy for the University of Hawaii system, as been named president-elect of the Association for the Study of Higher Education. Also a professor in the Department of Educational Administration at UH-Manoa, she will take over as president in November.
---
Please send "Taking Notice" items to City Desk, Star-Bulletin, 500 Ala Moana, Suite 7-210, Honolulu, HI 96813.
| | |
| --- | --- |
| | Police, Fire, Courts |
---
CENTRAL OAHU
AFTERMATH OF A DEADLY CRASH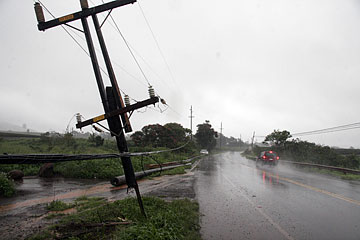 Driver killed when car strikes utility pole
A 31-year-old Waipahu man died early yesterday when his car apparently went off Kunia Road, struck a utility pole and overturned.
The Medical Examiner's Office identified the man as Noel Rao.
Hawaiian Electric Co. crews arrived on scene at about 4 a.m. and found a severed utility pole and an overturned green 1998 Ford Escort with the victim still strapped in by his seat belt, police said.
Police believe the crash happened earlier, at 2:13 a.m., because that is when the outage was reported.
Police said the man apparently lost control of his vehicle.
Police said excessive speed appears to be a factor in the crash, although it is unknown if drugs or alcohol played a part.
Police said the area is not lit by street lights.
HONOLULU
Woman, 19, held after 2 crashes in Palolo
Police arrested a 19-year-old woman Saturday after she allegedly stole her father's vehicle and crashed it into two other vehicles in Palolo Valley.
Police said that the woman crashed her father's car into a vehicle parked on 10th Avenue and then a second vehicle parked in someone's driveway. The impact of the second crash pushed the car through the wall of the carport, police said. The incident happened between 8 and 9:30 a.m.
Police arrested the woman for investigation of auto theft and driving without a license.
She was also arrested for investigation of possession of what appeared to be crystal methamphetamine and drug paraphernalia. She was later released pending an investigation.
Laptop theft suspect tries to flee on bicycle
Police arrested a robbery suspect after he allegedly assaulted two people while trying to escape on a bicycle.
Police said the suspect, a 35-year-old man, was seen entering a Keeaumoku Street restaurant at about 11:40 p.m. Friday and taking a laptop computer from a dining room table.
A 32-year-old woman saw the man take the laptop and followed him to the Ross Dress for Less parking lot, where he got on a bicycle, police said.
As the man rode past the woman, she grabbed him and he allegedly punched her, dropping the laptop and his bicycle. A 30-year-old man heard the woman's screams and tried to help her but was allegedly pushed to the ground and punched by the suspect, who fled. When the man tried to follow the suspect, the suspect allegedly threatened to hurt him.
Officers found the suspect riding his bike on Kaheka Street near the Daiei parking lot. He was arrested for investigation of second-degree robbery, second-degree terroristic threatening and third-degree assault.
WINDWARD OAHU
Bedridden woman reportedly assaulted
A 53-year-old Waimanalo woman, who is bedridden and incapacitated, was reported to have been sexually assaulted, police said.
The woman's sister reported to police her sister was sexually assaulted in their home sometime before 2:30 a.m. yesterday, police said.
The victim is unable to communicate and is therefore unable to say what happened, but police believe something did occur and are investigating the case, police said.
Police have opened a first-degree sexual assault case.
WAIKIKI
Man held in stabbings during fight at hotel
Police arrested a 21-year-old man who allegedly stabbed two other men early Sunday during a fight in Waikiki.
Police said the victims, ages 19 and 25, were fighting a group of people at a Waikiki hotel at 4:40 a.m. The suspect, a 21-year-old man, was a member of the opposing group and allegedly stabbed both victims during the fight.
The suspect fled after the stabbing, police said. The victims were taken to the hospital in critical condition but later upgraded to serious. Police found the suspect yesterday at his home and arrested him for investigation of two counts of second-degree attempted murder and one count of first-degree attempted murder.