---
FAST FACTS HAWAII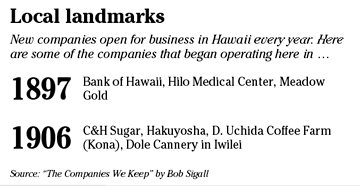 ---
NATION
Admit it: You actually like office meetings
Fewer aspects of working life merit as much derision as the office meeting.
The natural lair of bloviation specialists the world over, meetings have attained a truly timeless place in the annals of workplace ridicule.
Or have they?
Turns out, one reason there are so many meetings in the American workplace lies in the fact that many people covertly view them as a positive part of the job, according to a team of researchers who studied the effects of meeting time on employee well-being.
"When speaking publicly, people generally claim that they hate meetings," said Steven G. Rogelberg, an industrial and organizational psychologist at the University of North Carolina at Charlotte. "But in the surveys you see a different story -- some people's private sentiments are much more positive."
The study found that workers are affected differently by meetings based on whether they are considered high or low in "accomplishment striving" rankings.
High rankings are those workers who are very goal- and task-oriented and see meetings as an obstruction to productivity.
Low-accomplishment striving folks viewed meetings as a welcome means to structure their day.
The data are from surveys with 980 employees. The study appears in the March issue of the Journal of Applied Psychology.
"It is socially unacceptable to talk about liking meetings, unless someone else starts talking about it," Rogelberg said.
Most adults face 'sleep slump'
Forget about work, sex and money for a minute. How's your sleep life?
If it's not good, you have ample company these days, according to a poll of more than 1,000 adults.
A full 75 percent were found to be suffering from a "sleep slump" based on answers to a collection of criteria formulated by a Cornell University psychology professor.
Among the signs you might not be catching enough zzzzzs:
» Falling asleep while watching television;
» Falling asleep within five minutes of getting into bed and needing an alarm clock to wake up.
The telephone survey of 1,018 people was conducted last month for Tylenol, part of medical conglomerate Johnson & Johnson.
You can go back to work again
A pink slip doesn't have to mean forever.
Many workers laid off in corporate America's ever-popular "downsizing" campaigns end up returning to the same company, according to a survey of more than 14,000 displaced employees.
Last year, 13 percent who had previously been laid off were rehired by their former employers.
More than half employers, 54 percent, said they at least occasionally rehire former employees who were displaced by earlier downsizings. Almost as many, 46 percent, said they rarely hire back former employees.
More than fifth, 21 percent, said they had started a new business after they lost their job.
The survey was conducted by Right Management Consultants, a Philadelphia-based career transition and organizational consulting practice that is a subsidiary of Manpower Inc.
"The former attitude in corporate America -- that once an employer and employee parted paths, their history was concluded forever -- is shifting," said Right Management's Eileen Javers. "The talent shortage is forcing employers to rethink that attitude, and that's benefiting both employers and employees."