LAWRENCE TIN CHOY CHING AKO
1920-2006
Counselor helped develop student services as HCC grew
When Lawrence Tin Choy Ching Ako started his career more than 50 years ago as a counselor at what was then Honolulu Vocational School, there was no such thing as a financial aid office or placement tests or student services.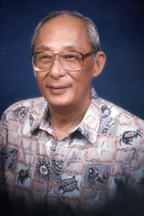 The school was focused strictly on job training. But over the course of his career, Honolulu Vocational School became Honolulu Community College. Ako, his family said, helped develop student services like the financial aid office and counseling that all community college students now enjoy.
Ako, who retired as dean of student services at HCC in 1975, died March 16. He was 85.
In 1955, Honolulu Vocational School became Honolulu Technical School but was still administered by the Department of Education.
In 1965, the school was among the first community colleges established in Hawaii and became part of the University of Hawaii system.
"The whole curriculum changed; it became like a junior college," said Frances Kakazu, who was then secretary to the provost.
Ako worked with students and helped develop placement tests and other services like the financial aid and student counseling office, said sons Harry and Eric.
"He used to make us take the test as little kids," said Eric Ako, now a veterinarian.
Harry Ako said his father "used to argue very vociferously that not everybody is suited to go to college." Ako said his father was devoted to the idea that the school needed to be a place where students could get a second chance.
Ako is survived by his children Harry, Laurene and Eric; and four grandchildren. Services are scheduled for 9 a.m. Tuesday at Community Church of Honolulu, 2345 Nuuanu Ave. Private burial. Aloha attire.