---
FAST FACTS HAWAII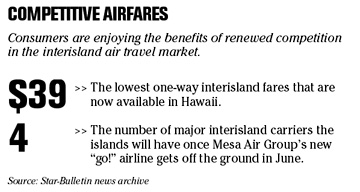 ---
NATION
Reusable rocket fails in first launch
LOS ANGELES » A partly reusable commercial rocket developed by a California entrepreneur failed during its maiden launch from a Pacific island yesterday, a spokeswoman said.
Space Exploration Technology's Falcon 1, designed to carry payloads to orbit at low cost, lifted off from Kwajalein Atoll about 12:35 p.m. Hawaii time, but a Webcast provided by the company immediately lost its picture.
Spokeswoman Gwynn Shotwell told reporters on a conference call that there was about a minute of powered flight.
"We do know that the vehicle did not succeed after that," she said. "Clearly this is a setback but we're in this for the long haul."
The rocket carried an Air Force Academy satellite to study space plasma phenomena that can interfere with communications through space.
SEC overturns Quattrone ban
In a rare move, the Securities and Exchange Commission late set aside yesterday a lifetime ban from the securities industry against the former investment banker Frank P. Quattrone, just days after a federal appeals court overturned his 2004 conviction on obstruction of justice charges.
The SEC said yesterday that the NASD, the market regulator that imposed the ban, had violated its own rules in taking the action in November 2004.
On Monday, a federal appeals court granted Quattrone a new trial, faulting the judge's instructions to the jury. The decisions were a major vindication for Quattrone, 50, who became one of the most powerful bankers in Silicon Valley during the dot-com boom of the late 1990s.
Kodak triples chief's compensation
Eastman Kodak Co.
, the world's largest photography company, tripled the 2005 compensation of its chief executive, Antonio Perez, to $10.4 million as he moved to complete the company's transition to digital products.
Perez, 60, got $1.05 million in salary and a bonus of $2.36 million. He also received 435,000 stock options valued at $3.44 million, Rochester, N.Y.-based Kodak said yesterday.
Kodak is spending $3 billion to fire workers and close plants as it shifts to digital imaging from film products. In Perez's first two quarters since becoming CEO on June 1, Kodak posted losses totaling $1.08 billion as film sales plunged and restructuring costs increased. Kodak stock lost more than a quarter of its value in 2005.
Moody's may cut Scholastic to junk
Scholastic Corp.
's debt rating may be cut to junk status by
Moody's Investors Service
, which cited the publisher's weaker-than-expected margins.
The company is reviewing New York-based Scholastic's Baa3 rating, the lowest investment grade, for possible downgrade, Moody's said yesterday. About $475 million in debt is affected.
Navy extends EDS' contract
Electronic Data Systems Corp.
, the world's second-largest computer services company, won a $3 billion, three-year extension to its contract with the U.S. Navy.
The extension is through September 2010, Plano, Texas-based Electronic Data and the Navy said yesterday in separate statements. The original contract was valued at $6.9 billion.
The renewal is a boon for Chief Executive Officer Michael Jordan, 69, who has managed to repair relations with the government after glitches led to losses and problems with quality.
It's the second piece of good news for Electronic Data this year. General Motors Corp. gave the company more business than analysts had expected in an award last month.
Gannett will look at buying former Knight Ridder papers
Gannett Co.
, the largest U.S. newspaper publisher and owner of the Honolulu Advertiser, may buy some of the 12
Knight Ridder Inc.
newspapers being sold by
McClatchy Co.
, Gannett Chief Executive Craig Dubow said.
"We are taking a look at the properties," Dubow said during a presentation to analysts in New York on Thursday.
Additional publications would allow McLean, Va.-based Gannett to cut costs in areas such as printing, Dubow said. McClatchy, which agreed to acquire Knight Ridder for $4.5 billion earlier this month, put newspapers including the Philadelphia Inquirer and the San Jose Mercury News up for sale because they don't fit with its strategy to grow in smaller markets.
Gannett executives said regulatory hurdles were a major reason the company didn't bid for all of Knight Ridder. Federal rules restrict the ownership of a TV station and a newspaper in the same city, and some Knight Ridder newspapers overlapped with Gannett stations, Chairman Douglas McCorkindale said. That would have made it difficult to renew TV licenses, he said.
Bankruptcy filings skyrocketed ahead of law
Bankruptcy filings in the United States surged 30 percent in 2005 to a record 2.08 million as people sought protection from creditors before a more-restrictive law took effect in October.
About 2.04 million individuals filed for bankruptcy protection during the year, up from 1.56 million in 2004, according to a report released by the Administrative Office of the U.S. Courts.
A law that took effect Oct. 17 forces consumers with incomes above their state's median to file for personal bankruptcy under Chapter 13, which requires repayment of a portion of debts. Previously, they could use Chapter 7 to avoid repayment.
LA television execs reject ad touting Nevada
LAS VEGAS » Executives at a Los Angeles television station say they rejected an advertising campaign enticing California businesses to move to Nevada because they didn't want to encourage people to leave the state.
"We're certainly not anti-Nevada or anti-Las Vegas, we're just pro-California," said William Burton, the vice president of programming and advertising at KABC in Los Angeles.