---
FAST FACTS HAWAII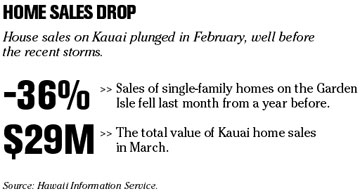 ---
HAWAII
Hawaiian Air reaches pact with Northwest
NEW YORK »
Hawaiian Airlines
and
Northwest Airlines Corp.
said yesterday they entered into a code-share agreement for connecting flights within Hawaii.
Under the agreement, Northwest customers who fly to Hawaii and connect to Kauai, Maui or the Big Island will transfer to a Hawaiian Airlines interisland flight.
Eagan, Minn.-based Northwest flies more than 50,000 passengers to and from Hawaii per week. Honolulu-based Hawaiian Airlines provides 100 interisland flights each day.
The agreement also allows passengers enrolled in one airline's frequent-flyer programs to earn frequent-flyer miles by flying the other airline.
[HAWAII INC.]
NEW JOBS
»
Prudential Advantage Realty
has appointed
Jennifer Shishido
escrow manager. She will be responsible for managing and tracking all aspects of the escrow process. She previously served as an escrow associate with
Title Guaranty Escrow and Title Services
.
» Hilton Hotels Corp. has appointed Pete Twyman to senior regional finance director for Hawaii. He will be responsible for overseeing all financial aspects of Hilton Hawaii Resorts. He has 25 years of hotel operations experience.
» SSFM International Inc. has appointed Gregorio Q. Castro general manager of Saipan operations. He previously served as a project and construction manager for the company's Pacific Region operations. He replaces Ralph Hayashi, who will continue as Pacific Region operations vice president.
» Stanford Carr Development has appointed Casey Ching project manager and feasibility expert. He previously worked for Pricewaterhouse Coopers.
NATION
Hong Kong conglom to check cargo
WASHINGTON » In the aftermath of the Dubai ports dispute, the Bush administration is hiring a Hong Kong conglomerate to help detect nuclear materials inside cargo passing through the Bahamas to the United States and elsewhere.
The administration acknowledges the no-bid contract with Hutchison Whampoa Ltd. represents the first time a foreign company will be involved in running a sophisticated U.S. radiation detector at an overseas port without American customs agents present.
Freeport in the Bahamas is 65 miles from the U.S. coast, where cargo would be likely to be inspected again. The contract is being finalized.
The administration is negotiating a second no-bid contract for a Philippine company to install radiation detectors in its home country, according to documents obtained by the Associated Press. At dozens of other overseas ports, foreign governments are primarily responsible for scanning cargo.
Judge maintains Frankel's sentence
NEW HAVEN, Conn. » A federal judge ordered Martin Frankel yesterday to serve the same sentence he got in 2004 for stealing $200 million from insurance companies -- nearly 17 years in a federal prison.
The former financier was ordered resentenced after a Supreme Court ruling last year gave judges more leeway in their use of sentencing guidelines.
During a brief hearing in U.S. District Court, Judge Ellen B. Burns said she saw no reason to alter the sentence.
Frankel, 51, wearing baggy brown prison scrubs and large glasses, stroked a long gray beard that he grew in prison as Burns reread the 200-month sentence. He spoke only briefly, asking Burns to note that he is at risk in prison.
Burns said she would. Defense attorney William Koch elaborated after court, saying the highly publicized case, which inspired two books, made Frankel "particularly vulnerable" to physical assaults in prison.
Frankel was convicted of taking over and looting insurance companies in Arkansas, Mississippi, Oklahoma, Missouri and Tennessee.
Alcatel may acquire Lucent
Lucent Technologies
, the phone equipment maker that became a symbol of the previous decade's boom and bust in telecommunications, is in negotiations to be acquired by
Alcatel
of France for more than $13 billion, people close to the discussions said last night.
After several years of mergers on a huge scale among telephone companies -- local, long-distance and wireless -- a deal for Lucent would be the first big step toward a shakeout among the companies that make the equipment for the phone service providers.
GM sells big stake in commercial loan biz
DETROIT »
General Motors
sold a 78 percent stake in its commercial mortgage business, one part of its vast financing division, to an investor group yesterday, the latest move in the struggling automaker's efforts to raise cash. The deal includes $1.5 billion in cash and the repayment of about $7.3 billion in intercompany loans.
The sale came a day after GM announced a landmark deal with the United Automobile Workers union that will offer buyouts to all 113,000 of its hourly workers in the United States who agree to leave the company.
GM also will pay for buyouts to 13,000 workers at the Delphi Corp., its former parts operation.
The stake in the mortgage business, GMAC Commercial Holding, was sold to a group of investors that includes Kohlberg Kravis Roberts & Co., Five Mile Capital Partners and Goldman Sachs Capital Partners.
In other news ...
WASHINGTON » A leading Israeli software company abandoned its plans yesterday to buy a smaller U.S. rival in a $225 million deal because of national security objections by the Bush administration.