---
FAST FACTS HAWAII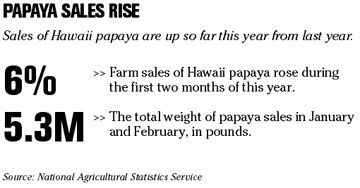 ---
HAWAII
Aloha Air will replace 6 interisland planes
Aloha Airlines
plans to swap six of its planes for remodeled versions, the airline said yesterday.
The newer aircraft -- four passenger models and two freighters, operated previously by other carriers -- will replace Aloha jets t hat have expiring leases.
The planes are all 737-200s that are used on its interisland routes. The main difference passengers will see on the newer jets will be new interiors, including all-leather seats.
The first of the jets is expected to arrive next month, with all six in service by summer. Aloha's fleet will remain at 21 aircraft, including eight 737-700s used for trans-Pacific routes.
[HAWAII INC.]
NEW JOBS
»
Marriott International
has appointed three new general managers on Oahu and Kauai.
Chris Tatum
has been appointed Waikiki Beach Marriott Resort general manager.
Steve Glen
has been appointed general manager at JW Marriott Ihilani Resort & Spa at Ko Olina.
Bill Countryman
has been appointed the Kauai Marriott Resort & Beach Club's general manager.
» Avalon Commercial LLC has appointed Mark C. Johnson executive vice president and broker-in-charge. He will be responsible for overseeing all company commercial brokerage activities, business development, sales, leasing, marketing and commercial property management services. He previously served as Coldwell Banker Commercial Pacific Properties' senior vice president.
» Hawaiian Airlines has appointed Kirk Smith vice president of marketing and sales. He will oversee the company's sales effort while continuing to lead its marketing and promotional programs. He has more than 34 years of experience in the Hawaii sales and marketing industry.
» American Savings Bank has hired Donna Lee Roberts as a real estate loan officer. She will be responsible for assisting customers with their residential mortgage needs. She previously worked with Island Community Lending as a mortgage loan officer.
>> Avalon Development Co. has hired Matthew Pennaz as a research analyst. He previously served as a project researcher at the East-West Center.
NATION
Tom's of Maine sells for $100M
Tom's of Maine
-- a niche brand whose renown as a socially responsible maker of natural products exceeds its market share -- is selling itself to
Colgate-Palmolive Co.
for about $100 million, the company said yesterday.
Best known for toothpaste, Tom's of Maine got its start in 1970 by making a phosphate-free laundry detergent. Over the years, co-founder Tom Chappell, 63, poked fun at major brands like Colgate, saying they put artificial additives in their toothpastes while Tom's of Maine used natural ingredients.
Chappell said he will continue to run the brand from its Kennebunk headquarters. None of the privately held firm's approximately 170 jobs will be lost, he said.
"We'll be a stand-alone subsidiary," Chappell said. "And we have a commitment from Colgate that our formulas will not be tampered with."
'Squawk box' managers indicted
Four former and current executives at
A.B. Watley Group Inc.
, an online brokerage, were indicted on charges they paid thousands of dollars to brokers at
Merrill Lynch & Co., Citigroup Inc.
and
Lehman Brothers Holdings Inc.
to eavesdrop on conversations with clients over firm intercoms.
The charges announced yesterday by federal prosecutors in Brooklyn, N.Y., were added to a previous indictment handed down in August 2005 that accused four former stockbrokers at Merrill, Citigroup and Lehman with securities fraud for letting day traders listen in on discussions with institutional clients over their firms' "squawk boxes."
Supreme Court blocks investor class-actions
WASHINGTON » The Supreme Court made it harder yesterday for investors to join forces to file high-stakes fraud lawsuits against companies.
The 8-0 decision blocks state class-action lawsuits by stockholders who contend they were tricked into holding onto declining shares.
Justice John Paul Stevens, writing for the court, said that to rule otherwise would allow "wasteful, duplicative litigation."
The decision does not shut the door to lawsuits filed by individual stockholders, but rather to suits brought on behalf of large groups.
It was a major victory for Merrill Lynch & Co., which faced a spate of lawsuits prompted in part by New York Attorney General Eliot Spitzer's 2002 probe into the investment banking firm's practices.
Little Caesars plans to grow bigger
DETROIT » Little Caesars is looking for a few good franchisees.
The carryout pizza chain announced yesterday that it plans to add hundreds of stores around the country this year, reversing a trend that reduced the number of stores from 5,000 in the early 1990s to 2,000 today.
Privately held Little Caesar Enterprises Inc. said it aims to recruit hundreds of new franchisees over the next several years. Franchisees typically own more than one store.
The company said it hopes to expand in Georgia, Missouri, New Jersey, New York, Pennsylvania, Oregon and Washington, D.C.
WORLD
Bill called 'state-sponsored piracy'
PARIS » French lawmakers approved an online copyright bill yesterday that would require Apple to break open the exclusive format behind its market-leading iTunes music store and iPod players.
The draft law -- which also sets new penalties for music pirates -- would force Apple Computer Inc., Sony Corp. and others to share proprietary copy-protection technologies so that rivals can offer compatible services and players.
Breaking days of silence late yesterday, Apple said such a law would "result in state-sponsored piracy."
"If this happens, legal music sales will plummet just when legitimate alternatives to piracy are winning over customers," the company said in a statement e-mailed to reporters. "IPod sales will likely increase as users freely load their iPods with 'interoperable' music which cannot be adequately protected. Free movies for iPods should not be far behind in what will rapidly become a state-sponsored culture of piracy."