| | |
| --- | --- |
| | Newswatch |
---
MARINE MEMORIAL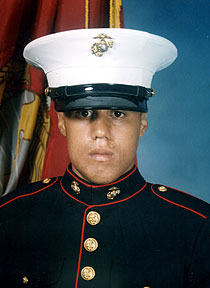 Chapel to hold services for Marine slain in Iraq
A memorial service will be held Thursday at the Marine Corps Base Hawaii chapel for a Honolulu-born Marine who was killed March 12 in Iraq.
Initially, the Marine Corps identified the fallen Marine as Lance Cpl. Kristen Figueroa. He was in the process of having his name changed to Marino when he was killed, said a spokesman for Borthwick Mortuary, which is handling the funeral arrangements.
Marino, 20, was assigned to the 3rd Battalion, 7th Marine Regiment, 1st Marine Division at Twenty-nine Palms, Calif., in March 2005 and was deployed to Iraq in September.
He was killed while on patrol in Ar Ramadi.
Visitation will be from 10 a.m. to 12:30 p.m. Thursday. A memorial service will be held at 12:30 p.m.
Marino will be buried at 2 p.m. at the Hawaii State Veterans Cemetery in Kaneohe.
Marino was born in Honolulu and enlisted in the Marine Corps on Sept. 20, 2004.
He is survived by parents Alfred and Sandra Marino Jr., sister Tasha Wallace and brothers Anthony Figueroa of San Francisco and Hokulani Figueroa.
Roadwork to close Wilson Tunnel today
The town-bound lanes of Likelike Highway's Wilson Tunnel will be closed from 9 a.m. to 3 p.m. today as contractors resume work to remove debris located above the Wilson Tunnel.
Softball-size rocks fell on the side of the town-bound lanes early last week due to the rainy weather. A crane will be used to remove debris and vegetation, said Scott Ishikawa, spokesman for the Department of Transportation.
Yesterday, contractors also removed a large concrete flap hanging on the Kalihi side of the Wilson Tunnel. The flap was removed and the town-bound lanes reopened to motorists at 4:45 p.m. yesterday. Ishikawa said it is unknown what caused the flap to peel off from the tunnel's ceiling. "It's probably just wear and tear," he said.
Man, 66, who drowned in car was intoxicated
The final autopsy report on the 66-year-old Honolulu attorney who was pulled from his submerged car in the Ala Wai Yacht Harbor on Jan. 14 shows he drowned.
The report further shows that a related cause for Michael F. McCarthy's death was acute alcohol intoxication.
Dr. William Goodhue, first deputy medical examiner, has said McCarthy had a blood-alcohol level of 0.225 percent, well above the legal limit of 0.08 percent. He also received blunt force injuries to the head, the report says.
McCarthy was pronounced dead after rescue crews pulled him from his white Cadillac DeVille.
His 15-year-old step-granddaughter, Alena Yokum, was rescued by a passer-by who dived into the harbor after noticing bubbles coming up from the car. Yokum called 911 as the car was sinking in the harbor.
McCarthy was backing his car out of a parking stall at the Waikiki Yacht Club when it struck two parked vehicles before plunging into the water, police have said.
Undergrads to present their research
University of Hawaii undergraduates will discuss their research from 8 a.m. to 2:30 p.m. April 29 at the East-West Center's Hawaii Imin International Conference Center.
"Symposium 2006: A Pres-entation of Undergraduate Research and Creative Projects" will feature work by students from UH-Manoa and other campuses.
A special time for poster viewing is scheduled from 2:30 to 4:30 p.m. April 28 at Keoni Auditorium in the Conference Center.
Ricardo Trimillos, professor and chairman of Asian studies, will give a talk during a luncheon from noon to 1:30 p.m. April 29.
For more information, contact Jim Caron, director of the UH-Manoa Honors Program, at 956-8391 or honors@hawaii.edu.
JUST ANOTHER SNOWY DAY IN PARADISE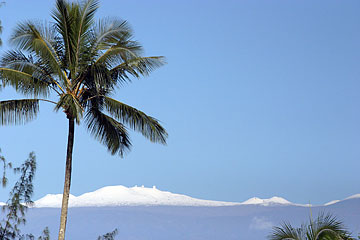 ---
[ THE COURTS ]
Honolulu man indicted in sex liaison with teen
A Honolulu man accused of having sex with a teenager after meeting her on a MySpace.com Web site has been indicted by an Oahu grand jury.
Matthew Cargill, 29, also known as "Nico," was charged Thursday with two counts of first-degree sexual assault, five counts of third-degree sexual assault and one count of first-degree electronic enticement of a child.
Cargill turned himself in March 12, the day the assaults allegedly occurred. He posted $100,000 cash bail and is expected to be arraigned in Circuit Court on Thursday.
It was the third case in a little more than a month that a teen had been solicited for sex on the MySpace Web site.
The girl, a 15- or 16-year-old at Kaimuki High, apparently had been contacted by Cargill through her MySpace Web site profile. Cargill also has a profile on MySpace, where he presented himself as a teenager, police said.
The girl's mother allegedly caught the two at their home.
4-nation kid porn sting brings isle indictment
A 19-year-old Barbers Point man accused of possessing child pornography on his computer was indicted Thursday on federal charges.
Giovanni L. Canapino, an assistant soccer referee, was one of 27 individuals arrested in the United States, Canada, Australia and England for participating in an Internet chatroom called "Kiddypics and Kiddyvids" to view, download and share child pornography. The chatroom featured live broadcasts of adults sexually molesting children and infants.
Federal agents in Chicago traced a person using the screen name "Geograns" who had shared files of child pornography to Canapino's residence. On March 11, federal agents searched his home and recovered computers and storage media containing child pornography.
During an interview, Canapino also admitted to having sexual contact with two boys, ages 10 and 12.
| | |
| --- | --- |
| | Police, Fire, Courts |
---
HONOLULU
Stolen check does not get past Best Buy clerk
Police arrested a 42-year-old man who was caught Sunday allegedly trying to buy more than $2,000 worth of electronics with a stolen check.
Police said the incident happened at Best Buy, 478 Alakawa St., at about 5:30 p.m. A store clerk became suspicious because the state ID card the man presented with the check appeared to have been altered, police said.
After making inquiries, store officials found out the check was stolen and called police. The suspect was arrested for investigation of first- and second-degree forgery and second-degree ID theft.
Apartment damage leads to son's arrest
Police arrested a man who allegedly caused an estimated $5,000 in damage to the lobby of his mother's apartment building on Sunday.
Police said the man, 21, was intoxicated when he went to his mother's home at 1450 Aala St. at about 2:30 a.m. and got into an argument with her in the building lobby. During the argument, the man allegedly kicked and shattered nine windows and then fled, police said.
The man returned at about 5 a.m. and was arrested for investigation of second-degree property damage. Police said the damage estimate to the property is conservative.
WAIKIKI
Police search for man after rape in Waikiki
Police are looking for a man who pushed a woman into an alley in Waikiki and raped her Saturday night.
The victim, 24, said that as she left a bar at about 11:30 p.m., she could not remember how to get back to the street where she had parked her vehicle. She approached a man who was walking along the sidewalk to ask directions, and the man offered to walk her back to her vehicle, police said.
As they were walking, the man pushed the woman into an alley and sexually assaulted her, police said.
The man was described as in his 20s, 5 feet 7, about 190 pounds, with a muscular build and dark complexion. Police are investigating the case as a first-degree sexual assault and kidnapping.
EAST OAHU
Police charge man with 2 car break-ins
Police charged a 21-year-old man with breaking into two vehicles in Hawaii Kai during separate occasions last year.
Paul Costello was charged with two counts of unauthorized entry into a motor vehicle for incidents that took place on Oct. 16 and Nov. 5, according to police. Costello was arrested Saturday on Hanakoa Street and was being held in lieu of $30,000 bail.