---
FAST FACTS HAWAII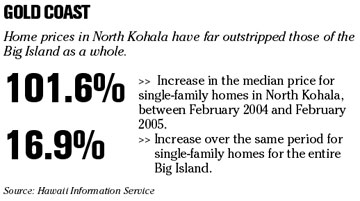 ---
HAWAII
Rusty Gage of Maui wins BBB top honor
The co-owner of a Maui youth-activities firm won top honors from the Better Business Bureau of Hawaii this year.
The bureau named Rusty Gage of Valley Isle Gymnastics as its Business Individual of the Year, one of its annual Torch Awards for Business Ethics. The company, founded in 2004, meets "the growing need for professionally run, healthy activities for Maui's youth," the bureau said.
Also winning Torch Awards were Environmental Waste Management Systems Inc., Enterprise Rent-A-Car of Hawaii, Hawaii Theatre Center and Catholic Charities Hawaii.
"These winners exemplified exceedingly high ethical standards and a willingness to ensure Hawaii's marketplace remains fair to those living in and visiting the islands," said Mark Murakami, BBB chairman.
NATION
Google introduces finance section
MOUNTAIN VIEW, Calif. » Online search engine leader
Google Inc.
is devoting a section of its Web site to information about the stock market and corporate America, filling a gaping product hole as it continues to battle for Internet traffic with rivals
Yahoo Inc.
, MSN and America Online.
The Mountain View, Calif.-based company plans to unveil its newest channel today at http://finance.google.com.
Yahoo operates the Web's most visited finance site with 31.4 million unique visitors worldwide, according to comScore Media Metrix. MSN's Money section ranked second with 21.9 million worldwide visitors followed by AOL's finance section with 14.3 million visitors worldwide, comScore said.
Court tosses Quattrone conviction
NEW YORK » High-powered technology banker Frank Quattrone was granted a new trial yesterday when a federal appeals court tossed out his conviction on charges he obstructed a government probe of stock offerings at the height of the dot-com boom.
The 2nd U.S. Circuit Court of Appeals in Manhattan said the evidence was sufficient to sustain a conviction but that the May 2004 verdict must be thrown out because the jury was improperly instructed on how to interpret the law. It also ordered that the case be reassigned to another judge.
Quattrone, 50, has been allowed to remain free while appealing his conviction.
Quattrone was one of the biggest names on Wall Street during the 1990s Internet stock boom, supervising 400 technology investment bankers from the Palo Alto, Calif., offices of Credit Suisse First Boston Corp.
Delta seeks to catch up with rivals
ATLANTA »
Delta Air Lines Inc.
, the third- largest U.S. carrier, is adding international routes and more first-class seats to boost unit revenue closer to that of rivals, the company's chief of operations said.
Delta's revenue for every seat flown a mile has been about 85 percent of that of other major U.S. carriers, Chief Operating Officer Joseph Kolshak said yesterday. The airline, which sought Chapter 11 bankruptcy protection in September, has lagged behind rivals because its main market, in the U.S. southeast, has more competition, and because Atlanta-based Delta had fewer international flights than rivals, he said.
The company intends to increase revenue by $1.1 billion in 2007, from $16.2 billion in 2005.
Delta is adding international flights to places like Kiev, Ukraine, and Johannesburg and putting first-class seats back on some planes that were part of its low-fare unit Song, which was largely dismantled last year.
Judge denies AOL bid to dismiss lawsuit
NEW YORK » A judge denied a request by
Time Warner Inc.
's America Online unit to dismiss a suit filed in New York by volunteer "community leaders" who claim they deserved to be paid for helping run chat rooms and other online forums.
"Plaintiffs maintain that these online communities enabled AOL to retain and attract subscribers and allowed it to reap profits from advertising," U.S. District Judge Kevin Duffy, wrote in a 32-page opinion rejecting AOL's argument that the volunteers can't be considered "employees" under federal law.
The decision removes a hurdle for as many as 12,000 AOL volunteers to seek tens of millions of dollars in back pay for their work, according to their lawyers.
Oracle's quarterly profit surges 42%
SAN FRANCISCO »
Oracle Corp.
said yesterday its quarterly profit rose 42 percent, marking the business software maker's most significant strides since embarking on a high-priced shopping spree of software makers more than a year ago.
The company said it earned $765 million, or 14 cents a share, for the three months ending in February, compared with $540 million, or 10 cents a share, last year.
Revenue for Oracle's third quarter totaled $3.47 billion, an 18 percent increase from $2.95 billion a year ago.
Oracle said it earned 19 cents per share, a penny above the average estimate of analysts surveyed by Thomson Financial.