---
FAST FACTS HAWAII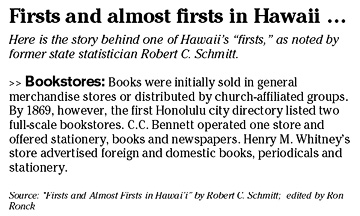 ---
NATION
Almost half of adults report hearing loss
WASHINGTON » Life is too loud for most high-school students.
A new poll suggests that more than half are experiencing at least one symptom of hearing loss, and experts are looking at ways to turn up warnings to turn down those iPods.
The survey of 301 teens and 1,000 adults nationwide, which was done for the American Speech-Language-Hearing Association, also found that 47 percent of adults reported at least one symptom of hearing loss.
Although it's not clear from the poll what's causing the symptoms, researchers from Zogby International found that the listening habits of both students and adults are potentially harmful to hearing health.
Students were more likely than adults to report such problems as needing to turn up the volume on their TV or radio to be able to hear, experiencing ringing in their ears, and having to ask a conversation partner to repeat something because they didn't hear it.
Experts say that music and other sound at volumes of 85 decibels and higher is sufficient to cause permanent hearing loss. A recent test of nine devices -- including music players, laptops and pocket computers -- found that every one topped 105 decibels at full volume, and all but one exceeded 85 decibels at half volume.
Few care about performance review
Are you due for a performance review? Do you care? Does your manager? Many employees on both sides of this labor divide do not see the performance review as a serious exercise, according to a survey of more than 2,000 people.
Less than half, 49 percent, of workers said they find that managers take performance reviews seriously. Even fewer, 44 percent, said they receive constructive feedback in the process. The survey was by Adecco Staffing North America, a unit of Adecco SA, the world's largest temp-staffing company.
"Reviews are an effective way to gauge an employees' productivity and discuss career growth," said Raymond Roe, president of Adecco Staffing North America.
"However, unless managers give constructive feedback, they can forget about building a dialogue with workers and run the risk of losing top talent to other companies."
WORLD
Europeans urged to keep working
Make the old people work longer.
That, in a nutshell, is the strategy increasingly being chosen by industrialized countries as they confront a future where people live longer -- and thus collect more retirement checks -- but where there are fewer young workers to help finance those checks.
"Longer working lives must be encouraged," said Bruno Tobback, the Belgian pension minister, at the conclusion of a meeting of employment ministers from the Organization for Economic Cooperation and Development this month in Brussels.
"If nothing is done," Tobback added, by 2050 there will be only one active worker for every retiree in many European countries, "putting pensions and national prosperity at risk."
Only 43 percent of Italians in their late 50s are in the labor force, and that figure is below 20 percent for those in their early 60s. The Germans and French are much more likely to work through their 50s, but unlikely to stay employed in their 60s.
There are major differences among countries. Asians tend to work the longest, which may be crucial in the future, because the estimate is that by 2050 more than a third of the population of Japan and South Korea will be over 65. Americans work longer than most Europeans and do not face as severe a burden from a population growing older.