Mauritius an isle paradise
A traveler seeking the world's best beaches finds bliss amid Mauritius' unparalleled beauty
My quest to explore the most beautiful beaches of the world has taken me to shores afar. The beautiful bodies of Copacabana, the waves of Waikiki, the white sands of Phuket, the list goes on and on. Next off my list was Mauritius: Can this little island off the coast of East Africa live up to its reputation?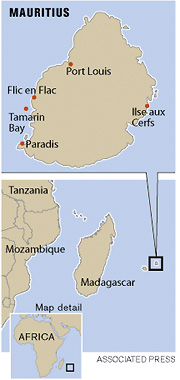 White sand beaches, turquoise waters, unparalleled beauty are habitually mentioned and comparisons to paradise often made. Was Rudyard Kipling right when he said God modeled heaven on Mauritius?
After a 10-hour flight, and a ride across the island from the airport to Flic en Flac beach, the answer seems clearer.
Flic en Flac, regularly voted by leading travel magazines as one of the top 10 beaches in the world, is a 2-minute stroll from my doorstep. As we approached, the early morning sun reflected off the beach and seeped between the palm trees lining the roads, producing a bright orange strobe effect flashing intermittent warmth across my face. Wake up Derrick. We have arrived.
We set out right away on an uphill drive toward the southern mountainous landscape to explore the inland region of Chamarel. We were met by giant turtles roaming "terre des sept couleurs," natural sand dunes with seven different colors of volcanic ashes. Past that and toward the southern tip of the island was "la roche qui pleure gris gris," a giant rock standing alone against the waves. Standing on top, you can feel the vast power of the ocean fighting against the shoreline as wave after wave collide with the rocks beneath your feet. It felt like David vs. Goliath, land vs. sea ... until I spotted massive, bright blue fish swimming calmly within the waves. No, this is not a fight, this is nature's perfect harmony. And I'm there to witness it all.
On the southeastern tip is Le Morne, where the resort Le Paradis is located. This would be our first encounter with Paradis beach. I have few expectations as our rental Jeep rolls past a perfectly manicured golf course and a mountainous backdrop. Finally, we stop. And there it is: a long stretch of white sand beach lined with palm trees that provide the perfect shelter. The water beyond it provides a palette of hundreds of shades of blue, as though God adjusted the contrast and created a perfect new mixture of dark and light. Patches of underwater coral add to the surface hues, creating this wonderful sight.
THE FLAWLESS BEAUTY of Paradis beach attracted the construction of this resort which, ironically, blemished it. So, as the sun was setting, we drove away from it all: the beach chairs, the bar, the water skis, the artificial human touch. It was then that I found the untouched beauty of it all, the Mauritian magic.
We stopped a few kilometers from Paradis, drove toward the sea off a beaten track and stopped in a village. Dogs ran astray, villagers sat around, there were no paved roads and the homes were put together with scraps of metal. With no roads, I continued on my journey on foot. It was getting darker by the minute as I strolled toward the sea, passing barking dogs and so-called "back gardens" which are more like mosquito-infested swamps.
As I climbed over a fence, I saw the sun setting behind the mountains, the calm blue seas offering a near perfect reflection of the cloudy skies, a little barge some 20 yards away, and an island further behind. I have not, in my years of traveling, seen anything this spectacular. I sat, wondering what could possibly top the beauty and calm of this moment.
UP THE WESTERN coast, we stopped in a village called Tamarin, known for its salt fields: basins lined with rocks and filled with a thin film of sea water during the day. As the water evaporates, the local workers brush the salt crystals into little white dunes to be collected. It is also the site of the island's marlin export factory, and Tamarin Bay is a world-famous surf spot.
East of Flic en Flac, still on the Western coast, lie a couple of big towns. Port Louis, with its big hotels and the Caudon waterfront, is lined with restaurants and bars. Past that and slightly inland are Rose Hill, Quatre Bornes, Phoenix, Curepipe, each with its own distinct local feel. These areas are the true Mauritius. There are no BMWs, no tennis courts, and, most distinctly, no foreigners strolling these towns. The lavish resorts and designer shops are replaced by corner stores with aluminum-sheet walls and broken panels. When you do see cars, odometers read 100,000 miles.
Ile aux Cerfs, an island on the eastern side of Mauritius, is the postcard of Mauritius: beautiful lagoons with turquoise waters, calm seas and white sandy beaches. Every photo is perfect, but frustrating. It's not the angle, not the lighting, but something just isn't right. And then, I realized: this turquoise is a color you must experience in person. Nothing I read and no picture I looked at before my trip came close to capturing what I saw, what I felt, once I arrived.
My final words on the highlights of Mauritius comes from one of my "things to do in life" list: Deep sea fishing and the hunt for the blue marlin. Mauritius is world renowned for deep-sea fishing. It was the main reason I had traveled so far to be here. We chartered a local fisherman's boat and set out for the hunt, spending almost 10 hours trolling and waiting. An occasional dolphin or baby whale would come to keep us company, frolicking near the boat. We never caught the marlin but I instead reeled in a 30-pound, 4-foot-long yellow-blue dorado that fought for a good half hour. On one occasion, my 50-pound flatline snapped at a bite of a fish. It may have been a marlin, I will never know. But rest assured, I'll be back to find out soon enough.
---
Derrick Tin
is a medical doctor based in London. He spends his free time exploring the hidden corners of the globe. He can be contacted via his travel blog
dkwaikiki.blogspot.com
or e-mail
dkwaikiki@yahoo.com
.