| | |
| --- | --- |
| | Newswatch |
---
RAISING FUNDS FOR DIABETES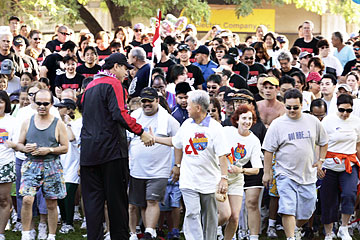 | | |
| --- | --- |
| | Police, Fire, Courts |
---
WINDWARD OAHU
Pedestrian is struck while in a crosswalk
Police said a 17-year-old pedestrian was in a marked crosswalk when she was struck Friday night by a car heading southbound on Oneawa Street in Kailua.
The girl was taken to the Queen's Medical Center in critical condition. The accident happened about 7:47 p.m. when the pedestrian was crossing Oneawa Street from east to west.
Police said she was hit by a 2004 Chevrolet, which was driven by a 37-year-old Kailua man. It was not raining at the time of the crash and the streets were not wet.
WAIKIKI
Nightclub meeting leads to sex assault
A woman was sexually assaulted early yesterday in Waikiki after meeting a man at a nightclub.
The incident happened about 4:30 a.m. after the two met. Police said the man escorted the woman to her apartment's stairwell in Waikiki, where he sexually assaulted her.
NEIGHBOR ISLANDS
3 Big Isle teen girls charged after fight
Three 17-year-old girls have been charged after a fight at the Waters of Life Public Charter School in Keaau, which left four students, a school counselor and a teacher with minor injuries, Big Island police said.
The incident happened at 11:50 a.m. Tuesday when the girls allegedly went to the school looking for a student.
Police said the suspects pushed past a school counselor and assaulted a girl, whom they apparently knew. Others were injured in the ensuing fight.
The girls were charged with several assaults, burglary, criminal property damage and trespassing. They have been released to their parents.
Anyone with information on this incident is asked to call officer B.J. Duarte or Detective John Ancheta, of the Hilo Police Department's juvenile aid section, at 961-2278.