Cartoon to the Editor:
StarBulletin.com 10th Anniversary!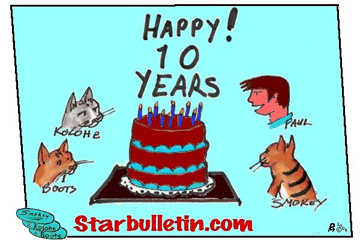 Paul F. Minczer
Honolulu
Resort's expansion will ruin North Shore
It is really a sad day and a sin that our state and city governments are not taking care of our land and the people of the North Shore. The North Shore is already 60 percent owned by mainland and foreign investors. These people do not call Hawaii or the North shore home. They are here for one thing, the money, nothing else.
The sin is the fact that the residents and families have to fight and struggle for decent affordable housing and a beautiful place for their families. They choose the North Shore, not Honolulu or Waikiki, because of its beauty and country-ness. The Turtle Bay Resort expansion will destroy what is left of this beautiful side of Oahu.
Our state and local governments must stop this crazy expansion here on the North Shore and elsewhere in the islands.
Ann Drechsler
Haleiwa
Menor advocates for the consumer
Charles Memminger's Feb. 16 "Honolulu Lite" column, "What's Ron Thinking?" does a disservice to one of the few true champions of Hawaii consumers at the state Legislature.
Memminger's claim that Sen. Ron Menor plans to campaign on the gas price regulation issue reveals his ignorance of the senator and the law's history. It wasn't cooked up for any campaign. Menor and others (including us) have been working on it for the past four years. More importantly, Menor can run on a distinguished record as a champion of consumers on many other issues, including automobile insurance reform, prescription drug price reform, insurance rate regulation and affordable housing initiatives.
Menor gets no benefit from supporting the gas price cap law. It takes exceptional courage for a legislator to stand up to pharmaceutical companies, insurance companies and big oil, with their highly paid lobbyists and public relations firms. If anything, he forgoes the campaign contributions other elected officials receive from these wealthy industries. All Menor gets is the appreciation of those consumers who have followed his record and, of course, an occasional cynical broadside by a columnist.
Scott Foster
Communications director
Advocates For Consumer Rights
Red-light cameras increase accidents
Contrary to your March 16 editorial, red-light cameras make a bad situation worse. A recent extensive study sponsored by the U.S. Department of Transportation and conducted by the Urban Transit Institute shows that installing red-light cameras causes more accidents at intersections.
After analyzing 17,271 crashes at 303 intersections during a five-year period, including two years before the cameras were introduced, the study found that, "The results do not support the view that red light cameras reduce crashes. Instead, we find that red light cameras are associated with higher levels of many types and severity categories of crashes."
Dangerous intersections can generally be fixed by using simple engineering solutions such as lengthening the yellow light time or adding metal backers to traffic lights for improved visibility. A red-light camera-enforced location in Virginia saw a 94 percent drop in citations from 52.1 per day to less than one per day by increasing the yellow time by 1.5 seconds from 4 seconds to 5.5.
Ticket cameras do not stop dangerous drivers, nor do they fix problematic intersections. They simply create a profit source.
W.D. Woodward
Kula, Maui
We might have reason for another moon visit
In a wonderful letter to the editor, "Protect environment by eating minerals" (Star-Bulletin, March 4), Fred Barnett of Kailua describes the solution to our environment problems. Fred's stroke of genius has inspired us at Grassroot Institute of Hawaii to consider carefully the establishment of a permanent think tank -- "Gravel Eaters of America." Our guiding slogan will be "East my dust."
The first objective will be to put a few of our members on the moon. With any luck at all, as the population expands, we should be able to eat the moon in its entirety before the year 5000 and go on to another station in the solar system. The possibilities are endless.
Thank you, Mr. Barnett, you are a pathfinder.
Richard Rowland
Honolulu
Campaign funds get kamaaina discount
I recently read about how our hotels are eliminating kamaaina discounts. I suppose we should be grateful that one such discount still exists -- the Democrats in the state Legislature, with the assistance of our purportedly Republican governor, last year passed legislation to rake off 10 percent of the general excise tax increase and deposit it in the state General Fund. Yet, on the campaign corruption deal with the Rhode Island Democrat ironically posturing as the "clean government" U.S. Senate candidate, the Hawaii state Democratic Party raked off 20 percent of the take -- it sent an illegal donation of $5,000 in exchange for an (equally illegal) $6,000 check.
So we taxpayers are getting a heck of a kamaaina discount -- only 10 percent siphoned off. Still, if you go to Vegas, the house's take is generally around 5 percent of the action. It speaks volumes about our political culture that the Democrats who run state government are twice as avaricious as mobbed-up Vegas casinos -- and that we voters put up with this greed.
Jim Henshaw
Kailua