---
FAST FACTS HAWAII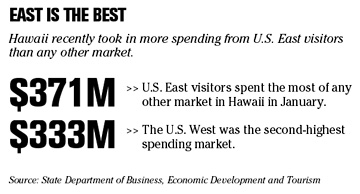 ---
HAWAII
Bank, foundation gave record $2.95M
First Hawaiian Bank
and its foundation increased their donations to nonprofit organizations last year by 17 percent to a record $2.95 million.
Don Horner, president and chief executive officer of First Hawaiian, said in addition to the donations to 330 nonprofits that the bank also collected more than $350,000 for Hurricane Katrina relief efforts and nearly $400,000 for tsunami disaster relief in South Asia through campaigns by the Red Cross, Salvation Army and the East-West Center.
First Hawaiian, the largest bank in the state by assets, also is one of the largest contributors to the United Way campaigns statewide. Employees contributed a record $565,852 last year while the bank itself donated $391,500 for a total of $957,352.
Maui Land & Pine appoints 2
Maui Land & Pineapple Co. Inc.
announced two high-level corporate appointments yesterday. Robert I. Webber has been tapped chief financial officer and senior vice president of business development, effective April 24, and Warren Haruki has been appointed to the company's board of directors.
Webber most recently served as president of DynTek Inc., a provider of professional technology services, computer network infrastructure and security software and hardware. He will assume a post previously held by Fred W. Rickert, who has become vice president of finance and treasurer for ML&P.
Haruki will fill a board position left vacant by the resignation of Richard Cameron in May 2005. The appointment was effective as of March 13 for a term that expires in 2008.
Haruki is president and chief executive of Grove Farm Co., a Kauai-based development company owned by ML&P's main investor, Steve Case. Haruki previously was president of the former GTE Hawaiian Tel and Verizon Hawaii.
Hawaiian Air report is delayed
Hawaiian Holdings Inc.
filed a notification yesterday with the Securities and Exchange Commission that it needs additional time to prepare its 2005 annual earnings report.
The parent of Hawaiian Airlines said the delay was caused by this week's $135 million loan refinancing that "imposed a significant burden" on the company's accounting, financial and related personnel.
Hawaiian, whose filing was due Thursday, has an additional 15 calendar days after the due date to submit the report.
NATION
Google avoids revealing searches
SAN FRANCISCO » A federal judge ordered
Google Inc.
yesterday to give the Bush administration a peek inside its Internet-leading search engine, but rebuffed the government's demand for a list of people's search requests -- potentially sensitive information that the company had fought to protect.
In his 21-page ruling, U.S. District Judge James Ware told Google to provide the U.S. Justice Department with the addresses of 50,000 randomly selected Web sites indexed by its search engine by April 3.
The government plans to use the data for a study in another case in Pennsylvania, where the Bush administration is trying to revive a law meant to shield children from online pornography.
Ware, though, decided Google won't have to disclose what people have been looking for on its widely used search engine, handing a significant victory to the company and privacy rights advocates.
"This is a clear victory for our users," Nicole Wong, Google's associate general counsel said yesterday in a statement .
Fed governor's finances are 'in a different solar system'
Kevin Warsh, who became the youngest-ever Federal Reserve governor last month, may also be the wealthiest.
Warsh, 35, and his wife, an heir to the Estee Lauder cosmetics fortune, have at least $65.3 million in assets, according to financial disclosure forms filed with the government. Their combined wealth makes Warsh "the wealthiest individual to serve on the board in many years," according to the Financial Markets Center, a research group that published an analysis of the financial forms yesterday.
The assets of Warsh and his wife amount to more than twice the combined total of the central bank's other six board members. Such wealth may make it tougher for him to understand the circumstances facing the average American as the Fed decides how much to raise or lower interest rates, said Tom Schlesinger, the center's director.
"It's more difficult for a governor to have anything resembling a common touch if their personal finances are in a different solar system," Schlesinger said.
Northwest union is neutral on tentative deal
MINNEAPOLIS » Leaders of a pilots union voted yesterday to take a neutral stance on a tentative agreement reached with
Northwest Airlines Corp.
, throwing doubt on the chances that the union's showdown with the airline will end soon.
A resolution passed by the NWA Master Executive Council of the Air Line Pilots Association said pilots will have to weigh the potential risks and benefits of accepting the cutbacks, but the council's officers can voice their own opinions while presenting the proposal to pilots.
Balloting on the tentative agreement will run from April 6 to April 30.
Leaders of the pilot union have been divided over whether to endorse the pact, although Mark McClain, chairman of the union's leadership council, has told pilots he thinks they should vote in favor of it.
Soros to buy library of 59 DreamWorks films
NEW YORK » Entertainment company
Viacom Inc.
said yesterday it agreed to sell the film library of the recently acquired DreamWorks studio to an investment group led by financier George Soros in a deal that values the library at $900 million.
The films include "Gladiator," "American Beauty" and "Saving Private Ryan."
Viacom, which recently split off its broadcasting and publishing assets into separately traded CBS Corp., said the deal will complete the second stage of its acquisition of DreamWorks SKG Inc., the studio founded by director Steven Spielberg, producer David Geffen and former Walt Disney Co. executive Jeffrey Katzenberg.
The buyers are Soros Strategic Partners LP and Dune Entertainment II LLC.
Soros and Dune will acquire all 59 DreamWorks live-action films released through Sept. 15 of last year, while Soros will distribute the library through an exclusive five-year agreement with Paramount, the company said.
Viacom will retain ownership of music publishing and certain other rights related to the library, including sequel and merchandising rights. The company also will own a minority stake in the entity holding the library assets.