---
FAST FACTS HAWAII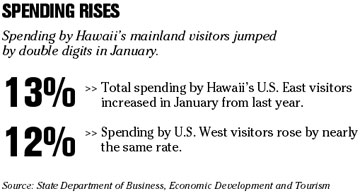 ---
HAWAII
State officials fielded 80 lemon-law cases in 2005
The state handled 80 auto lemon-law cases last year and helped consumers recover more than $919,000. In 2004, the state handled 60 such cases, resulting in refunds of some $575,000.
The automakers that had the highest ratio of complaints compared to their market share last year were Kia and DaimlerChrysler, according to the state Department of Commerce and Consumer Affairs. The companies that had the lowest ratio of complaints were Japanese automakers Toyota and Honda.
The Hawaii Lemon Law helps consumers who have repeated problems getting their newly bought or leased vehicles repaired under the manufacturer's warranty, and provides for arbitration with the automaker.
NATION
GM reports even bigger loss
DETROIT »
General Motors Corp.
revised its loss for 2005 to $10.6 billion -- $2 billion more than it reported in January -- citing higher costs it anticipates for its broad restructuring and the bankruptcy of
Delphi Corp.
GM also said late yesterday it will recognize a previously reported goodwill impairment charge of $439 million at its finance arm, General Motors Acceptance Corp.
GM, the world's largest automaker, said it expects to increase the charge for its exposure relating to Delphi's Chapter 11 filing to $3.6 billion from the previous estimate of $2.3 billion.
Chicago Board studying biodiesel
The
Chicago Board of Trade
, the second-biggest U.S. futures market, is studying a new contract based on biodiesel, a fuel made from soybeans, Chief Executive Bernard Dan said.
The contract, the first of its kind, would be the exchange's second energy-related offering after ethanol, which is made from corn and blended into gasoline, Dan said yesterday in a meeting with reporters at a Futures Industry Association meeting in Boca Raton, Fla.
Universal to have 2 chairmen
LOS ANGELES » Rising to fill one of the more coveted slots in Hollywood, Marc Shmuger, a longtime marketing executive, was named chairman of
Universal Pictures
yesterday, a post he will share with David Linde, a senior executive at the company's art house division.
In a somewhat unusual arrangement, the two executives will share the job but Shmuger will be senior to Linde, whose title will be co-chairman.
30-year mortgage rates edge down
WASHINGTON » Rates on 30-year mortgages, which had jumped to the highest level in 2 1/2 years, edged down slightly this week.
Mortgage giant Freddie Mac reported yesterday that rates on 30-year, fixed-rate mortgages averaged 6.34 percent this week, the second highest level since mid-November.
This week's rate was down slightly from a nationwide average of 6.37 percent last week, which had been the highest level since 30-year mortgages averaged 6.44 percent the week of Sept. 5, 2003.
Lenovo Group will trim 1,000 employees
Shares of
Lenovo Group Ltd.
, the world's third-biggest personal-computer maker, rose after the company said it will cut 5 percent of its work force to streamline sales and customer support.
Lenovo's stock gained 3.25 percent in Hong Kong. The Purchase, N.Y.-based company, which bought International Business Machine Corp.'s PC unit in May last year, said yesterday it will cut about 1,000 employees and move some offices at a cost of $100 million.
The plan represents Lenovo's first large-scale restructuring since Chief Executive William Amelio took over from IBM former general manager Stephen Ward on Dec. 21. The announcement comes 15 months after Chief Financial Officer Mary Ma said Lenovo would not cut staff after the IBM merger.
The restructuring, which will help the company save $250 million annually starting next year, will bring Lenovo "in line with the industry benchmark," Ma said in a teleconference with analysts today. She said she expected gains from the cut to be about $100 million for the second half of this year.
WORLD
Icahn ally elected to firm's board
U.S. billionaire Carl Icahn's candidate was elected to the board of
KT&G Corp.
, South Korea's biggest tobacco company, bolstering his hostile proposal to split up the $9 billion company.
Warren Lichtenstein, a New York-based hedge fund manager, received the most votes at an annual shareholder meeting in Daejeon, Korea, KT&G said. Aekyung Co. Chief Executive Ahn Yong Chan, one of KT&G's nominees, beat Icahn's two other candidates, giving management 11 directors on the 12-member board.
Philippine Airlines expects higher profits
Philippine Airlines Inc.
, the country's largest carrier, said profits in the year ending March 30 will likely grow 20 percent from a year earlier, helped by increased ticket sales and fuel hedges.
The airline, which made a $20 million profit in the year ending March 2005, is experiencing "a stronger than usual" fourth quarter, company President Jaime Bautista said today in a telephone interview, without giving details.
"We are carrying more passengers and sales should offset the high cost of jet fuel for the year about to end," Bautista said, without giving passenger numbers and the extent to which the airline filled its seats and cargo space.
In other news ...
MOSCOW » The Russian state oil company Rosneft has acquired $482 million in debt that the troubled oil company
Yukos
owed to Western banks, Yukos said yesterday. The step raised the possibility that Rosneft might acquire Yukos' remaining assets.