Gas-price caps scheduled to rise 8 cents next week
The state's wholesale price caps on gasoline are set to reach their highest points of 2006.
Caps for next week published by the state Public Utilities Commission are 8 cents higher than current price ceilings.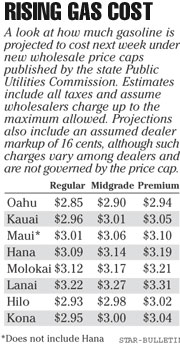 Come Monday, the price caps will have gone up 31 cents since the week of Feb. 27, the week after the caps were at their lowest point of the year.
Meanwhile, there has been no movement in the House or Senate over each side's proposals related to the gas-cap law.
The House has approved a measure to suspend the price caps in favor of strict oversight measures of the oil industry's pricing practices. House Democrats, who previously supported the cap, say they lack the confidence in the PUC to enforce the law in a manner that would benefit consumers.
Senate Consumer Protection Chairman Ron Menor, the chief author of the gas-cap law, has said he would hear the House proposal, but he believes he has support in the Senate for his position.
Menor (D, Mililani) has proposed amendments to the law that he says would bring down the cost of gas by about 16 cents a gallon.
Neither side has scheduled a hearing on each other's bill. Lawmakers have until next Friday to have all bills passed out of their initial committee referrals.
The fluctuations in the price cap have followed global trends in crude oil prices, which affect the three mainland markets to which Hawaii's price cap is tied.
By next week, if wholesalers charged up to the maximum allowed and dealers added a markup of 16 cents, the price of regular gasoline is forecast to range from $2.85 a gallon on Oahu to $3.22 on Lanai.
Yesterday's statewide average for regular was $2.76 a gallon, 39 cents higher than the national average, according to AAA's Fuel Gauge Report.
The baseline price for the caps -- which represents the average of wholesale spot prices from the Gulf Coast, New York and Los Angeles over the past five business days -- was $1.8113. That is slightly higher than the year's previous high of $1.7982 on the week of Jan. 16.
The baseline reached its highest point, $2.5883, the week of Sept. 12, reflecting the steep increase in gas prices nationwide caused by Hurricane Katrina. The price caps began Sept. 1.