Rock hazard closes Wilson Tunnel
State Transportation Department crews will close the town-bound lanes of Likelike Highway's Wilson Tunnel today and tomorrow to clear debris and inspect a steep hillside after a rockfall late Tuesday.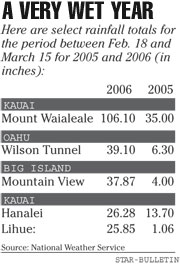 Rocks and mud were thrown on the roadway and the tunnel's operations building during the incident, but no one was injured. Crews fear there is a potential for more landslides if heavy rains persist.
"It's in the best interests of public safety," said Glenn Yasui, the state Transportation Department's highways administrator. "It was a small landslide, but enough to present a hazard to motorists."
The tunnel will be shut down from 9 a.m. to 3 p.m. on both days of the closure. Motorists are advised to take the H-3 freeway or the Pali Highway and allow for extra travel time.
Yasui said officials decided to close the tunnel because "if rocks do get loose, we certainly don't want any vehicles below."
About 30,000 vehicles drive through the Wilson Tunnels daily, the Transportation Department said. The closure is timed to have a minimal effect on morning and afternoon rush-hour traffic.
It's been a decade since the tunnel was closed by work on rockfall mitigation. But long-term closures were recently completed after a $14 million project to renovate the tunnels.
Yasui said crews will remove mud and rocks in the area of the landslide that could pose a hazard. He did not believe there were any boulders at risk of falling. He also said there were no concern areas on the Kaneohe-bound lanes of the tunnel.
Yasui did not have information on how many rocks fell on Tuesday, or how big they were. It's also unclear if the tunnel's operations building sustained damage in the landslide.
The Wilson Tunnels have been hit hard in a spate of recent heavy rains since February, getting 39.12 inches in the last three weeks -- the second highest rainfall total on Oahu.
The National Weather Service said that in the 24-hour period ending at 8:45 a.m. Tuesday, the day the landslide happened, more than 5 inches of rain had fallen at the site.