THE KAUAI DAM TRAGEDY
Couple's wedding destroyed by collapse
Daniel Arroyo and his pregnant fiancee, Christina McNeese, nearly moved out of their rented house below Kilauea's Ka Loko Dam recently, but decided to put that off so they could focus on their wedding this Saturday.
But all of their plans -- including their excitement about starting a new family -- were buried by the mud and debris of a dam collapse that cut a wide swath of physical and personal destruction through the small community.
"Everyone is carrying a heavy heart today. Everybody here knew the victims. Everyone's lives have been touched by this," said Jeane Michioka, who knew most of the seven people missing since a wall of water swept through their homes Tuesday.
Civil defense officials yesterday confirmed their identities. Besides Arroyo and McNeese, they include another young family: Alan Dingwall, his wife, Aurora Fehring, and their 2-year-old son, Rowan Fehring-Dingwall.
Wayne Rotstein, who along with the others rented a home on the Wailapa Road property of Fehring's father, was also missing, as well as another man, Timothy Noonan.
A female body found yesterday amid flood debris adds to a male body found at sea the day before. Neither has yet been publicly identified.
Arroyo, 33, known to friends as "Danny," and McNeese, 22, had been renting their home on only a temporary basis, said Arroyo's employer and close friend, Doug Bowers.
"They were looking for a permanent place to live for two weeks but decided to wait until after the wedding," he said.
With 200 guests confirmed, they were to be wed under rented canopy tents on open land in nearby Anahola. Instead, the 40 guests from overseas are arriving to terrible news, said Bowers, who was to be a groomsman.
"It's unlikely that everybody's aware of this, so there still could be some showing up and expecting a reception at 3 Saturday," he said.
Both originally from the mainland, Arroyo worked as a mortgage lender at Bowers' company, All Star Lending, while McNeese worked at the Healthy Hut Natural Food Store. They talked excitedly about becoming parents.
"(McNeese) was like one of the sweetest people you would ever meet," said co-worker Julienne Voight. "She had the characteristics of a new mommy, she was so excited."
Dingwall and Fehring were widely known and liked in the community, partly through Fehring's position as a day-care supervisor at the nursery school, said Michioka, whose 5-year-old son attended the school last year.
"She was one of the sweetest, most beautiful women I've ever known. The kids really loved her. She made school fun. Half the time, my son didn't want to go home, he was having such a good time," said Michioka, who described Dingwall as "a very caring and very present father."
Fehring's parents, Bruce and Cyndee, who ran a vacation-rental business, are known in the community for their tight-knit family, Michioka said.
"They worked together, they played together and they all lived together," Michioka said. "Kauai is a different place. You don't move off the islands; you just build a house on your parent's property."
The Fehrings did not return phone calls yesterday.
Given the scale of the destruction, some of the victims' relatives began to accept that their loved ones are lost forever.
"I've resigned myself to the fact that Wayne is gone," Wayne Rotstein's father, Paul Rotstein, said through a phone interview from Las Vegas.
Rotstein, 49, who moved to Hawaii about five years ago and lived in a cabin on Bruce Fehring's property, worked as a gardener and landscaper for his landlord.
He visited relatives in Las Vegas every other year, loving the gambling and glitz, but spent the rest of his time in Kauai's rural simplicity, relatives said.
"He loved being a part of nature. If nature is in fact to be the one to take him away, he would rather it be that than the conventional ways of being taken away," said his brother, Gary Rotstein of Pittsburgh.
Michioka said the community was in shock over the thought of the lives of young families coming to a sudden end and residents are still grieving.
However, rumblings of anger over the possible role that development activities may have played in the collapse are simmering.
"There is some talk going around, but we're trying to view it as an act of God," she said.
But Bowers, noting that the earthen dam had seen little if any upkeep in its century of existence, said heads should roll.
"It may have been completely unpredictable, but this was also preventable. It's a major tragedy that could have been prevented," he said.
---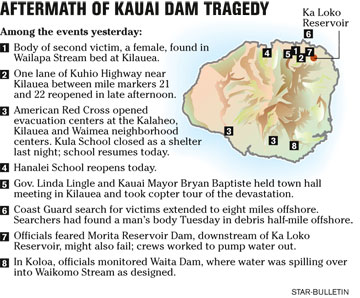 ---
Star-Bulletin reporters Rosemarie Bernardo and Susan Essoyan contributed to this report.