COMMENTARY
Addictive show about a lot more than clothes
YOU KNOW your life has taken an unexpected turn when your new favorite catch phrase is "Make it work."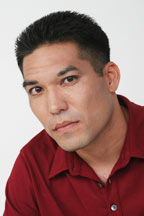 I think the moment I realized, to my horror, that I was hooked on "Project Runway" was when it dawned on me that I was watching at home. Alone.
This was not SportsCenter.
I didn't start paying attention to Bravo TV's search for the "next great fashion designer" until about a month ago. I happened upon an episode challenging the contestants to translate digital photos of Manhattan into wearable designs. I found myself lingering past one commercial break, then two, entranced by contestant Daniel Vosovic's inspired creation of a silk tulip-like outfit.
The next week, I sat transfixed as the designers fashioned outfits out of flowers and plants. And I started developing a crush on Chloe Dao, who created an exquisite garden party dress out of leaves, then went on to win the competition last week.
How could a fashion unconscious guy like me be interested in haute couture? Now I think I might actually be able to work phrases like "execution problem" or "point of view" deftly into conversation. (Never mind that I might be referring to my own off-the-rack duds.)
"Project Runway" includes all the essential ingredients for delicious drama: a cast of flamboyant personalities, challenges with devilish time constraints, a sharp-tongued panel of judges and the celebrity cachet of supermodel Heidi Klum, swathed in the world's most fashionable maternity wardrobe.
Reality shows seem like the apotheosis of American faith in meritocracy. Contestants subject themselves to hypercompetitive "Thunder Dome"-style contests, for the chance to realize their dreams.
The drama provides great fodder for the chatterati around the water cooler and on Internet message boards. And the sense of false intimacy supplied by the small screen encourages snap judgments about the design aesthetic and interpersonal skills of the designers, whom we prattle on about as if we know them.
One of the reasons the show is so compelling is that I find myself projecting my own hopes and dreams onto whichever competitor I feel a connection with. What would I do if I poured absolutely every last ounce of creative energy into pursuing a goal ... and then had to pump out one last additional piece of work? I sympathized with Chloe as she suffered a near-breakdown when presented with the wickedest of 11th hour curveballs -- a command to create a 13th and final look from scratch two days before the runway show.
The shrewd producers also engineered a moral dilemma: What if Santino, the designer capable of the most boorish behavior, also demonstrated the most talent?
In the end, Dao's impeccable evening-wear collection earned her the Season 2 title and accompanying swag, including the $100,000 grand prize, Elle photo spread and a new set of wheels. She also had the last word in response to Santino's earlier denigration of her as a "pattern maker."
Her victory may even strike a blow for advocates of a (relatively) balanced life. Having put to rest the judges' doubts about whether she had the passion to succeed, Dao reportedly is in no hurry to pack up her Houston boutique for a move to the Big Apple.
But it looks like the American dream still lives. From Laos to Houston to a hot ticket runway show at Fashion Week. What a country.
As for me, now that "Project Runway" has ended, I can turn my attention to other pressing matters ... like March Madness (basketball, for those who only speak the language of fashion). And, oh all right, "American Idol."
---
Chance Gusukuma lives in Palolo. His shirts and slacks mostly match.