Mera Pharmaceuticals narrows loss
Sales of its nutrional products increased during the first quarter
Mera Pharmaceuticals Inc. posted a narrower first-quarter loss than a year ago as sales of its AstaFactor nutritional products increased 15.2 percent.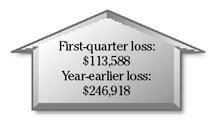 The Kona-based company, which produces its products from microalgae, said yesterday it had a loss for its fiscal quarter ending Jan. 31 of $113,588, less than half of the $246,918 it lost a year earlier.
Revenue rose 15.2 percent to $152,394 from $132,341. Included in that amount was approximately $75,000 from licensing and a technical services agreement with a single customer.
Chairman Gregory Kowal, who added the title of chief executive officer in January after an internal restructuring of the company, said higher retail sales of the AstaFactor line of products reflected "a growing public awareness of the health benefits of astaxanthin."
In the January restructuring, Mera reorganized the company internally into a research division that will try to develop new products and a consumer products division that will oversee sales and marketing of a line of dietary supplements that Mera already is producing. As part of the shuffle, Daniel Beharry stepped down as CEO to become president of the research unit and Kowal took over as CEO.
Mera also said yesterday that Kenneth Crowder, a director with the company, has been named chief operating officer. Crowder oversees a new product that Mera expects to introduce this spring. The company said the product should help revenue growth by the fourth quarter of this fiscal year.
Separately, Kowal said an independent three-month clinical trial of AstaFactor showed a decrease in the risk of cardiovascular diseases through a reduction in levels of C-reactive protein, which is produced by the body during acute inflammation. At the end of the study, 43 percent of the subjects in the treatment group saw their CRP levels drop enough to bring them into the average risk group from the high-risk category.
Kowal said the control of inflammation suggested by the trial results also could benefit patients with diseases and conditions ranging from arthritis to diabetes.