---
FAST FACTS HAWAII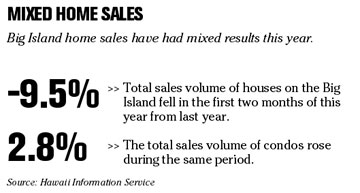 ---
NATION
'Without a Trace' hit with record $3.6B fine by the FCC
The Federal Communications Commission leveled a record $3.6 million fine yesterday against television stations that broadcast an episode of "Without a Trace" in December 2004, with the agency saying the
CBS
show inappropriately suggested a teenage sexual orgy.
The program was among nine cited yesterday for fines totaling about $4 million on agency accusations of violating decency standards between February 2002 and March 2005. The fines are the first indecency actions by the commission since Kevin J. Martin, a Republican, became chairman a year ago.
FCC officials said the fines, which can be appealed, were intended in part to make clear what type of material is allowed under FCC standards.
CBS defended the "Without a Trace" episode, saying the episode contained "an important and socially relevant storyline warning parents to exercise greater supervision of their teenage children."
The FCC also upheld a $550,000 fine leveled at CBS for the Janet Jackson breast-baring incident during the halftime show at the 2004 Super Bowl. In a statement last night, CBS said it continued to disagree that the incident was "legally indecent."
United Airlines to cut 100 jobs in Australia
SYDNEY, Australia » United Airlines said today that it will cut 100 jobs in Australia as it streamlines its operations.
In a statement, the UAL Corp. subsidiary said that from May, customer service and ground handling at Melbourne and Sydney airports would be outsourced, followed by reservations in early June.
Stephen Pearse, the airline's general manager in Australia and New Zealand, said the decision was part of efforts to build an "efficient, consistent and cost-effective organization."
Chrysler execs to pay more for health care
DETROIT » Chrysler, which is trying to persuade union members to accept less-generous health care benefits, said yesterday that most of its salaried employees would pay more for their health coverage beginning next year.
Chrysler also said that it expected to cut 10 percent to 15 percent of its 14,900 salaried jobs in the United States, or up to 2,235 positions, as part of a plan by its parent company, DaimlerChrysler, to eliminate 6,000 jobs through 2008.
Chrysler's chief executive, Thomas W. LaSorda, told employees in an e-mail message that the company did not plan layoffs and that it would instead seek volunteers to take part in buyout programs.
Chrysler was the only Detroit carmaker to earn a profit in North America last year.
WORLD
Cerberus plans bid for Vodafone
Vodafone Group Plc
's sale of its Japanese mobile phone unit may become Asia's biggest leveraged buyout.
Cerberus Partners LP and Providence Equity Partners Inc. may bid $15 billion for Tokyo-based Vodafone K.K., said two people familiar with the matter, who declined to be identified because the offer hasn't been made public.
Vodafone, the world's biggest mobile-phone company, said on March 3 that it was in talks to sell the unit to Softbank Corp., Japan's second-biggest Internet service provider. The U.S. buyout firms are competing for the third-largest of Japan's mobile phone companies, with a 17 percent share of the market.
India needs $90B for aviation
India needs $90 billion of investment in aviation by 2030, the International Air Transport Association said.
Indian airports will need an investment of $30 billion and airlines will require $60 billion, Brian Pearce, chief economist at IATA, said today in New Delhi. IATA represents 265 airlines worldwide.
Almost a dozen airlines are seeking approvals from the Indian government to begin flying, adding to the five that started operations in the past two years. India-based airlines placed $24 billion of orders for 213 planes from Airbus SAS, Boeing Co. and Empresa Brasileira de Aeronautica SA, according to figures reported in June last year, making the country Asia's biggest aircraft customer.
Too soon to say when rates will rise
Bank of Japan Governor Toshihiko Fukui said it's too soon to determine when interest rates will be raised from near zero, playing down speculation the bank is getting ready to raise borrowing costs soon. The yen fell.
"It's too early to tell when we need to revise our zero rate policy because we just ended" the bank's five-year-old policy of fighting deflation last week, Fukui told a parliamentary committee in Tokyo today.