COVER STORY
Reborn Star-Bulletin marks fifth year, keeping Honolulu among dwindling 2-newspaper cities
HAPPY BIRTHDAY, Honolulu Star-Bulletin.
Hawaii's oldest continually published daily newspaper, tracing its roots to Feb. 1, 1882, marks its fifth year under new ownership today.
And they said it wouldn't last.
The Honolulu Star-Bulletin and rival Honolulu Advertiser do daily battle for eyeballs, minds, hearts and advertising dollars.
It is a battle that Dennis Francis, publisher of the Star-Bulletin, has seen from both sides, having also served as general manager at the Advertiser before switching sides nearly two years ago.
"I think people have forgotten how ugly it was," said Francis, who is also president of Oahu Publications Inc., publisher of the Star-Bulletin and MidWeek.
Publicly traded Gannett Co. is "the largest media company in the U.S.," Francis said, while Canada-based Black Press Ltd., which owns the Star-Bulletin, is a relatively small, privately owned company.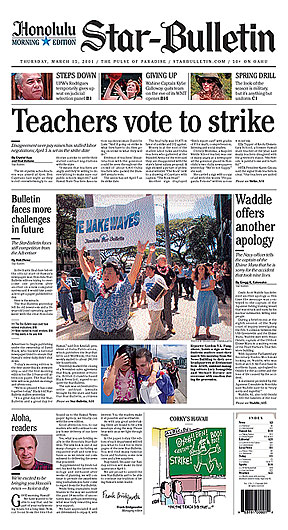 The first edition of the new Star-Bulletin
on March 15, 2001.
CLICK FOR LARGE
Lawsuits clear the way for sale
David Black, president of Black Press, bought the paper after the state and a grass-roots organization called Save Our Star-Bulletin filed lawsuits challenging plans by previous owner Liberty Newspapers LP to shut down the paper. Liberty was ordered to put the paper up for sale, and Black bought the assets of the Star-Bulletin for $10,000. He later brought in local investors, who share ownership.
The papers' editorial functions were always separate and independent, but until Black's purchase of the Star-Bulletin in 2001, a joint operating agreement, or JOA, allowed the Star-Bulletin and Advertiser to share printing, advertising and circulation functions under the Hawaii Newspaper Agency. Virginia-based Gannett owns the Advertiser and owned HNA.
"It is very unusual for a (smaller) newspaper to come out of a JOA and survive," said John Morton, a newspaper industry analyst and president of Maryland-based Morton Research Inc.
"When a (smaller) paper comes out of a JOA and continues to publish, it is because somebody has deep pockets or, in the case of Honolulu ... it also has, to some extent, combined" with another advertising effort, such as MidWeek.
When Black bought the Star-Bulletin, he also bought MidWeek, a weekly, advertising-rich community paper delivered to most Oahu households. It had its own printing presses, but more capacity was added to handle daily runs of the Star-Bulletin.
Competition on all fronts
Newspapers in a JOA are not "commercially competitive," Morton noted, "so typically one paper survives the JOA and the other disappears. Typically, the circulation of the remaining paper goes up," and the surviving paper increases advertising rates accordingly.
When the Honolulu JOA was about to break up, the Advertiser's president, Mike Fisch, told advertising clients that its rates would not be reduced, because it planned to deliver the same circulation that the Hawaii Newspaper Agency had previously delivered.
Prior to the split, that circulation for both papers totaled 175,010 daily and 188,956 Sunday, according to the Audit Bureau of Circulations, which audits member newspaper circulation. As of Sept. 30, Advertiser daily circulation totaled 140,327 and Sunday was at 158,699, according to a preliminary ABC report.
Fisch did not return repeated phone calls over the period of a week for this story.
Francis said that despite the lower circulation, Advertiser ad rates have gone up.
The Star-Bulletin uses readership information gleaned from annual research conducted by independent firm SMS Hawaii.
Ad clients benefit
Competing for revenue means good deals for advertisers, many of whom place ads through agencies.
Both papers' sales staffs assemble creative advertising packages with attractive rates, said Kim Bock, media director at the Harris Agency.
"Any time you're going to run an individual ad in the Star-Bulletin or MidWeek or even in the Advertiser, that's going to cost a lot more on a per-column-inch basis," which is what makes purchasing the packages more cost-effective for clients, Bock said.
Placing advertising is not always about numbers, either circulation or dollar figures, said Buck Laird, president of Laird Christianson Advertising Inc.
When a budget allows for it, the agency recommends a client run ads in both papers, he said. However, it is not always possible. Sometimes buys are made based on "perceived superiority in a particular section, real estate, automotive or whatever," he said. Ads also are placed according to "who we perceive the readers are more likely to be," which focuses advertising toward its intended audience.
Star-Bulletin a rarity
Cities with multiple daily newspapers are becoming increasingly rare, Morton said.
Joint Operating Agreements ensure the independent editorial voices of two papers, "and it's not a fight to the death. ... Nonetheless, it offers something valuable to readers. It's even better to have commercially competitive newspapers, but that's no longer the case in all but a few markets," Morton said.
Of the 41 U.S. cities that have multiple daily newspapers, 27 are what Morton would call "commercially competitive," with no JOA.
Smaller papers that emerge from JOAs "are fighting for their lives, and that's typical of the second newspaper." They tend to have a staff with higher morale, "and they've got to be aggressive to differentiate themselves from the larger paper." They are typically "scrappy," he said.
If he were still a journalist, "for the journalism, I'd rather work for the second paper, but for the long-term security, I'd rather work for the bigger paper," said Morton.
Readers win
Communities benefit from distinct, competing papers, said Ben Bagdikian, former journalist and journalism dean, now an author.
"You have advantages that exist in very few other places," he said.
"The two papers, a.m. and p.m. in Oahu, is extremely valuable within Oahu, as long as content meets the major needs of the audience -- and for the average person, not just the people who buy Mercedes.
"If each (paper) served a separate purpose that had any meaning in the community, that's a plus," he said.
Honolulu is more than just a two-newspaper town, observed Jim Whitfield, dean of the College of Communication at Hawaii Pacific University and also a former journalist.
He cited MidWeek, the Honolulu Weekly and other publications. "We have many newspaper sources here," which he believes is a recognition of a "fragmented audience."
Newspaper circulation has been on the decline for decades, and "only about half of American households buy a newspaper now," Whitfield said. He and his wife subscribe to both Honolulu dailies, but he notices younger people -- even journalism students -- do not read a physical newspaper, choosing instead to go online.
Some see online writers, or bloggers, as the new frontier of information dissemination, but most are not journalists, and Whitfield questions their staying power. "Is it a reputable source? Where does the information come from?" and does the writer have an agenda?
"With a traditional newspaper you know the source, the tradition. And a reputable, credible newspaper is going to have its credibility. The reader is going to be able to judge," he said.
Having two daily newspapers is "a wonderful situation."