---
FAST FACTS HAWAII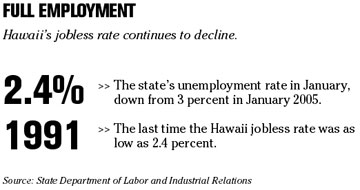 ---
[HAWAII INC.]
NEW JOBS
»
American Savings Bank
has hired
Pamela Lambert
as a Maui residential loan officer. She previously served as a branch manager and senior loan officer for
Island Community Lending
's Kihei office. The bank also has appointed
Piimauna Dukelow
real estate loan officer. She previously served as branch manager and main broker for Island Community Lending on Maui.
PROMOTIONS
» The Royal Hawaiian Hotel has promoted
Wendy Nagaishi
to guest services manager. She has almost 18 years of experience as a concierge.
>> PBR Hawaii has promoted planner Grant T. Murakami to principal from senior associate. He has more than 12 years of experience, specializing in the preparation of land-use master plans, urban design plans, site plans, design guidelines and land-use entitlement applications.
» Pacific Allied Products Ltd. has promoted Bernie W. Coleman to president and general manager. He was instrumental in the construction of the company's new 30,000-square-foot bottling plant.
» Pasha Hawaii has promoted Reginald J. Maldonado to general manager. He joined the company last year as sales manager and has more than 30 years of managerial, sales and marketing experience. He previously served as General Motors Overseas Distribution Corp. district sales manager.
NATION
Cingular may be the real winner of 'American Idol'
No matter who triumphs in this year's "American Idol" competition,
Cingular Wireless
may be the biggest winner.
Cingular Wireless is making out because of the boost it gets in text messaging from customers who vote for their favorite performer. The carrier has an exclusive deal with the show's producers that let its customers text in their votes instead of trying to call in on often-busy lines.
Last season, 41.5 million text votes were sent in; Cingular charges between $19.99 per month for a text package with 2,500 messages included and 10 cents per message on a pay-as-you-go plan, meaning the company raked in as much as $4.15 million in text messaging fees from "American Idol" votes alone last year.
The company says it is already on pace to outdo last year's voting numbers. Think about that the next time Ryan Seacrest cajoles you to let your fingers do the voting.
WORLD
Sony's PlayStation 3 to be delayed
Shares of
Sony Corp.
, the world's biggest video-game console maker, fell as much as 2 percent after the Nihon Keizai newspaper reported that sales of the PlayStation 3 will be delayed by about six months to November.
The stock fell 1.8 percent in early trading today in in Tokyo, compared with a 0.4 percent gain in the Nikkei 225 Stock Average. The Nihon Keizai said Sony hasn't resolved details on a copy protection format for its DVD player, preventing a planned release this spring. Sony Computer Entertainment Inc. spokesman Daisuke Nakata declined to comment on the report.
Sony would be a year behind Microsoft Corp., which released its latest Xbox 360 console in the U.S. in November 2005.
EU will not open Microsoft hearing
BRUSSELS, Belgium »
Microsoft Corp.
said yesterday that the European Commission has refused its request for an open antitrust hearing later this month -- hearings the EU said are never open to the public.
The hearing March 30-31 gives the company the chance to respond to the EU's December charges that it was not doing enough to comply with a 2004 ruling that ordered it to share information that would help rivals develop software to work with Windows servers.
"We believe this hearing should be conducted in an open forum," Microsoft said in a statement. "We understand these sessions are normally private in order to protect the party under investigation; however, we waive our right to a confidential hearing to ensure a full and fair examination of the issues in this case."
Chinese executive pleads guilty
Chen Jiulin, former head of
China Aviation Oil (Singapore) Corp.
, pleaded guilty to six charges related to a $550 million derivatives trading scandal that drove China's biggest jet-fuel trader to the brink of bankruptcy.
Chen, 44, admitted to making a false statement, failing to disclose the loss and conspiring to cheat adviser Deutsche Bank AG. Five of the six charges each carry a maximum sentence of seven years in prison, Chen's lawyer Nicholas Narayanan said.
Regulators in Singapore, Asia's largest oil-trading center, pledged to tighten trading and disclosure rules in response to the derivatives trading loss, the city-state's biggest since Nick Leeson cost Barings Plc $1.4 billion in 1995. Leeson went to prison for three-and-a-half years.
In China, bar is raised in the aircraft wars
FRANKFURT, Germany »
Airbus
is in the late stages of negotiations to build an assembly line for its A320 passenger plane in China, a landmark deal that would significantly lift its prospects for business there.
Producing European planes in China would open a new front in the battle between Airbus and Boeing for the world's next great aviation market, as well as underscore the growing role of state enterprises in the global economy.
Four Chinese cities are vying for the line, which would produce up to four A320s a month, in cooperation with Chinese state-owned aerospace manufacturers, industry experts said. The A320 is a short-haul jet that serves primarily domestic routes, which are booming across China.
Japanese automakers will increase wages
Toyota Motor Corp.
,
Nissan Motor Co.
and
Honda Motor Co.
, Japan's three largest carmakers, said they will raise wages for their domestic workers for the year starting in April 1, as increasing sales spurred their profits to records.
Toyota, the world's second-largest automaker, will give its Japan workers their first pay increase in five years, raising their average monthly wage and paying an annual bonus of more than $20,000. Nissan and Honda, which increased sales in the United States, the world's largest vehicle market, met part of the demands by their unions.