"LAKAS AND THE MAKIBAKA HOTEL"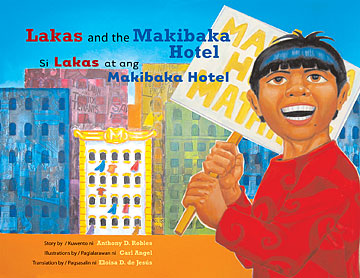 ILLUSTRATION &COPY 2006 BY CARL ANGEL
Illustrating cultural pride
Artist Carl Angel hopes his latest work helps kids learn about the Filipino culture
CARL ANGEL began his artistic journey at age 3, with the walls of his living room as his drawing board.
"My parents, rather than discipline me, bought me paper instead, thank goodness," Angel says.
It was positive reinforcement that paid off -- Angel continues to make a living as an artist and illustrator.
His latest venture is a children's book, "Lakas and the Makibaka Hotel," written by Anthony Robles in English and Tagalog. It's the second in a bilingual series by the pair, coming after "Lakas and the Manilatown Fish."
Angel hopes the books introduce children to "the humor in Filipino culture," and that they spark an interest in exploring their history and heritage. "When trying to find a place in the world, curiosity booms into something more," he said.
Angel was inspired himself by the books he read as a child. "In contrast to the cartoons on television, which I loved, it was being able to look at an image for awhile, admire it and study it, and then be able to create my own. I used to add my own endings on the blank pages at the end of children's books that my parents read to me. Eventually it was on to other books -- comic books, mythology, and then movies."
"Lakas and the Makibaka Hotel" concerns the closure of the I-Hotel, or International Hotel, which provided affordable housing for many Filipino Americans in the Manilatown section of San Francisco.
Angel's illustrations portray people struggling as they lose their homes. Faces, signs and messages abound on the buildings that serve as the backdrop for his illustrations. "I wanted to pay tribute to the people of the community ... and the past and present housing struggles," he said.
The images are different from Angel's usual work. "The subject matter is serious," he said, noting he used a "cartoony saturated style" so the material would go down easier.
The immigrant story is so interesting, he said. "There are so many stories that haven't been told ... about those who had to make their way here."
ANGEL dedicates the book to "the previous generations who made a home for us to sleep, eat, love and dream."
As a youngster, he didn't give much thought to his cultural roots.
Nowadays, he has a much greater appreciation for his parent's sacrifices. "They had to integrate the American lifestyle, assimilate later in life," he said.
Angel cannot fathom the courage of his ancestors as they came to a new country to try to make a living. "It's so epic. The odds were stacked against them. They were really brave."
Among Angel's long-term goals is a book about his Filipino experience in Hawaii. "There are not too many Filipino-American books out there," he said.
The artist, born in Bainbridge, Md., settled in Hawaii with his family when he was 4. He graduated from Radford High School and now lives in San Leandro, Calif.
"In Hawaii, I didn't experience alienation or real racism. I just blended in with everybody," he said. "I have more in common with a white person living in the islands than I do with a Filipino living in California."
Angel's artwork, included in many painting exhibitions, reflects personal, social and spiritual messages with themes such as Filipino mythology, racism in America, religion and spirituality and the 1899-1902 Philippine-American war.
---
Book illustrations reprinted with permission of the publisher, Children's Book Press, San Francisco, Calif.,
www.childrensbookpress.org
.