---
FAST FACTS HAWAII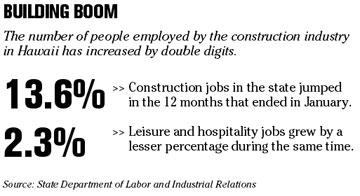 ---
HAWAII
Partnership acquires Ritz-Carlton Kapalua
A partnership led by a major investor in Ritz-Carlton hotels in South Florida, Philadelphia and Colorado has acquired Maui's 548-room Ritz-Carlton Kapalua for an undisclosed amount.
GenCom Holdings Inc., a Miami-based hotel investment company, acquired the property in partnership with Highgate Holdings and Whitehall Street Global Real Estate Ltd., said Shelby Taylor, a spokeswoman for the property. Founded by Karim Alibhai, a respected hotel developer and financier, GenCom owns and invests in Ritz-Carlton properties in Philadephia; Key Biscayne, Fla.; and Bachelor's Gulch, Co.
The seller was Capital Hotel Investments LLC, a partnership of Blackacre Capital Management and Marriott International.
Capital Hotel Investments bought the property for $144 million in February 2001 from Marriott International, which had purchased it four months earlier for the same price from Nissho Iwai Corp. of Osaka, Japan. The hotel cost $206 million to develop in 1992.
Judge keeps Dan Case out of suit
LIHUE » A Lihue judge denied a motion yesterday that sought to add Honolulu lawyer Dan Case to a lawsuit involving the sale of a Kauai company to Case's son, Steve, co-founder of America Online.
Lawyers for 17 shareholders involved in the sale of Grove Farm Co. Inc. had asked Circuit Judge George Masuoka to reconsider his 2005 decision that dismissed claims against the elder Case. The lawyers alleged that Dan Case was involved in a conspiracy to defraud shareholders who sold the company to Steve Case at less than fair market value.
But Masuoka, who listened to about two hours of argument, decided that none of the information provided by a new legal team representing all but two of the shareholders was new or relevant to the decision. Masuoka had ruled in December that the shareholders had no legal standing to sue the elder Case, and that only the board or the new owner had the right to sue the lawyer.
Dan Case -- who is a director of Oahu Publications Inc., publisher of the Star-Bulletin -- remains a defendant in a separate state court lawsuit over the sale of Grove Farm.
Chevron blesses ethanol facility
Marking the beginning of what policymakers hope will be a step toward less dependence on fossil fuels in Hawaii,
Chevron
dedicated a new ethanol-blending facility yesterday with a traditional Hawaiian blessing.
The San Ramon, Calif.-based energy giant said it plans to begin ethanol blending ahead of an April 2 state deadline. At that time, at least 85 percent of Hawaii's gasoline will have to contain 10 percent ethanol, which is commonly used as an additive on the mainland.
NATION
Southwest raises fares, carriers follow
DALLAS »
Southwest Airlines Co.
led a broad fare hike across the airline industry, raising fares by up to $10 for a one-way ticket as the company seeks to offset an expected $600 million jump in its jet fuel costs.
By late yesterday, most other major U.S. airlines had matched the move by Southwest, which over the years has used lower fares to bludgeon the established carriers.
The Dallas-based airline also raised fares in January. On Friday night, it boosted rates again over about two-thirds of its network, ranging from $2 on flights up to 400 miles to the $10 increase, to $309, for its most expensive walk-up fares.
Wendy's kills bonuses for top 2 executives
Wendy's International Inc.
, the third-largest U.S. hamburger chain, said it scrapped bonuses for its top two officers for a second year after sales fell and the company bowed to shareholder pressure to sell its Baja Fresh restaurant group.
Neither Chief Executive Officer John Schuessler nor Chief Financial Officer Kerrii Anderson received bonuses for 2004 or 2005, the Dublin, Ohio-based company said in a Securities and Exchange Commission filing yesterday. For 2003, Schuessler received a $1.61 million bonus, while Anderson's bonus was $803,250, Wendy's said.
WORLD
Tokyo exchange will drop Livedoor
TOKYO » The Tokyo Stock Exchange said yesterday it will stop trading shares in disgraced Japanese Internet startup Livedoor next month because of alleged securities law violations, ending a listing that brought turmoil to the exchange.
The exchange will delist Livedoor Co.'s stock -- which has fallen 90 percent in the last two months -- from the so-called Mothers market of emerging companies on April 14, following a month on the bourse's liquidation post, the TSE said in a statement.