---
FAST FACTS HAWAII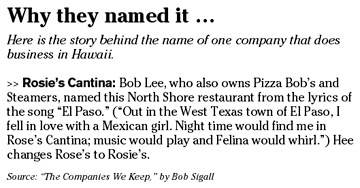 ---
HAWAII
Lawyers seek trial over sale of Grove Farm Co.
Lawyers for former shareholders of
Grove Farm Co. Inc.
today are scheduled to ask state Circuit Court Judge George Masuoka to reconsider a ruling dismissing claims against Honolulu lawyer Dan Case as part of a suit involving the sale of the company.
Plaintiffs earlier had claimed that Case failed to protect the interest of shareholders during the deal, in which Dan Case represented the buyer -- his son Steve, co-founder of America Online -- while Dan Case's law firm represented the seller.
In December Masuoka ruled that the shareholders did not have standing to bring claims against the elder Case. Today a new legal team will present new arguments to try to convince the judge to reinstate Case.
Dan Case is a director of Oahu Publications Inc., publisher of the Star-Bulletin.
NATION
No spike in flood insurance sales
Hurricanes and flooding raged for many Americans last year, but that hasn't prompted a run on flood insurance.
A survey by the large insurer, Chubb Group, finds that only 8 percent of 700 queried homeowners saw the destruction of Katrina and Rita as motivation to get some insurance for their home. Only 14 percent of the total group has flood insurance.
Most of those who do have a flood insurance policy, 28 percent, said they do so as a form of, well, insurance: They don't want to take any chances.
About the same number, 27 percent, said their mortgage lender required it, and 24 percent said their house sits near a body of water.
About a fifth said an insurance agent or broker had recommended such protection.
So what about people in coastal areas, whose domiciles are most likely to be flooded? Chubb didn't find a very sympathetic lot: 68 percent said government ought to restrict building in coastal areas and less than a third, 31 percent, thought the federal government ought to aid those without insurance whose homes were damaged.
Raising gift funds can be delicate
We've all been there at work: A colleague is about to start maternity leave, or Milton is retiring after 79 years in the corner office. Obviously, a gift is in order. Right?
This process can be delicate, often because the funds for any gift must be collected from the office.
The crew at OfficeTeam, a Silicon Valley-based temporary staffing firm for administrative professionals, offers a few guidelines on the topic:
» Ask selectively.
The new person who has never met Mom or Milton would consider it unfair to be asked to donate. So keep the group you approach limited to the people who actually know the person being recognized.
» Keep it simple.
Circulate a general e-mail so people can approach the funds collector. Buttonholing someone at the elevator, pitching for money like a TV preacher, can make some people uncomfortable.
» Bundle.
If possible, consider periodic group gatherings for such events. Perhaps the company will even contribute to the more formalized approach, as a way to build cooperation and good will.