Whale and calf injured in bloody collision
They run into the propeller of a boat full of children off Maui
WAILUKU » Federal officials are investigating a collision between a whale, her calf and a whale-watching vessel off South Maui.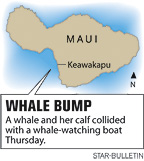 The collision occurred as the Pacific Whale Foundation's Ocean Spirit was traveling about two miles off Keawakapu with more than 50 schoolchildren just before 10 a.m. Thursday.
Paula Behnken, a chaperone for the Carden Academy of Maui in Pukalani, said the vessel was traveling at about 15 knots and that the passengers had been out whale-watching for about an hour when the mother whale and baby surfaced.
"Somebody shouted, 'Whale, 12 o'clock, right in front of us,'" she said. "A few seconds later, they just flew into the prop."
Behnken said the propellers sounded "like an ice blender" when they hit the whales.
"Everywhere they surfaced, there was blood in the water," she said. "It was hideous."
She said some of the children cried.
After the collision, the vessel shuddered as it made its way back to Maalaea Harbor, she said.
NOAA Fisheries spokeswoman Wende Goo said inspectors investigating the collision saw a mother whale and calf in the vicinity of the collision that afternoon and that the whales were swimming normally.
Goo said the mother had an injury that was not noticeable above water, and the calf had an injury to its pectoral fin and a cut on its head.
Goo said as a matter of procedure, NOAA conducts an investigation whenever there is a collision between a vessel and humpback whale.
She said investigators were sent to interview the captain, the boat owner and witnesses.
There are no rules governing the speed of a vessel in the Hawaiian Islands Humpback Whale National Marine Sanctuary, but federal rules require vessels to maintain a stand-off distance of at least 100 yards from humpbacks once they are detected.
Pacific Whale Foundation spokeswoman Anne Rillero said the whales came up so quickly, the accident was unavoidable.
"All of us at the Pacific Whale Foundation are pretty sad about the incident," she said.
Rillero said as soon as the captain noticed the whales, he put the engine in neutral.
She said the population of humpbacks has been growing significantly, increasing the chance of collisions.
Rillero said the strut and rudder were damaged on the vessel, but she did not know the extent of the damage.
Behnken said she heard state and federal officials had seen the mother and calf being escorted by a pod of whales after the collision.
"Because the pod hadn't abandoned the baby, hopefully the baby will make it," she said.