AIR AMBULANCE CRASH ON MAUI
Wreckage to be inspected
A report into the cause of the crash could take a year, an NTSB official says
WAILUKU » Federal officials were expected to make a detailed examination today of the wreckage of a medical ambulance airplane that crashed Wednesday in Kahului, killing three Hawaii residents.
The wreckage, including the engine, was taken yesterday from the crash site at the BMW of Maui parking lot on Hana Highway to a hangar at Kahului Airport.
National Transportation Safety Board investigator Van McKenny said he expects to complete the examination of the wreckage today and then fly to Honolulu to gather other information, including records about maintenance schedules and pilot training.
Dead in the crash Wednesday night were pilot Peter A. Miller, a 32-year-old Kailua resident; Brien P. Eisaman, 37, a nurse and Waipahu resident and the assistant chief flight nurse; and Marlena L. Yomes, 39, a paramedic, Honolulu base station supervisor and Waianae resident.
The three Hawaii Air Ambulance personnel were planning to transport a patient in critical condition from Maui Memorial Medical Center to an Oahu hospital. The patient was later transported by a Coast Guard aircraft to Honolulu.
McKenny said in this type of investigation, a factual report into the cause of the crash can take from six months to a year.
---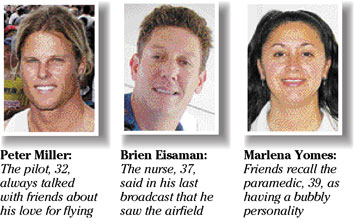 ---
Accompanying McKenny in the examination of the aircraft yesterday were representatives of Cessna and the engine manufacturer, Teledyne Continental Motors.
The company officials were there to assist in looking for various parts of the aircraft and seeing if there were any clues to the cause of the crash, McKenny said. It is too soon to determine whether the crash was caused by mechanical or pilot error, he said.
Some crash witnesses said the airplane banked a steep right before it went down in the parking lot and exploded, sending flames about 150 feet into the air.
BMW of Maui was scheduled to reopen Monday, according to a company telephone recording. Dennis Short, president of BMW Maui and Honolulu, told the Associated Press that 20 cars valued at about $500,000 were damaged. All of them were insured, he said.
People continued to visit the crash site yesterday, including an acquaintance of Miller.
Sage Spalding, a former Oahu resident, said he knew Miller as a surfer.
"It's really tragic. It's such a huge loss," he said. "I couldn't believe it."
Relatives of Eisaman said he died doing what he loved, in a place he wanted to be.
Eisaman, a Huntington Beach, Calif., native, had just moved to Hawaii last fall, according to his stepsister, Jennifer Isensee. She recalled the last time she talked to him was while he was moving last fall.
"I know he was doing what he loved. He was very proud to be a nurse, and he was very excited to have the chance to live in Hawaii," Isensee said yesterday during a phone interview. "He was so excited about his new job."
Hawaii Air Ambulance said Eisaman was the last one to communicate with its base in Honolulu while their Cessna was over Kahului on Wednesday night. His last radio transmission was at 7:11 p.m., and by 7:15 p.m. the plane had gone down in a fiery crash.
"It's a terrible thing to have to go through," Isensee said.
Eisaman's parents live in Banning, Calif., and declined to comment yesterday.
Isensee described him as having a great sense of humor, a passion for surfing and skiing and the outdoors, and a fondness for playing the guitar.
"He enjoyed playing with his uncle and had family jam sessions," she said. "Those were real special."
---
BACK TO TOP
|
Plane had 2 flight systems to help track outside obstructions
The Hawaii Air Ambulance plane that crashed into a luxury car lot on Maui on Wednesday night, killing three people, was already equipped with two federally recommended flight systems.
Last year, the National Transportation Safety Board, noting a significant jump in the number of emergency medical service crashes over three years, started a special investigation to identify "recurring safety issues," according to an NTSB safety recommendation made Feb. 7 to the Federal Aviation Administration.
Among the key recommendations was that every emergency medical aircraft be equipped with two flight systems to enhance safety: terrain awareness and warning systems, which help pilots particularly during landing and takeoff, and night vision imaging systems, which help pilots avoid obstructions at night.
Keith DeMello, a spokesman for Hawaii Air Ambulance, confirmed yesterday that the twin-engine Cessna 414A that crashed on Maui had both flight systems.
The investigation into the crash is still early, with no hard clues as to why the plane crashed in Kahului. The FAA has only said the plane "lost engine power."
The three-year NTSB study found that 17 of the 55 accidents it studied might have been avoided if the aircraft had had terrain awareness and warning systems. The FAA already requires the systems in passenger planes with six or more passenger seats.
The NTSB began a special investigation into crashes of emergency medical planes and helicopters after a significant jump in fatal accidents. Between January 2002 and January 2005, the NTSB found there were 55 EMS aircraft crashes, resulting in 54 fatalities and 18 serious injuries.
The study found that EMS flights operate under looser safety restrictions when a patient is not on board. Flights that carry only a pilot and medical team are called "positioning flights." The study found that the majority of accidents studied -- 35 of 55 -- were positioning flights like the one that crashed Wednesday night.
On Jan. 31, 2004,* another Cessna 414A owned by Hawaii Air Ambulance crashed during a nighttime positioning flight. That plane was headed toward Hilo from Honolulu to pick up a sick child and was expected to land at 1:50 a.m. The plane was found two days later smashed across the face of Mauna Kea at the 3,600-foot elevation, about 22 miles northwest of Hilo. That crash killed pilot Ron Laubacher, 38, and paramedics Mandy Shiraki, 47, and Joseph Daniel Villiaros, 39.
Since the investigation into that crash is not final, it is unclear if there are any common factors in both accidents.
An NTSB report on the Big Island accident said the plane was flying low and that visibility was restricted by light rain and clouds.
The NTSB is recommending the FAA adopt and enforce stricter standards governing factors such as weather, visibility and crew rest for positioning flights. The NTSB said positioning flights are allowed to take off in poor visibility and without making an assessment of flight risks.
The NTSB has recommended to the FAA that EMS operators be required to develop and enforce "flight risk evaluation programs" to help their pilots better assess safety conditions and potential risks.
In a recent statement, the NTSB said its special investigation of the 55 crashes found that "weather, nighttime flight, spatial disorientation from the lack of visual clues, pilot training and experience, and pressure to take the flight (for the sake of the patient) are all risks associated with the EMS mission."
CORRECTION
Tuesday, March 14, 2006
» A Hawaii Air Ambulance plane crashed on the Big Island on Jan. 31, 2004. A story on Page A1 yesterday and a story on Page A5 Saturday incorrectly said the crashed happened on Jan. 21, 2004.