The Bloomberg /
Star-Bulletin Index
---
Local stocks fall
Barnwell Industries
topped the Bloomberg Honolulu Star-Bulletin stock index this week. It was the only stock in the group to manage better than a 1 percent gain during a week that saw the index decline 3.6 percent.
Barnwell closed at $23.25, up 3.8 percent for the week. The stock is up 25 percent so far this year, and up 32 percent over the last 12 months.
Hoku Scientific slid the furthest during the week, down 11 percent to close at $6.47. For year, Hoku is down 15 percent. The fuel-cell technology developer, which debuted in August at $6, has been as high as $12.80.
---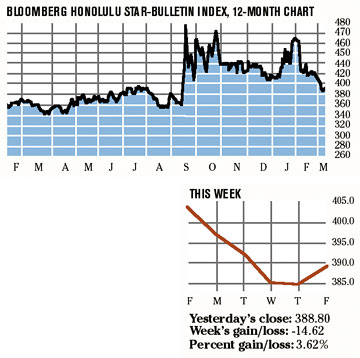 The Bloomberg / Star-Bulletin Index is a price-weighted index designed to measure the performance of Hawaii-based companies. The index was developed with a base value of 100 as of December 31, 1999. A chart of the index which shows the weekly performance of its members is published weekly in the Honolulu Star-Bulletin.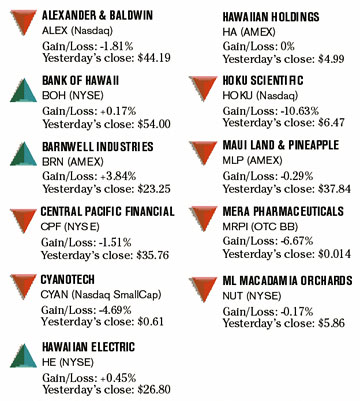 SOURCE: BLOOMBERG NEWS / STAR-BULLETIN GRAPHIC