---
FAST FACTS HAWAII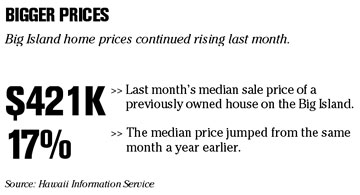 ---
HAWAII
Jobless rate drops to 2.4 percent
The number of people employed in Hawaii grew by 24,400, or 4 percent, during the 12-month period ending in January, as the state remained the envy of the nation because of its low unemployment rate.
The islands' seasonally adjusted unemployment rate for January was 2.4 percent, the lowest it has been since January 1991, according to figures released yesterday by the Department of Labor and Industrial Relations.
The rate stands in comparison to the 3 percent posted for Hawaii in January 2005. In December 2005, it was 2.7 percent
Nationally, the seasonally adjusted employment rate dropped from 5.2 percent in January 2005 to 4.7 percent in January 2006.
For Hawaii, the islands' overall job count expanded by 17,800, or 3 percent, during the 12 months ending in January.
The number of jobs in the trade, transportation and utility category increased by 4.5 percent, while construction jobs grew by 13.6 percent, leisure and hospitality by 2.3 percent, and education and health services by 2 percent.
NATION
Disney considering plan to succeed chairman
Walt Disney Co.
Chief Executive Robert Iger said the media company is considering a succession plan for Chairman George Mitchell, who survived a referendum yesterday on an extension of his tenure.
"The board has a rigorous process under way and it's dealing with it at every board meeting," Iger said in an interview at an annual shareholders' meeting in Anaheim, Calif. "At this point, we're not revealing any details."
Two advisory firms split on whether shareholders should back Mitchell. Institutional Shareholder Services, the largest U.S. proxy adviser, recommended investors vote for all 13 directors of the No. 2 U.S. media company. Glass Lewis & Co. urged investors to reject the board's request that Mitchell remain beyond the retirement age of 72 because of his "questionable leadership."
Mitchell, who turns 73 in August, has met less criticism following the appointment of Iger, who presided over his first annual meeting since becoming CEO in October. Iger, 55, patched relations with business partners including Steven Jobs, who agreed to sell his Pixar animation studio to Disney this year.
Northwest Air moves to create small-jet unit
MINNEAPOLIS »
Northwest Airlines
, which wants to rapidly develop a subsidiary to fly small jets, disclosed yesterday that it plans to start its new enterprise by buying the federal operating certificate of bankrupt Independence Air.
FLYi Inc.'s Independence Air said in a filing with the U.S. Bankruptcy Court in Delaware that Northwest has bid $2 million for key assets, including certificates from the Federal Aviation Administration and the Department of Transportation.
Northwest said it wants to operate 76-seat airplanes at the new subsidiary, which is allowed under a tentative agreement recently reached with the Air Line Pilots Association.
"By purchasing the FLYi certificate, Northwest hopes to accelerate the development of this subsidiary, which will create job opportunities for furloughed Northwest Airlines pilots," the airline said in a statement.
FLYi said Northwest's bid was "the highest and best offer."
Other companies will have an opportunity to submit "overbids" by next Friday.
WORLD
Deal will let Americans export wine practices
BRUSSELS, Belgium » The European Union and the United States signed a new wine deal yesterday that allows American companies to export wines made using practices many European vintners shun.
Americans will now be able to sell woodchip-aged wines throughout Europe, a move some European winemakers fear will undermine their traditions as they face aggressive competition from a host of New World wines.
A shudder runs through some Europeans at the thought of changing how they age wine. EU winemakers use expensive oak barrels that endow a distinctive toasty, smoked vanilla flavor.
American winemakers can use a far cheaper option to get the same effect -- adding woodchips to wine fermented in metal vats. Commercial winemakers in Europe are banned from doing this, although scientific tests are allowed.
Nortel will restate earnings again
Nortel Networks Corp.
, the largest North American telephone-equipment maker, said it will restate its financial results for the third time in as many years because the company booked sales too soon.
Revenue will be cut by $162 million and earnings by $95 million for the first nine months of 2005, Nortel said yesterday. The Brampton, Ontario-based company also reported a fourth-quarter net loss of $2.21 billion after a $2.5 billion legal expense tied to previous accounting errors, according to preliminary figures.
The announcement will lead to revisions on previous restatements from 2004 and earlier, a setback for Chief Executive Mike Zafirovski, who spent his first four months in office resolving claims from the prior mistakes. Nortel has been plagued by a spate of earnings restatements that date back to 1999 as well as lawsuits and government investigations.
Nokia opens $150M India factory
Nokia Oyj
, the world's biggest maker of cell phones, opened its first factory in India to tap demand in the world's fastest-growing wireless market.
The factory, built at a cost of $150 million, will make handsets and network equipment. Nokia expects to employ 10,000 workers in the next few years, according to a statement issued by Nokia today in the southern India city of Chennai.
Aspocomp Group Oyj, a Finnish maker of printed circuit boards and a Nokia supplier, will expand its business operations by building a printed circuit board plant in the Nokia Telecom Industry Park, near Chennai, Nokia said in the statement.
The plant will be India's first high-density interconnection printed circuit board facility and will be set up with an investment of $70 million, according to the statement.
Honda to build Japanese factory
Honda Motor Co.
said it will build its first Japanese factory since 1976 to make power trains or assemble cars.
"We are looking for a production site at Yorii" in the Saitama prefecture, north of Tokyo, said Honda spokesman Tetsuya Ikeda. "No details such as investment, what will be produced at the site, or production volume, have been decided."