---
FAST FACTS HAWAII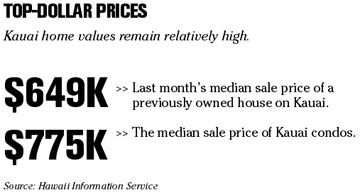 ---
HAWAII
Developer plans Waikiki low-rise condo project
With high-rise condos growing like mushrooms in Waikiki and Kakaako, one developer has come up with something extraordinary: a low-rise in Waikiki.
The proposed Waikiki Palms condominium project calls for 116 units to be built in two six-story buildings on Kaioo Drive near Hobron Lane, at the Ewa end of Waikiki.
The project aims to create condos that are more modestly priced than those in the area's luxury high-rises, said Larry Hansen, principal of development firm Kaioo LLC.
About 25 percent of the units will be one-bedroom condos, while the rest will have two bedrooms in about 1,000 square feet, Hansen said. The project hopes to break ground by year end; units will go on the market at approximately the same time that construction starts.
How big is the creative industry?
The state has commissioned a survey to document the role Hawaii's creative industries play in the economy.
The Department of Business, Economic Development and Tourism has contracted with SMS Research to do the survey, which aims to catalog commercial and nonprofit providers of goods and services involving artistry, design, aesthetic value and cultural enterprise.
"Preliminary data about the industries ... indicates that there are over 25,000 people employed in this economic sector," said Theodore E. Liu, director of the department.
SMS Research is contacting prospective participants in the survey. For more information, contact Jenine Dankovchik at 440-0737 or jdankovchik@smshawaii.com.
[ HAWAII INC. ]
NEW JOBS
» The Hawaii Credit Union League has hired
Pamela Divito-Paiaina
as vice president/COO. She will be responsible for overseeing the company's member-relations division. She previously worked for
Bank of Hawaii
.
» Griffith Construction Consultants have hired Gary Ashikawa as a senior project manager. He will be responsible for providing project management and construction management services. He has more than 30 years of experience in consulting civil engineering, real estate development and property management.
» Sea Life Park has appointed Ronald Hee sales and marketing director. He will be responsible for working with Atlantis Adventures, managing the sales and marketing of the park. He has more than 30 years experience in sales and management.
» Kahala Hotel & Resort has hired Timothy K.H. Lee as resort manager. He has over 25 years of resort management experience. He previously served as the Beverly Hills Hotel resident manager.
» Nishihama & Kishida CPAs Inc. have promoted Kekoa Beaupre to tax manager. He previously served as tax supervisor.
» Young Brothers Ltd. has hired Lisa M. Green as marketing, customer service and sales manager. She has over 25 years of national and international marketing and management experience.
PROMOTIONS
»
Alakai Mechanical
has promoted
Ralph T. Inouye
to senior vice president. He will be responsible for coordinating and overseeing marketing, bidding, estimating and contract negotiations. He has over 30 years of experience in the construction industry.
» KMH LLP has promoted Judy A. McDonald to a principal and member of the firm's leadership team. She previously served as a senior manager for KMH Solutions.
---
NATION
Sharper dissidents seek control
A group of
Sharper Image Corp.
investors wants to seize control of the gadget retailer's board and oust the founder to turn around the company. The shares rose 23 percent, the biggest gain in seven years.
Former Merrill Lynch & Co. mergers chief Michael Koeneke and former Credit Suisse First Boston banker David Meyer are leading the group and said they plan to nominate a new board of seven directors. The investors, the Knightspoint Group, have a 13 percent stake in Sharper Image, which has about 190 stores that sell household items including air purifiers and massaging chairs.
No evidence of improper deals
HOUSTON » The prosecution's star witness could offer no hard evidence yesterday of any improper deals with former Enron CEO Jeffrey Skilling that were used to help the company look stronger to Wall Street than it was.
Former Chief Financial Officer Andrew Fastow was grilled about whether there were any documents proving Skilling's involvement. He said he couldn't remember, leaving jurors to decide whether to take an admitted liar's word that he had discussed those deals with Skilling.
Google buys maker of writing software
MOUNTAIN VIEW, Calif. »
Google Inc.
has bought the maker of Writely, an online word-processing program that gives the online search engine leader another potential weapon in its escalating battle with
Microsoft Corp.
The acquisition of Upstartle, disclosed yesterday on Google's Web site, continues the Mountain View, Calif.-based company's effort to assemble a suite of software applications that are tethered to an Internet connection instead of a single computer's hard drive.
New consortium may bid for Univision
A consortium of companies and investors that includes the Mexican television giant
Grupo Televisa
has emerged as a potential bidder for
Univision
, the largest Spanish-language television and radio company in the United States.
The consortium includes private equity firms Providence Equity Partners and Madison Dearborn Partners, as well as the Cisneros Group of Venezuela and the media entrepreneur Haim Saban, according to people involved in the group.
The team has an edge in the closely watched auction because Televisa has a contract through 2017 to provide Univision with much of its programming, potentially making it more viable for the company to make a higher bid than its rivals.
McClatchy submits bid for Knight Ridder
Knight Ridder Inc.
received at least two takeover offers, valuing the fourth-largest U.S. newspaper publisher as high as $4.7 billion, by yesterday's auction deadline.
McClatchy Co. and a group of buyout firms including Thomas H. Lee Partners LP each submitted bids, three people with direct knowledge of the matter said. They declined to be identified because the offers are confidential.
The offer from McClatchy appeared to be the highest, two people said. McClatchy bid about $65 to $70 a share for the San Jose, Calif.-based company, one person said.
A group led by MediaNews Group Inc. also was considering making a proposal yesterday, another person said.
WORLD
Shares rise on central bank's move
TOKYO » Tokyo shares rose today as investors grew bullish over the clear message from the Bank of Japan that the country's recovery has grown strong enough for the central bank to scrap its five-year super-easy monetary policy.
The Nikkei 225 index edged up 0.99 percent at the end of morning trading following a 2.5 percent jump yesterday after the central bank ended months of uncertainty by announcing it would abandon the policy, known as quantitative easing.