WITH OR WITHOUT U2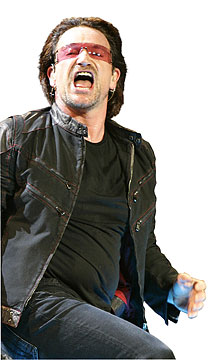 ASSOCIATED PRESS
U2 lead singer Bono will not perform April 8 at Aloha Stadium as planned.
Rock band U2 delays anticipated concert
The nearly sold-out show is on hold due to a family illness
News that U2's concert in Honolulu has been postponed was greeted with dismay by fans holding tickets for the April 8 show -- but they are holding on to hope that the band will still make it to Aloha Stadium.
Kalaheo High School student Paul Brittain, 18, heard the news on the radio. "(The deejay) urged us to hang on to our tickets," he said, "and that sounded hopeful. ... I know they're not postponing for a dumb reason, but I still feel kind of let down."
His schoolmate, 17-year-old Maia Lonergan, was less optimistic. "I think it's just an excuse. My mom told me another band once said that, and they never showed up again. I'm super-PO'd. It's so irritating.
"Later, whenever they do play, what if it's on a date when I would not be able to go? What if it's summer?"
The Los Angeles office of concert promotion company Live Nation declared the concert postponed in an e-mail announcement yesterday afternoon.
Also delayed are nine other performances that were to have ended the international leg of the band's Vertigo tour.
"This action is unavoidable due to the illness of an immediate family member of one of the band," publicist Greg Terlizzi said.
The nearly sold-out show at Aloha Stadium was to have been the tour's finale. Also put on hold are concerts in Brisbane, Melbourne, Adelaide and Sydney, Australia; and Yokohama, Japan.
Ticketmaster's Internet site now lists the Hawaii concert as "date TBA (to be announced)." Sales of tickets -- from $49.50 to $165 -- have been stopped online and at all local ticket outlets. No refund policies have been announced.
Stadium spokesman Patrick Leonard advised holding on to tickets, "and as soon as we receive word from Live Nation on the next step, we will advise local media."
Arthur Fogel, president of tour promoter the Next Adventure, stated that "any fan of U2 will realize that this decision has not been taken lightly. We will announce further details as soon as we have them."
Longtime fan and concert photographer Tina Lau, who saw the band in its 1983 Blaisdell Arena show, said she was disappointed, as she was "looking forward to another stadium extravaganza."
STAR 101.9 afternoon deejay Maleko said he understood the band's decision. "At first, I thought, 'No way,' not after all the drama of the initial announcement of the show and the ticket sales. But when I read it was due to a family illness, it calmed my initial reaction. I was one of those people who waited in line to buy a ticket, and although I was upset at first, family should take priority."
The band made its Mexico and South America tour stops last month, and had been scheduled to resume touring March 17 in Auckland.
Despite persistent rumors of a second Hawaii show, around 1,700 additional tickets had been released for the April 8 concert. The added tickets covered both ground-level, standing-room-only and stadium seating that flanks both sides of the stage.
Maleko said listeners who called in understood the gravity of the situation. "First, of course, they were concerned about their tickets and the possibility of not even having a show. ... But we have to remember that they're human beings before being rock stars. While we look at them in an idealistic light and put them on pedestals, they're still human with real emotions and problems they have to face."
---
Star-Bulletin reporter Burl Burlingame contributed to this report.