---
FAST FACTS HAWAII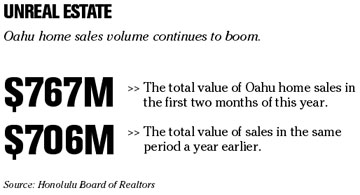 ---
HAWAII
Hawaiian Air customers can check luggage at Outrigger
Hawaiian Airlines
is teaming with
Outrigger
and
Ohana Hotels & Resorts
to allow guests to check in for flights and have their luggage picked up from four hotel lobbies around Waikiki.
The service also is available to residents and other non-hotel guests traveling aboard Hawaiian.
Hawaiian's remote hotel check-in service, which previously didn't include the luggage drop-off, is available daily from 6:30 to 10:30 a.m. at the Outrigger Waikiki on the Beach, Outrigger Reef on the Beach, Ohana East and Ohana Maile Sky Court.
The fee for the luggage drop-off and delivery service is $5 per bag and $15 per family up to four passengers in one itinerary.
NATION
GM to sell most of its Suzuki stake
TOKYO »
General Motors Corp.
said yesterday that it would sell most of its 21 percent stake in
Suzuki Motor of Japan
, earning GM some $2 billion in much-needed cash as it struggles to restructure after massive losses.
GM will sell about 92 million shares, or a 17.4 percent stake in Suzuki, back to the Japanese company today for $1.96 billion, the companies said.
GM said the sale will still leave it with a more than 3 percent stake in Suzuki, a small but profitable maker of compact cars. GM also said it will continue its 25-year business relationship with the Japanese company, which includes a joint venture in Canada to make sport utility vehicles.
Troy Clarke, president of GM's Asia-Pacific operations, said the sale would reap GM a pre-tax profit of $550 million to $750 million.
Set TiVo from Verizon cell phone
SAN JOSE, Calif. » TiVo subscribers will soon be able to program television recordings straight from cell phones using the
Verizon Wireless
network.
An agreement with Verizon Wireless, to be announced today, expands on TiVo Inc.'s strategy to bring the digital video recording pioneer's capabilities beyond its set-top-boxes and the television, and directly to cell phones for the first time.
Dubbed TiVo Mobile, it's also the latest feature the Alviso, Calif.-based company is introducing to help differentiate itself from the growing number of rival DVR offerings from cable and satellite TV operators.
Border I.D. plan hurts tourism industry
NIAGARA FALLS, N.Y. » The U.S. plan to require people traveling between the United States and Canada to have passports or similar identification is already hurting cross-border tourism, and it's not even in effect yet, tourism officials say.
Convention planners are hesitant to book events across the border a year or two in advance without knowing how the plan will be implemented or what new identification cards will cost, Randy Williams of the Tourism Industry Association of Canada told a panel of U.S. and Canadian government officials yesterday.
Many Americans are staying away from Canada already, believing the requirement is in effect now, he said.
TI narrows outlook for its first quarter
DALLAS »
Texas Instruments Inc.
narrowed its first-quarter guidance to the high-end of the forecast the semiconductor maker gave in January.
When TI released fourth-quarter earnings, it said first-quarter sales would be $3.11 billion to $3.38 billion, which was below analysts' forecast at the time of $3.46 billion. The company now expects revenue to come in between $3.22 billion and $3.35 billion.
WORLD
Refugees set back Chinese tourism
SAIPAN, Northern Mariana Islands » A growing number of Chinese visitors seeking refugee protection in this U.S. commonwealth may set back plans to attract more travelers from China, the Northern Mariana government says.
"It's a concern," said Charles Reyes Jr., spokesman for Gov. Benigno R. Fitial.
"We want to be sure that we attract legitimate Chinese tourists who are not here with ulterior motives and are here purely to enjoy themselves, to have a nice vacation and, of course, spend money and stimulate our economy."
Last month, seven Chinese tourists overstayed on Saipan, saying they feared persecution because of their affiliation with Falun Gong, a religious movement that has been banned in China since 1999.
Other Chinese seeking asylum say they fear reprisals for participating in the distribution of subversive materials on a CD opposing the communist government of China.