---
FAST FACTS HAWAII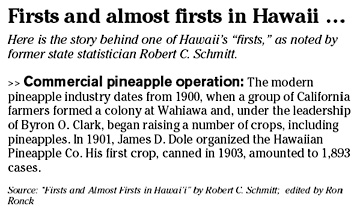 ---
NATION
IRS reminds celebrities Oscar gift bags taxable
Oscar, meet Uncle Sam. The Internal Revenue Service has warned Academy Awards performers and presenters that the gift bags handed out during yesterday's televised ceremony -- valued in some estimates at more than $100,000 -- are taxable income.
The Chicago Sun-Times reported Feb. 27 that in lieu of cash payments, the show's performers and presenters receive bags stuffed with cell phones and vouchers for massages, dinners and vacations, including a four-night stay in the Vera Wang suite of Honolulu's Halekulani Hotel valued at $25,000. Nothing in the bag is worth less than $500, the Sun-Times reported.
A gift bag valued at $100,000 would result in about $45,000 in federal and state taxes for a California resident in the top tax brackets.
Many say staff meetings inefficient
Few rituals in working America are as hallowed as the periodic staff meeting. A survey suggests they may also rank among the most inefficient exercises we perform.
The typical weekly staff meeting is around 50 minutes, with people in the survey saying they could probably shave 16 minutes from the total if they could eliminate the inefficiencies.
Even more striking was the lack of output from these confabs. Fifty-nine percent said they don't take minutes for most meetings, 56 percent said action items are documented only sometimes or not at all, and 68 percent said input from the discussions is used only sometimes or rarely.
The 130 responses included workers at a range of organizations, from Intel Corp. to the U.S. Navy to George Washington University.
The survey was conducted between November and January for GroupSystems Corp., a software company based in Broomfield, Colo.
Few companies discuss staff pay
The astronomical rise of top executives' compensation has received a fair share of ink and outrage in recent years. But what do you know about how companies pay everyone else?
Not much, according to a consulting firm's review of the largest U.S. companies' "human capital" costs. The two-year study of the 100 largest publicly traded American companies found that only a fifth discuss human capital and its contribution to business success in their annual reports.
The review was conducted by Mercer Human Resource Consulting, a unit of insurance brokerage Marsh & McLennan Cos. Inc.
Mercer said about a quarter of the companies offer platitudes -- the infamous "our people are our greatest asset" was cited -- or a few lines about the caring nature of the organization.
"Imagine a company spending one third of its revenue on a capital investment or an interest payment and never addressing it with shareholders in their annual report," said Rick Guzzo, a Mercer consultant. "It's unthinkable."
Resume 'inaccuracies' are common
RadioShack Corp.
's former CEO, David Edmondson, was the latest prominent figure to fall over a resume riddled with sketchy data.
But a six-month study of resume accuracy suggests this problem is far more common than many might believe.
The study by ResumeDoctor.com involved about 1,000 resumes, aimed at confirming the accuracy of the information. Nearly half -- 42.7 percent -- had one or more inaccuracies, and 12.6 percent had two or more.
"Although many employers no longer offer character references, they will still confirm or deny an employee's dates of employment and overall role at the company. Surprisingly, these are the most common details for a job seeker to exaggerate," said Brad Fredericks, a co-founder of the Vermont-based company.